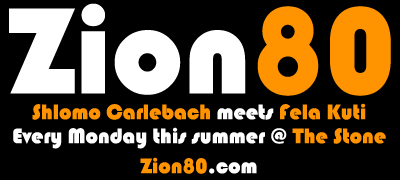 Zion80 news!
Here's the scoop, from Jon Madof:
Live at the Sixth Street Community Synagogue on December 24, 2011. It was recorded on an iPod, it's not the full band, and it was our first gig. But you know what? It doesn't sound half bad. And it's free.
credits
released 29 May 2012
Jon Madof – guitar
Frank London – trumpet
Greg Wall – tenor saxophone
Yoshie Fruchter – guitar
Shanir Blumenkranz – bass
Mathias Künzli – drums
Looking forward to seeing this band in NYC this summer, and then will be eagerly anticipating their official recording.
Here is what I wrote (and shared) when I first heard the news, early in 2012 (in a post entitled Kicking off the New Year with Rashanim):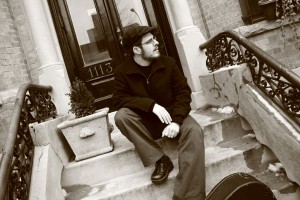 2011 is so last year. What, you might ask, can we look forward to in 2012?
Three of my favorite things, all at once: Rashanim, Tzadik and Fela Kuti.
Here is the scoop: Rashanim's new expanded project features songs by Rabbi Shlomo Carlebach with arrangements inspired by the Afrobeat master Fela Anikulapo Kuti. Stay tuned for an upcoming CD on John Zorn's Tzadik Records!
Madof has put a couple of clips on YouTube (see below).
Anyone who has read this blog understands that both Rashanim and Pitom have made some of my favorite albums during the past few years. This project pulls Rashanim mastermind Jon Madof (more on him here) together along with Tzadik label-mate and fellow guitarist Yoshie Fruchter (more on him here), along with horns (trumpet and sax). Afrobeat meets radical jewish culture? Yes, please!
I can't wait for more from this new project. Until now, we can feast on the morsels Madof has provided, below. Happy New Year!
Ein K'elokeinu
V'Shamru