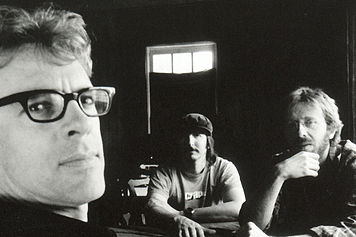 I will go ahead and answer my own question (posed the other month, HERE).
Based on the footage I've seen (never caught him in real time, in person, alas) Les Claypool is one certain example of a musician who sounds better live. His studio work, most of which I've enjoyed to degrees varying from extreme to moderate, has made me a happy listener. But compared to how he pulls it all together in front of an audience, it seems many times more effective and convincing.
The most obvious, and affecting, instance I can conjure up is the incendiary performance of his one-and-done (damn shame!) supergroup Oysterhead's "Shadow of a Man."
Special props to Stewart Copeland and his more-is-more sensibility, which surpasses OCD, but in a good way. The show is seconds old and he's already sweating like a long-distance runner. He is all over that extensive and, we can assume, painstakingly assembled, kit, making all manner of wonderful noises. Then Trey Anastasio, whose work with Phish I've respected but never really loved, who is equal parts craftsman and mad scientist, showing the difference between one who makes music and one who is music. He is not playing his guitar (and associated effects) so much as expanding the possiblities of what it's capable of doing. And then there is the maestro himself, wonderfully, refreshingly eccentric (as always) and tapped into the region –of art, of expression, of thinking– where only the most gifted and/or dedicated amongst us are capable of going.
Certainly the visuals augment this act of creative sharing, and they are indispensable (as Claypool is well aware, hence his glow-in-the-dark gear): hearing Copeland and Anastasio in action is sufficiently compelling and convincing, but watching them do what they are doing, how busy they are making every sound, and each second count, all in the service of a song that is a glorious, unsettling sum of its many parts.