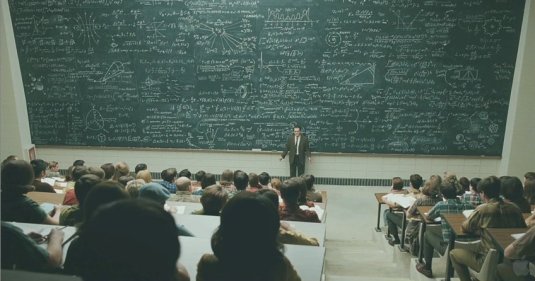 First off, full disclosure.
I don't exactly have a love/hate relationship with the Coen Brothers, because there is too much gray area. Some of their movies I love without reservation (Raising Arizona, Fargo, The Big Lebowski) and some I really find inspid (Miller's Crossing, O Brother Where Art Thou and especially The Hudsucker Proxy). But, I guess, to their credit, they also have plenty of films I am largely indifferent about, or find simply okay (this includes near misses like Barton Fink and Blood Simple). I was underwhelmed with No Country For Old Men the first time I saw it, but liked it better the next time –always a good sign. Burn After Reading was what it was: a lark; a lightweight effort with a heavyweight cast, mostly salvaged by the never unimpressive George Clooney. And then there are the rest of them, of which the less said the better.
Which brings us to A Serious Man. Their latest film garnered some, well, serious praise (including two perfect-10 ratings from colleagues from PopMatters whose taste and opinions I admire). If you have not seen it yet, be prepared for some spoilers: this is not a review; it's a postmortem. The plot, presented as a pitch, sounds irresistible: college physics professor (and Jew) who seems a nice enough fellow is, without warning, suddenly made to suffer a series of unfortunate events; he is a present-day Job for our postmodern times. Add the Coen brethren's patented black humor alongside their perverse sensibility, and hilarity shall ensue. Pretty good premise, right? (My first thought was, we've already seen this one, and it was called The Man Who Wasn't There, which was less a movie and more a 90 minute exercise to see how many cigarettes Billy Bob Thornton could smoke.)
The leitmotif of the movie is provided (in a typical instance of when the Coen brothers' goofy irreverance goes wrong) by the Jefferson Airplane chestnut "Somebody To Love": When the truth is found to be lies/And all the joy within you dies. This is its first problem. Setting up the framework of this anti-morality play, however cheekily, with such a literal (and cornily shoehorned) statement of purpose begs two big questions which had better be answered in some fashion. One, what is the truth? Two, is there any evidence that there was ever any joy inside our hero?
Let's look at the tale of the tape: decent man with annoyingly needy brother who has moved in. And a vulgar wife who asks for a divorce to facilitate the affair she is having. And two bratty kids. And a racist neighbor. And a health scare. In lesser artists' hands, a protagonist with this sort of curriculum vitae is a guy we like and can relate to who has horrible things happen and just when it can't get any worse, it gets better. You know, the types of movies usually starring Will Smith or Tom Hanks. The problem with A Serious Man is that Larry Gopnik, despite all the slings and arrows of outrageous misfortune, never seems to lose much that he'd be better off without. And I'm quite certain that is not what the Coen Brothers are after, which is not the fault of the actor, but of the writing and direction.
The film's internal engine stalls on this irreconcilable conflict: if we can't help thinking Larry has never been happy, or might be in a better place away from all of these miserable creatures all around him, it sort of sucks the air out of the movie's momentum. And because the viewer (or, this viewer) became distracted by this…distraction, it…distracted from what must be the primary objective of any film, which is providing unfettered engagement without distraction. All of which is to say the Coens violate the operating principle of the storytelling process, and it isn't "give us a character we care about" (that is something only unimaginative critics and untalented writing professors blather about); rather, it is: give us a character who does not strain credulity to an insulting degree. When minor characters, especially ones in Coen Brothers movies, are somewhat less than believable, it can be and often is in the service of delightful nuance. In other words, it does not grab attention or focus from the thrust of the proper narrative. On the other hand, if that character is the prime mover of the action (even in a movie where the prime mover is Fate with a capital Cliche and the protagonist is the dust this Mighty Wind blows about with biblical imperiousness), we are stuck in neutral, which in Coen Brothers projects is often (and generously) assumed to be black humor.
At this point one can sense the more defensive fans sighing in exasperation and patiently explaining how the monstrous math equation in the classroom illustrates everything, or the (very Coens-esque, or is that Coensian?) Asian student personifies the enigmatic fulcrum upon which action (or, in this case, inaction) prompts reaction, or the even simpler fact that it's black humor, dummy; Gopnik is the pawn of an uncaring universe and the better he tries to be, the harder the universe bends him over. Well, okay. But then we're failing on simple human as well as artistic levels: one need only look to the slums of Bombay or the killing fields of any third world country to see innocent people suffering terribly for crimes they never committed. Maybe the Coens should have named this one Slumdog Hundredaire.
Or try this: even though Gopnik's suffering is over the top, even by Job's standards (Job, mercifully, never had to deal with the petty foibles of a professor sweating tenure), one doesn't feel pity for him in regards to his contemptible progeny. At what point is he himself at least partly culpable for the churlish punks he has reared?
Put yet another way: if this is tragedy, it calls to mind why contemporary audiences aren't particularly fond of or familiar with the ancient-school shtick of some recondite curse invoked to explain how and why everything goes wrong. There's a very good reason the Deux et machina act doesn't resonate with folks these days. Or, the abiding genius of Shakespeare involves his ability to delineate the human element informing the big unraveling.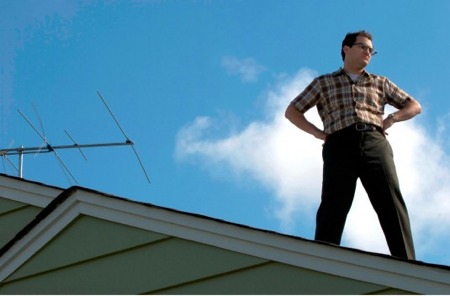 And if all this makes me sound like a prudish traditionalist, I would suggest that the film's entire structure is slickly super-glued to resist critique: the person offering the criticism is simply not in on the joke; they don't get it. And I'll eagerly stand up and be counted as being all for any endeavor mocking the platitudes and sadism masquerading as morality that organized religion so often makes a killing (often literally) from. Pointing out, as the film does, the obtusity of the clerics and their incompetence in dealing with virtually any sort of human dilemma is something to be celebrated. Ditto the Coen brothers' obvious disdain for lawyers: don't hope for comfort or expertise from these dissembling shmucks. On these points, I'm picking up what they're putting down.
Listen: I ain't offended by misanthropy; I can handle the truth. And if The Truth is that the Coens loathe humanity, or the world, whatever. More power to them, but I felt the same way I do when I watch virtually every Woody Allen movie: please, for your sake, I hope you are in actuality a very happy person and merely a miserable artist. In the final analysis, it's not the filmmakers' view of the world I find offensive (or facile); it's their hostility toward artistic engagement. What they successfully create in almost every film (except the great ones) is a bleak cinemascape that leaves a certain demographic (likely the same ones who worship Woody Allen movies) feeling smug and superior, and a clique of not-quite-as-intelligent-as-they-think-they-are critics rolling over and panting for more stale scraps.
The big punch line is more like a punch in the nuts. When the inscrutable rabbi finally speaks, his quote (bringing it all full circle!) of Jefferson Airplane is…can I get an Oy, man? And from an editorial standpoint, simply quoting the lyrics would have been tolerable, barely. But the too-cute-by-two-thirds naming of each individual band member is both unbelievable and profoundly unamusing. It is an archetypal bad Coen Brothers moment: one feels the intrustion of their arrogance, their self-love surpassing their other people-hate. At long last, one grows tired of the types of movies made by grown men who ultimately love nothing quite so much as the smell of their own farts.