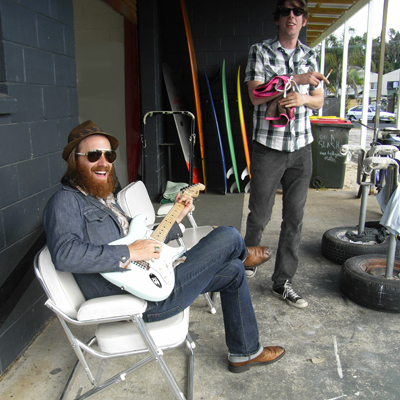 (Parts 1-4 of this series here, here, here, and here.)
Before they became the Black Keys of Leon (a development that was equal parts unfortunate and inevitable) The Black Keys were one of the better rock bands around (really: check it out HERE, HERE, HERE, and HERE –check #5).
More, they were, hands down, the best interpretors of other folks' songs. They took classics, often deeper cuts, and put their own unmistakable and wonderful mark on them. Here are five.
Obviously, there is an art to covering a song. Nothing is off limits, but you can usually separate the contenders from the pretenders based on the songs they choose: the opportunistic clowns in search of an easy hit will take a well-loved song and dumb it down for the masses (this works like a charm). Of course, when this is done, the song being covered is usually destroyed, and tarnished: it's kind of the worst of both worlds: unworthy fakers get props and cash for soiling a well-loved song and, in the process, they besmirch an original with a new, worse version that can never be unheard. On the other hand, real bands with real heroes and real talent will invariably choose more obscure songs with two primary objectives: celebrate the heroes who inspired them, and put their own inimitable touch on an old chestnut. The Black Keys have been better at this than any other band in recent memory.
It takes balls to even attempt to cover icons like Captain Beefheart and The Kinks. It is wonderful (and ballsy) to pay tribute to the Iceman (Jerry Butler), a singer against whom anyone will come up short; astonishingly, Dan Auerbach infuses this cover with heart and soul to spare: he does the near-impossible. Taking a truly obscure song by Richard Berry is the sort of move that made The Black Keys so special, and illustrated how deep their roots went and how much they loved all sorts of music. Finally, their personal god, Junior Kimbrough, received an entire tribute album (the remarkable Chulahoma, which you can acquire for $5 –the best bread you'll lay down this month). It's hard to explain what Auerbach achieves on the cover of "My Mind is Rambling"…it is not coverable, so he takes it from the inside out and adds a grit and menace (and yes, authenticity) that is inexplicable. For a skinny white dude from Akron, he buries himself in the deepest of all possible souths and goes deeper: this is midnight of the soul type shit, and it is at once scary and revelatory. It is a miracle of music.
"Have Love Will Travel" (Richard Berry)
"Act Nice and Gentle" (Kinks)
"Grown So Ugly" (Captain Beefheart)
"Never Give You Up" (Jerry Butler)
"My Mind is Rambling" (Junior Kimbrough)