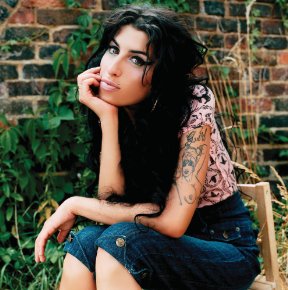 Earlier this year I had the opportunity to write about Amy Winehouse via Howard Sounes' book 27. (Full review here.)
Here is the crux:
For his new book, 27, Howard Sounes researched the number of musicians who've actually died at 27 and discovered the total was 50. But the list of famous, or infamous cases comprising the so-called "27 Club" is much shorter, six to be exact. They are, in chronological order, Brian Jones, Janis Joplin, Jimi Hendrix, Jim Morrison, Kurt Cobain and Amy Winehouse.
What ties these six artists together, aside from their obvious ages and occupations, is the fact that some measure of controversy dogs each death, and Sounes sets out to examine the various coincidences and conflicting stories, seeing what they all add up to.
Conclusion: not much. Despite the considerable talent, promise and tragedy we can attribute to each of these artists, they all serve as cautionary tales of excess, poor judgment and wasted potential. In the cases of Morrison and Hendrix, enough material was recorded to ensure a definitive legacy; with Cobain and Winehouse we are left wondering how many years, even decades, of genius they forfeited.
***
In 2010, when I was making the list of what I considered the 50 best (rock) albums of the decade, I had this to say about Amy Winehouse's Back To Black:
Between the pre-release hype and the post-release meltdown, it's almost difficult to remember how many naysayers this album humbled. Trust me, I was one of them. I recall reading a rapturous review a month or two before the CD dropped (and seeing her for the first time in the accompanying photos and thinking, Hey she's kind of hot in a coke binge, bar-crawling, tat- sporting, wig-wearing, hot bowl of mess kind of way) and acknowledging that serious marketing money had her pegged as the story of the year.
And then I heard the thing. Yeah, the rehab song was okay, I guess. And this album definitely isn't a masterpiece, because there are some serious clunkers on there. But my God there are some flat out stunners as well. It got overplayed (through no fault of its own) but there is no denying "You Know I'm No Good" (holy shit what a songwriter! Are you kidding me with those lyrics? That is some sardonic self-loathing that gives even Morrissey a run for his money) and the title track and especially the most hilarious song of the decade "Me & Mr. Jones":
What kind of fuckery are you? Aside from Sammy you're my best black Jew!
Quite frankly, nobody in the world could ever in a million words write a line like this and actually pull it off. And then there is straight-up one of the best songs of this decade, or any decade, "Love Is A Losing Game". I remember reading that Prince had begun covering this in his live shows. Repeat: Prince. Yes, that Prince. Just to be clear, people cover Prince's songs, Prince does not cover other people's songs. Get the picture? It's one thing to emulate and imitate the old Phil Spector girl group vibe, but to craft a tune that can easily stand alongside any of them? Wow. And, astonishingly, Winehouse saves the best for last, literally. "He Can Only Hold Her" is an out-and-out masterpiece, a perfect song. Every second, every syllable, every sound: utter perfection. Check out those lyrics: can you say "less is more"? That is not just a short story, that is a fucking novel in three minutes. If you know anything about anything, you simply shut up and marvel at genius (yes, genius) like that.
Look, Winehouse was already at Defcon-4 by the time this album broke big; to a certain extent she earned her excess and the sadly predictable tabloid soap opera her life became. Let's hope, for her sake and ours, that she gets her act together and makes an attempt to do the unthinkable: making another album half as great as Back To Black.
***
7/26/11:
Well, we'll never get the chance now, will we?
Whenever an artist dies too young, particularly when it is a self-inflicted surrender, there is an inevitable (irresistible?) tendency to romanticize or lionize. That Winehouse joins the infamous "27 club" (Jimi, Jim, Janis, Cobain, etc.) only ups the ante and ensures that the same folks who salivated at her death-spiral will now weep amphibious tears.
I'm disappointed, as a fan, that we won't get a chance to hear her mature and evolve from the immature chanteuse whose destructive and self-loathing tendencies overpowered the better (and prettier) angels sulking deep inside. I'm sad, as a fellow human being, that a woman with so much talent and potential was not able to love her life –and herself– enough to see how much discovery and excitement lay ahead of her. I sincerely wish she could have listened to her own music and felt the same thrill and astonishment so many millions of people felt. It may not have been enough to save her, but it might have been enough to help. And sometimes help is the first step to salvation.
I hope, and trust, she is sleeping well. And if there is any karmic justice she is able to feel some measure of peace and fulfillment that in some small way approximates the pleasure she was able to provide so many of us, despite the pain she was so obviously in for so long.