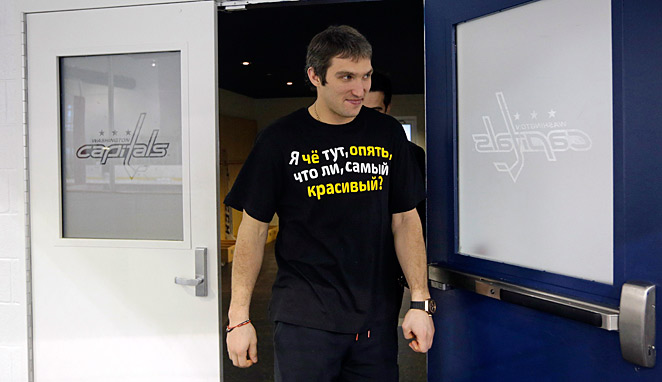 So, it was slightly more than three years ago (ensconced in phase 2 of "Snowpocalpyse 2010") that I wrote the mash note, below.
Two things: I totally stand by what I said, for two reasons. One, I meant it. Two, it was true.
Perhaps it's more painful to acknowledge something that was once true than to admit it was never true in the first place.
Fact: The Caps were the most exciting and promising team, circa 2008-2010.
In hindsight that is becoming increasingly ironclad, and as impossible as it would have been to consider at the time, their window for dominance –and possibly a dynasty– not only has narrowed, it may have already slammed shut. In hindsight, their best chance to hoist the cup may well have been in 2009, when they lost a semi-epic series to the Pens. A series they could, and should have won. A series won by the rival that has punished them with such impunity these last two decades. A series won by a team that, naturally, went on to win the whole thing a month later. That could have been the Caps. That should have been the Caps. And it would have been a modern day Bad News Bears of sorts, what with their unkempt, old school coach who taught so many of them in juniors. The coach they eventually ran out of town because of consistently lackluster play, making idiots (like me) feel maybe Bruce Boudreau had done all he could do. The team needed new energy, someone to hold them accountable. Like so many other teams in so many other sports. And there is a possibility this was a correct assessment: after all, there is one thing that invariably links winning teams, and that is exceptional coaching. These days, it is so difficult to match the needs of pampered, soft super-stars with coaches capable of balancing accountability and encouragement. Boudreau, ultimately (and perhaps through no fault of his own) was not that guy. Hunter could have been that guy. Oates does not seem to be that guy. What is abundantly clear is that this team needs a coach who cares less about feelings and more about effort.
Yesterday's game against (guess who) is a case in point familiar to every long-suffering Caps fan. They put forth a respectable effort in the third period, bringing much needed intensity and virtually every player moving his skates, finishing his checks and moving around as if something was at stake. It was too late, because they had pissed away the first two periods with their now typical lapses (in both zones), soft goaltending and general lethargy. It is inexcusable for a team with this much talent to be this lifeless to start out a season. If it was a regular, 82 game season there is a possibility that idiots (like me) might say: well……it's a long season, it's a new system and new coach, and a team with this much talent has to level off at some point. I'm not seeing it. I don't suspect they will suck this badly for the next few months, but if they put themselves far enough out of contention that an already under-achieving team has no reason to show up each night, many more embarrassing games are on the horizon. That is intolerable. And while there is tons of blame to go around, it must begin and end with the man who wears the "C". (Speaking of hindsight, this was a move that I endorsed, at the time if for no other reason, as I detail below, he was the captain by deeds more than words. He led by example, so it seemed a genuine no-brainer to give him the reins. In hindsight, it might have been too much pressure, and a different guy, like Brooks Laich, may have been better suited to suit up with the "C".)
Bottom line: the man who saved this franchise is now the face of a team that has not come especially close to winning the cup, and now seems more of a long shot than they did in 2008. How is this possible?
For whatever reason(s) our effulgent, enigmatic wunderkind is, these days, more mystery than revelation.
This happens often, but it must hurt more because he's our problem. (If you had told me three years ago I'd ever use the word "problem" and "Ovechkin" in the same sentence, I would have laughed at you.)
I'm not laughing now.
Let's hope this does not become a franchise, once again, that other teams laugh at.
To be continued…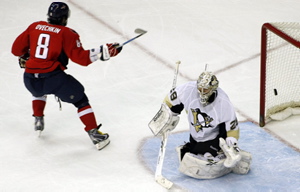 When I was growing up, Larry Bird was by far my favorite athlete. His capacity for heroics, it often seemed, was limitless. I've celebrated that love affair here and here.
When I became a man I put away childish things. But as any adult knows, sports are anything but childish.
Over the years, I've admired and adored a great many athletes, including Olaf Kolzig, Curt Schilling, Pedro Martinez and (semi) hometown hero Cal Ripken Jr. But there has not been a single athlete, since Bird, who has so regularly made me giddy, proud and more than occasionally ecstatic.
Which brings me to Alexander Ovechkin, the man who is quite possibly the best leader on any sports team right now. In fact, he's quickly making a case for being the best athlete in any sport (and I say that knowing the world is currently graced by geniuses named Kobe, Lebron, Peyton and Pujols). I have never seen a player carry a team so consistently, so willingly, so happily.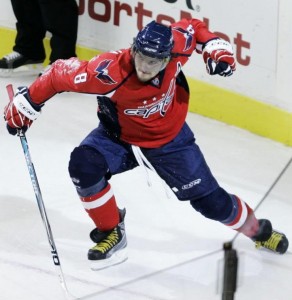 Above everything else, I cherish Alexander Ovechkin for the way he is able to make me feel like a little kid almost every time I watch him. And like all the truly elite players of any era, he elevates his game and rises to the occasion when the stakes ae highest and the lights brightest.
D.C. is slowly and steadily beginning to realize (the hockey fans –all ten of us– knew right away) that he is a once-in-a-lifetime type franchise player that you can, and should, build a dynasty around. Surpassing Caps fans' highest expectations, Leonsis, McPhee and Co. have done exactly that. Like Bird, Ovie has taken a joke of a team and turned it around almost single handedly. That, along with the depth of an excellent farm system, has stocked this team with young, hungry and extremely capable players. To this point Ovie has done everything: Rookie of the Year, MVP, scoring leader. Everything except hoisting the Stanley Cup (that may well have happened last year had it not been for eternal Achilles Heel the Pittsburgh Penguins). Is this going to be the year? Maybe. Not for nothing are the Capitals the team with the most points in the NHL, an achievement this organization has never experienced this late in a season. They are, in my estimation, one surly and veteran defenseman away from being the team to beat this spring (trade deadline acquisition?), but whether they do it this year or not, it is all but a certainty that they will be contenders for the foreseeable future. Imagine that! Any fan of any team, in almost any city, knows not to take this for granted. After the empty and sobering stretch of futility our teams have suffered since the Redskins last got a ring (January 1992!), many local sports fans know enough to celebrate this good fortune.
All of that would almost be academic if Ovechkin was not so exhilarating to watch. He doesn't just win (!), he does so in dramatic and often inimitable fashion. Just look at what he did today, against arch-nemesis Pittsburgh, to keep the winning streak alive (!!). This is not a man we are watching anymore; he has become a combination of Santa Claus, Superman and Peter Pan. I'm a grown man and have learned not to hope for the impossible or pray for divine intervention. Fortunately, the player who may end up being the best athlete ever keeps giving us all things we don't even think to ask for.