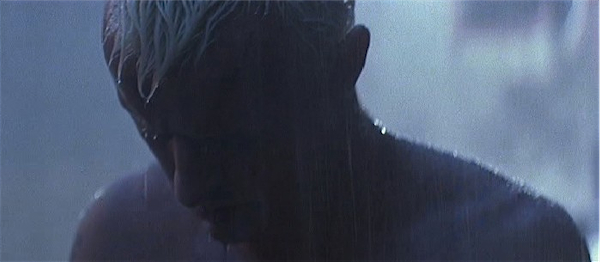 2012: In pace requiescat!
Theme video for this annual series (especially instructive for those not familiar with the title or the photo, above):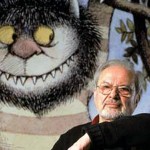 5/8/12:
This is a tough one for anyone born after 1960.
That said, it must have been indescribably gratifying for Sendak to know that an entire generation (and then their kids, etc.) read –and loved– his work. I mean we talk about wanting to leave a mark on the world; Sendak most definitely did that. To do so and leave the world happier and more imaginative than it would otherwise have been? That is downright heroic.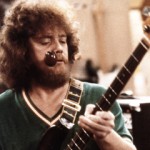 5/12/12:
Did you know how great this guy was?
Nevermind the fact that his best friend, the equally brilliant Steve "The Colonel" Cropper –who played with him for more than four decades– recently remarked that Dunn was the best bass player to ever live (and the best guy, period: check out a nice obit here).
By all available evidence, Dunn was a genius and a gentleman. His life was music and he helped make music better (and more inclusive, and groovy) for all of us. A life to be celebrated, and a man to be missed.
It's all on the record, on the records.
Yes, he was a crucial member of the immortal Stax house band, Booker T & The MGs, and took a well-deserved (and, one hopes, well-paid) victory lap as an honorary member of the Blues Brothers.
As usual, the best way to articulate the greatness of a particular musician is to let them do the playing.
(More on Duck, HERE.)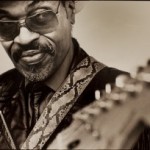 5/17/12:
When you mourn an artist who helped make your life better, it is inexorably a selfish act.
So first and foremost, R.I.P. Chuck Brown and Donna Summer. I hope your family and close friends find comfort knowing how well you were loved.
For me (and doubtless many if not most of my peers) both of these artists are inextricably associated with 1979, a year I celebrated in detail here (keyword: Slush Puppie).
Obviously as I grew older and learned more about music, and culture and history, I understood that Chuck Brown was not just a local hero, he was an industry unto himself. Now that he has gone to that great big Go-Go in the sky, I have no other option than to to celebrate the song that rocked many of our worlds circa 1979. Of course it still does and always will. (And, inevitably, there is a reason James Brown is called, amongst other things, The Godfather. It all begins and ends with him. You hear it here, and if there is anything wrong with that there was never nothing right.)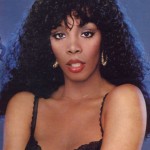 5/17/12:
It's possible, though unlikely, that you lived through the late '70s and did not know who Chuck Brown was (my condolences), but if you were sentient during the late '70s you knew who Donna Summer was. Period, end of story. Not until Michael Jackson a few years later was there an artist (much less a black artist) as ubiquitous as Donna Summer. Anytime I hear "Bad Girls" I'm back in 1979 and that is a very good place to be, with or without a slush puppie.
Yeah baby. That was the perfect song for a world that was still grappling with disco and what the Bee Gees had wrought (having once owned the soundtrack to Saturday Night Fever functioning as a kind of eternal, existential aesthetic walk of shame, despite the redeeming value of "Disco Inferno" and the Tavares doing "More Than A Woman". And, if pushed, a few of the Bee Gees songs as well. Damn it.)
Let's break it down: this was pretty racy stuff, circa 1979, at least for mainstream radio. And this was all over the radio. For a nine year old straddling the line between young boy and adolescent (or between Kiss and The Beatles, before realizing the world could –and should– exist quite peacefully with both…and it does), this was not quite sexy but certainly not innocent. And I'm not talking about the lyrics, or even the music, necessarily. I'm talking about the groove, the feeling. It did what it had to do, on cultural and pop-culture levels, and it endures. That still sounds great. Dare I say: Disco is not dead?
Now, I can understand if you think I'm being nostalgic, even sentimental to a fault. Cherishing my memories of Donna Summer is one thing, but…Barbara Streisand? Yes. I can't remember the last time I listened to this (but I'm glad I just had an excuse), although I certainly can remember the first times I heard it. Let's name names. Many of my peers, at least the ones who, like me, went to Forest Edge, then Terraset, and eventually Langston Hughes (Panthers!), will remember Mr. Bryant. Spencer. He was so old school he was pre-alphabet. Afro: check. Rocking the 'stache? Check. Working the gum like it was his job? Always. But aside from his inimitable voice and manner of speaking (straight street mixed with cool and, since this was the late '70s I am allowed to say it, jive). He was at once intimidating, amusing and, in a way, inspiring. He did not just encourage us to be good, he demanded that we not be bad. I know Mark Seferian will remember Health class in 8th grade and the immortal promise he made on the first day of school: "You only get but one grade, A or F." (No one said, isn't that two grades?) If Mr. Bryant is around I hope he is well and I'd like to thank him for being himself.
And mostly, I'd like to thank him for playing music in gym class. Does anyone else remember that he would bring in the ancient school reel-to-reel tape player (big enough that he needed a TV tray to hold it) and play funk and soul music? He blared it. I distinctly remember hearing "She's a Brick House" for the first time (circa '77) at Forest Edge. By '79, at Terraset, it was all Donna Summer, all the time. As far as I recall, none of us complained. And of all the songs I remember hearing as we played kickball or dodgeball, it was "Enough is Enough" and loving it. And him.
So I guess what I'm saying is that I'm sad to see Brown and Summer go, obviously. But I can –and will– appreciate the symmetry of them bustin' loose from this mortal coil so close together, since they are so directy connected, culturally and for me, personally. Again, it's inevitably a selfish act, but what else is an honest celebration than a sincere acknowledgment of happiness and gratitude? That is what this is, and all I have to do is listen, again, and it's 1979. But it's also today. And tomorrow.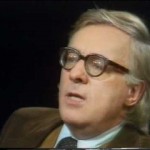 6/6/12:
Another great one has gone to that great library in the sky.
Ray Bradbury is, among many other things (all good), a visionary, a genius, a role model and a hero.
More than simply crafting a handful of masterworks that subsequent generations will enjoy, and learn from, he was the ultimate writer's writer: in love with the craft, infatuated with words, passionate about the process as much –or more– than the results. Over the years I've unfailingly been moved and inspired by the things he's said and written, about himself, literature and the connection between books and people. (Get a taste of that, here.)
I do know that the first time I encountered his short story "A Sound of Thunder" it was an early and crucial metaphysical experience. Having read the bible and so many books I was supposed to read and often finding them lacking, or at least not capable of changing my perception (as if a prepubescent punk can or should have his perception altered much one way or the other), this was one of many subsequent encounters with fiction that changed me. You can't read a writer like Bradbury and remain the same person, even if you don't fully realize it at the time. And, for my money, to remain the same person you have to make a concerted effort to not be moved or misunderstand the ways reality is altered by fiction that interrogates the nature of existence and how we, as sentient creatures, create and respond to it. That is the elemental mystery and magic of literature: when done indelibly, it is supposed to change you (more on that here).
(More on Bradbury's life, and my shout-out to him from my first novel, HERE.)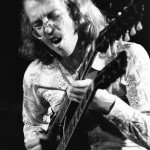 6/12/12:
One of my favorite Fleetwood Mac songs (and a song that has always occupied a special place in my heart) does not feature either Stevie Nicks or Lindsey Buckingham. Seriously.
If you ever listened to classic rock radio back in the day, you'd recognize it (I'd like to think some stations still play it, but I have my doubts).
The song, "Hypnotized", from their '73 album Mystery to Me, features Bob Welch, perhaps the most controversial member of a band that has had more line-up changes than Spinal Tap. Short and sweet: after mercurial, troubled genius Peter Green departed, Welch came in and, according to none other than Mick Fleetwood, helped keep the band together during an extended "transitional" period that featured decent albums but middling sales. It wasn't, of course, until Nicks and Buckingham came on board that the band got slightly more popular. The rest is history.
It had to be incredibly difficult, and painful, to watch the band he co-led for several years go on to make some of the best-selling records of all time. Hopefully he understood that this had a great deal to do with what Nicks and Buckingham collectively brought to the table (it's not like the band happened to hit it big after he left; the sound of the subsequent albums was all but unrecognizable compared to the previous ones). He left pretty much of his own accord, and even managed to have some solo success. (In between, he was part of the semi- super group Paris, which included former Jethro Tull bassist Glenn Cornick.) Still, it was –and remains– more than a little appalling that the powers that be (within Mac, within the industry) refused him entry to the Rock and Roll Hall of Fame (further delineating what a laughable institution it is). It would have been nice, and certainly would have meant a great deal to Welch, if they insisted that a man who was crucial for a time get his rightful props. It's too late now. Welch, who had been struggling with health issues, took his own life last week. A decent obit discussing his career can be found here.
Anyway, no matter how one assesses his career and impact in –and outside of– Fleetwood Mac, he was the obvious ringleader for a string of well-regarded albums and, for my money, he penned, sang and played brilliant guitar on one of the seminal tracks of the decade. "Hypnotized", however out-there the lyrics, is pretty close to perfect: you can't fake or hope for that feeling; the mood that is conjured up so successfully. It manages to be mellow, urgent and melancholy, all at once. There are, obviously, musicians who are much better known and made a lot more money than Welch, but the list of people capable of pulling off a song this indelible is not long.
(A bit more on Bob Welch, HERE.)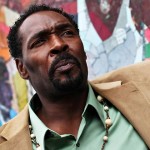 6/18/12:
Some people, like Rosa Parks, seem determined (if not destined) to make history. Some, like Parks, are successful. Others are not (many of them are appearing right now on reality TV shows).
Then there are the people, guided by fate or fortune, have history drop on them like a script. Rodney King, who passed away this weekend (obit here.), was of this ilk. He was not a hero. In fact, he was a criminal, in the process of committing a crime, when another, more serious crime, got committed and captured on tape. The rest, of course, is History.
Whatever one thinks of King, the joke of a trial that saw all the officers go free, the resulting riots, and the uneasy aftermath, there is no denying that his so-called fifteen minutes were among the most meaningful of the last quarter-century.
I wrote about him –and us– a little over a year ago on the occasion of the 20th anniversary of his unforeseeable encounter with immortality.
In any event, looking back at March 3, 1991, it's difficult to determine what is more unlikely: that something this barbaric happened, or that it happened to get caught on tape. Because let's face it: if it had not been caught on tape, we would never know about it, and a great many of us would never have believed it. History usually happens quickly (in hindsight anyway) and this was definitely one of those seminal occasions where everything changes, immediately. This was exactly the see-it-with-your-own-eyes evidence America needed to be slapped upside the head with, and it began a dialogue that put us, however tardy and reluctantly, on a path toward progress.
In so many ways, this appalling spectacle anticipated what was to come in the subsequent decades (culminating in Obama's victory): the use of amateur handheld video going "viral" (back then you still had to get through the gatekeepers at the major news outlets but those buttoned-up buffoons know a story when they see one), leading us in a crooked and narcissistic path to YouTube and Reality TV. The sensationalistic nature of infotainment where instead of letting actions speak louder than babble, we bring in "experts" to explain to us what we are witnessing, or more importantly, what we should be making of it (I'm thinking here of our number one agent of contemporary intellectual debasement, Oprah Winfrey and her stable of charlatans, all of whom epitomize a sick aspect of the American Dream as they prove you can manage to extract inconceivable wealth from gullible fans no matter how little you have to offer). We also see an engagement with current events from artists that would give rap music an edge that saw it through its golden age (post Run DMC and pre-cartoon character knucklehead solipsism) where acts like Public Enemy, Ice Cube and KRS-One began to voice defiance to the prevailing storyline (this was both welcome and distressingly overdue as we limped toward the end of the Reagan/Bush debacle).
(A lot more on King, and us, HERE.)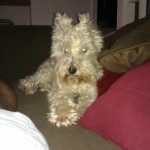 8/13/12:
Whispered Words (Revisited): For Holly
(2009) How long will it take? I did not ask, because I wanted to make every second count. It would be over quickly enough; it was already happening entirely too soon.
It's okay, I said as I held my dog, flanked by friends and the friendly technicians who split their time between extending or improving lives and facilitating peaceful endings.
"He won't feel any pain," they assured me, and I knew it was the truth since this was not the first time I had found myself in this situation. Another dog, another occasion, and the excruciating decision to restrict pain by hastening death. Another time, at a place all dogs hate to go, perhaps because some part of them suspects that someday the person standing over them at the examination table will be the same one who administers that final injection.
I had already watched another small dog slowly go to sleep, just like they said he would. Barely moving when we carried him in, he snarled once the doctor reached for him: an instinctive gesture or perhaps a final, indignant affirmation (I am still alive!) and, as we covered him with kisses and kind words, the calm, considerate doctor reminded us that there would be no pain; it would, in fact, be quite pleasant. This stuff, he said, putting the needle down, would make our dog –could, in fact, make any of us– feel better than we'd ever felt, that this stuff was illegal, and expensive, on the streets.
Another day, different doctor, same drill. My dog's heart was failing him. It was supposed to be a sluggish, gradual decline; the type you can sluggishly, gradually prepare for. But something had happened (I seem to recall words like torn and internal and bleeding) and my dog could scarcely breathe on his own when I brought him in. Seeing him, panting heavily and near panic in his tiny, oxygenated crate was the second-most pitiful sight I've ever endured. I left the room so they could give me the diagnosis: it was dire and I had minutes, not hours, to make a decision. The moment my dog saw me as I rushed back into the room that default setting took over and all my own concerns evaporated.
(Stay strong, I did not need to tell myself, because I had been here before. I had looked down, yet another time, at another pair of eyes: impossibly lucid and beseeching, charging me to make sense of, or at least assuage, a kind of suffering that cannot be conveyed with words. With my mother and without doctors, or answers, to help me help her.
And once again I heard that reassuring phrase, or well-meaning mantra, that somehow articulated every hope, fear and aspiration a moment like this can contain. It will be okay, I said, smiling down at those eyes. Eyes I had looked into too many times to count, eyes that told me more about myself than anyone would believe, eyes that, until this moment, I could not imagine never being able to look at again.)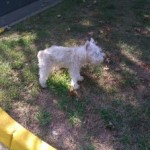 Okay.
It gets very quiet while time and place and the guarded feelings that enable us to function all fall away and you concentrate every thought into one simple, implausible objective: peace. You think it and you will it and for a moment that might be forever you become it in ways you're never able to talk about later, even if you are inclined (and you aren't, especially). You shiver but are calm; you are entirely in the present tense yet you are also somewhere else, somewhere deeper inside that, somehow, connects you to everything else you've ever known.
It will be okay, you whisper, actually believing this because it is not even your own voice you hear. You don't know if this is you, or your mind, or the actualization of that other place (you are hazily aware) you have managed to access, understanding it is not anything you can anticipate or comprehend even though you have been preparing for it (you realize, abruptly) your entire life.
It's okay, you say, and maybe your vision is blurred or your eyes are closed, or probably you are seeing more clearly than ever before, but now you recognize this voice and, as you look down at eyes that can no longer see you, understand, finally, that you are talking to yourself.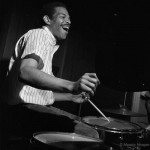 11/20/12:
It will be an ongoing, and very somber, progression, watching so many old-school jazz musicians (many of whom recorded on the epic Blue Note label during the glory years of the mid-'50s to late-'60s) pass away as the 21st Century soldiers on.
I am sad to read about the passing of Pete La Roca (Peter Sims). HERE is a link to a nice tribute from the Ottawa Citizen (including some kind words from Dave Liebman). In case you are click-through impaired, here is Liebman's parting shot:
Pete was one of a kind … a stubborn, brilliant guy who insisted on perfection. I will never forget the lessons he taught me, which I recite almost daily in my teaching. For me, Pete's passing is in a sense like the passing of a father or uncle, meaning of all my mentors he was the last to survive.
La Roca managed to be a typical and unique jazz player of this period. He was sought after, respected and made some special music. At the same time, he resented the hustle and sham of the music industry and left the scene altogether to practice law. Like Michael Corleone, just as he thought he was out, he was drawn back in. A man this talented and tenacious could not remain outside of music forever, and it's good for everyone that he returned to what he was put here to do.
Speaking of what he did and how he did it, I'll happily refer to one of my favorite drum tracks (and favorite tracks, period), the opening, title track from Booker Little's masterful swan song Victory and Sorrow. (More on Little, HERE.) A taste, below:
What Keats was able to convey so succinctly, and enduringly, with words, Little achieves without needing a single syllable. His voice, of course, is his instrument, and his trumpet tells the story of his life: not for nothing was his final work entitled Victory and Sorrow. It's not possible to listen to this music without hearing the history of illness, injustice and ultimately the transcendent human ability to, at least temporarily, overcome anything.
Although I'm talking about Little and the inimitable (almost unbearable) melancholy and yearning he was able to conjure, he was aided immeasurably by the top-tier bands he managed to assemble. On "Victory and Sorrow" La Roca holds the lantern as Little shows us some of what he was already seeing. The way the drummer mixes moods and times at the beginning (.47-1.02) and end (5.20-5.32) of the song manage to move and excite me, even having heard them too many times to count. He takes a song that is already perfect and elevates it to that special, "other" place that can't, and shouldn't be articulated, only appreciated. That is the mark of genius, plainly put. It is a marvel, a humbling gesture of greatness, to behold.
(More on Pete, HERE.)