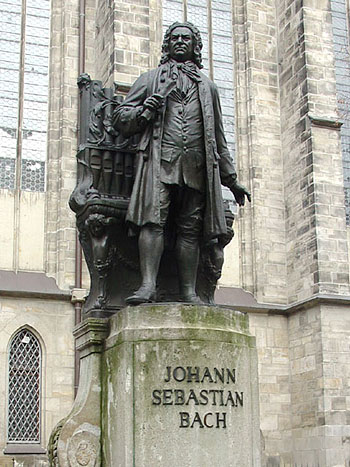 It's that time of the year, prompting reflection, peace and positive vibes. At least if you're smart and do most of your holiday shopping online.
I doubt it's just me, but there is something about Christmas approaching that rekindles a lifelong obsession with classical music.
(This is music I enjoy throughout the year, but there are certain works, at certain times, that lend themselves to certain occasions.)
And during a time of the year that can (should?) be equal parts somber and celebratory, it is only appropriate to invoke the old masters.
And if we want to talk about the masters, we must begin with the master, the only man both Mozart and Beethoven must bow before: Johann Sebastian Bach.
(What's the big deal about Bach? Here's some advice for the uninitiated.)
Bach, perhaps more so than Mozart of Beethoven (though I prefer the other two) presents the ultimate good news/bad news scenario for beginners. On one hand, you can dive into virtually any of his works and come away educated, inspired, awed. On the other hand, to say he was prolific is like saying Mitt Romney had a proclivity for stretching the truth. Bach's canon is unwieldy, astonishing, intimidating. You could spend the rest of a lifetime trying to get your ears around it, which seems only fair since he spent virtually his entire life creating it.
Even if you've never heard Bach (impossible) or don't care for him (improbable), you've heard his direct and enduring influence via other artists. Two quick, easy examples, below.
Brandenburg Concerto No. 2:
The Beatles: "Penny Lane" (yet another instance of how indispensable George Martin was: Mac was listening to –and enjoying– the Brandenburg and told Martin he'd love to incorporate the piccolo trumpet; a crucial moment on one of the all-time great singles in rock history followed):
Bourrée in E minor (Suite in E minor for Lute, BWV 996):
Jethro Tull, "Bouree":
You can google (and then YouTube) his more popular works, ones you will realize, after hearing, "oh, that's Bach". (Ones like this and this.) And eventually you will also realize: woah, he covered all types of sound, feeling and expression. That's why he's the master.
Here are five of my personal favorites:
It's hard to argue with perfection and pretty much the entirety of his Brandenburg Concertos is just that, perfection:
Violin concerto (BWV 1041: II, Andante)
Incidentally, my personal favorite recording of that movement is on this disc, featuring the excellent Viktoria Mullova (get a cheap, used copy at Amazon).
Concerto No. 3 in D Minor (Vivace) (I prefer the appropriately slowed down versions; when it's too quick it loses the "voice of God" authority it requires):
Oboe Concerto in G Minor
Last and most definitely far from least, if you've never spent some time with Bach's cello suites, you are depriving yourself of the greatest glories:
This is just a cursory sampling of low-hanging (however brilliant) fruit, and even these handful of pieces must leave one overriding impression: the variety and virtuosity is staggering. Of course it's impressive enough to master both performance and composition of a single instrument; to conceive, and perfect, entire works for full orchestras must remain an example of the greatest heights we are capable of attaining as human beings. Bach did it first and, arguably, he did it best.