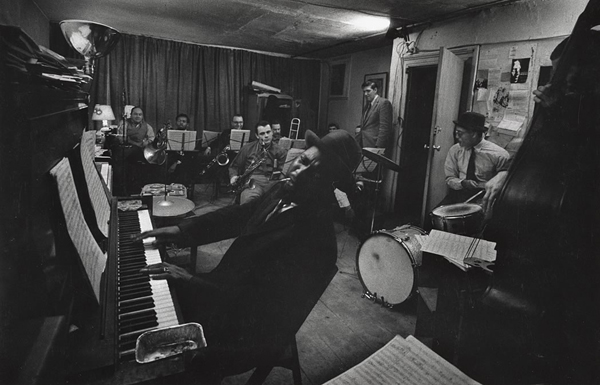 All hope is not lost. At least enough people are still making –and listening to– jazz that we can even attempt to initiate what hopefully becomes an ongoing occasion.
In a piece celebrating one of my heroes, Eric Dolphy, I made an honest attempt to address what jazz music means to me and why I consider it an obligation to share this passion (full piece here):
I know that jazz music has made my life approximately a million times more satisfying and enriching than it would have been had I never been fortunate enough to discover, study and savor it.
During the last 4-5 years, I've had (or taken) the opportunity to write in some detail about, to name a relative handful, Freddie Hubbard, Wayne Shorter, McCoy Tyner, John Zorn, Henry Threadgill and Herbie Hancock. This has been important to me, because I feel that in some small way, if I can help other people better appreciate, or discover any (or all) of these artists, I will be sharing something bigger and better than anything I alone am capable of creating.
Before this blog (and PopMatters, where virtually all of my music writing appears), and during the decade or so that stretched from my mid-'20s to mid-'30s, I used to have more of an evangelical vibe. It's not necessarily that I'm less invested, now, then I was then; quite the contrary. But, if I wasn't particuarly interested in converting people then (I wasn't), I'm even less so today. When it comes to art in general and music in particular, entirely too many people are very American in their tastes: they know what they like and they like what they know. And there's nothing wrong with that, since what they don't know won't hurt them. Also, let's face it, the only thing possibly more annoying than some yahoo proselytizing their religion on your doorstep is some jackass getting in your grill about how evolved or enviable his or her musical tastes happen to be. Life is way too short, for all involved.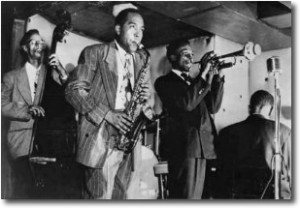 I have, in short, done my best to provide context and articulate why some of us continue to worship at this altar of organic American music. Naturally that discussion has included Miles, Mingus, Monk. And of course, Coltrane. With any honest discussion of jazz we can quickly get dragged into an abyss of snobbishness (however unintentional), trivial footnoting and the self-sabotaging desire (however well-intended) to include all the key characters. So for the novice, it's not necessary to begin at the very beginning. Indeed, it might be advised to get a taste of Coltrane, who is at once accessible and imperative. Here's my .02:
For those whose definition of genius is either too encompassing or excessively narrow, John Coltrane poses no problems: there isn't anyone who knows anything about music (in general) and jazz (in particular) who would contest that he is among the most prominent, impressive and influential artists to ever master an instrument. Furthermore, to put Coltrane and his unsurpassed proficiency in its simplest perspective, it might be suggested that no one has ever done anything as well as Coltrane played the saxophone.
Plus, he was an exceptionally gifted composer and bandleader and, by all accounts, he was a generous and gentle human being, as well. All of which is to say, if there is anyone worthy of celebration in our contemporary American Idol Apocalypse, Coltrane should serve as both antidote and inspiration.
Entire piece here.
The title of this post comes courtesy of the brilliant Ornette Coleman (speaking of misunderstood geniuses; to call him an iconoclast is like calling Marine Boy a good swimmer). More on him here and a crucial preview of the shape of jazz that came, below:
Jazz is not only fun to listen to (duh), it's fun to analyze and obsess over. For instance, a short treatise on some of the more sublime sax solos can be found here. A case is made for the best jazz outfit ever assembled, here.
And a loving ode to contemporary jazz (for all the haters who won't acknowledge it and the uninitiated who are entirely unaware of it). A taste:
What happened next is, again depending on one's perspective, the languid death march of America's music or a continuation of an art that seamlessly integrates virtually every noise and culture from around the globe. A certain, and predictable, cadre of critics submerged their heads in the sand and bitched about better days. The awake and aware folks who make and receive these offerings celebrate an ever-evolving music that resists boundaries and is capable of communication transcending language and explanation. At its best it is an ideal synergy of expression and integrity.
Anyone who knows anything understands that some of the best jazz music ever was created in the '70s (no, really) and a great deal of amazing music was made in the '80s (seriously). But in the '90s and into the '00s we've seen jazz music consistently –and successfully– embrace other forms of music (rock, rap, electronica, etc.) and end up somewhere that remains jazz, yet something else altogether. There are myriad examples, of course, but this small sampler of five selections might be illustrative, and enlightening. The uninitiated may be surprised, even astonished, at how alive and accessible this "other" music really is.
One could (and should) say more about artists such as Lester Bowie, Jamie Saft, Marco Benevento, The Bad Plus, Critters Buggin, Garage a Trois and Mostly Other People Do The Killing, all of whom have incorporated our (increasingly) info-overload existence into their sound. Slack-jawed and stale-souled haters may demur at even calling this Jazz, or course. And of course the last laugh is on them because most of these musicians would care less than a little what you call it. They understand that the shape of jazz that came is always turning into what we'll be listening to tomorrow.
The entire thing, with some very tasty audio samples, here.
For now, this (which does more to convey the ecstasy of improvisation and community, not to mention solidarity and soul, than a billion blog posts ever could):
In the end, jazz is always about now and the wonderful possibilities of tomorrow, but it also achieves what the best music of any genre does, and brings us back, always, to the beginning.
To be continued…