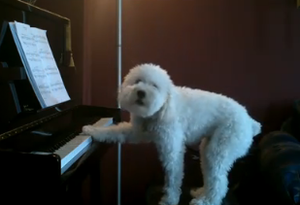 As the Beltway blowhards get their onanism on while the pitiful children in charge of government have their long-awaited tantrum (will the government shut down or not? To flee or not to flee, that is the question), any opportunity for distraction and levity is most welcome. Enter Tucker, my new hero.
Tucker, the singing schnoodle:
Review: first, the fact that it's a schnoodle (schnauzer mix) had me at hello; second, look at that guy! Before a note was played, I was done the second he flew into the frame, and the ears flopped like popcorn-scented wings (if you have ever had, or loved, a miniature schnauzer, you'll understand).
Tucker, round two:
Review: it couldn't possibly get better, but it gets better. Tucker is not holding back here; with a barbaric yawp that would make Whitman blush he cries out to articulate the pain, profundity and joy of existence. At least that's what I'm getting from it. But the best part is when he realizes he is being filmed (you can see the exact second his eyes connect with the camera) and he abruptly halts the performance. Then he expresses his displeasure with a brattiness that is well-known to anyone who has owned or loved a miniature schnauzer, and, as a non-poodle endorser, I have to give it up and concede that the poodle factor is only upping the cute ante here.
I am reluctant to admit how many times I've watched this in the last 24 hours, or how much bliss it has delivered. Has a dog ever been stalked before, on the Internet no less? I'm not saying it's on but I would buy a baby grand for Tucker without a second thought.
And then just when you are thinking: that is a tad too precious (and I know if you are thinking that you are not fooling anyone), we hit the animal jackpot. No set-up or explanation necessary; just watch and savor (and then weep):
Finally, for old time's sake, our good friend Myron (more on him here):