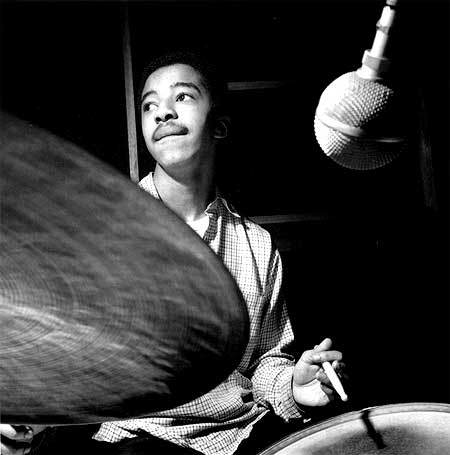 Check this out.
A few years back I opined that the second great Miles Davis quintet was the greatest group of musicians ever assembled in one collective. I stand by that, and reprint the piece, below.
Listening to what they do on the seminal Wayne Shorter composition, "Footprints", is as good a case that can be made for their sublime status.
Even after 20+ years, I find myself out-and-out marveling at what Tony Williams does on this track. The double-time, the outside-the-pocket pyrotechnics, the swing and the mother-loving soul. This is, truly, as good as it gets.
Miles Davis.
Herbie Hancock.
Wayne Shorter.
Tony Williams.
Ron Carter.
Those men, individually, are some of the most important and brilliant musicians of the last century. Together? Forget about it. This quintet (Davis's second famous fivesome) was an unstoppable force and they made some of the greatest albums. In jazz music? In any music.
Miles and Herbie need little, if any introduction or elaboration. They were gods then and they remain gods, now. Seriously, you could spend years studying and absorbing the almost overwhelming volume of music they've made. And while the sheer quantity is impressive, the quality is astonishing.
Ron Carter (who, like Hancock and Shorter, is still with us) is certainly one of the best loved and highly regarded bassists. He also plays a mean cello (check him out making some of the most beautifully odd, or oddly beautiful music you're ever likely to hear with the immaculate Eric Dolphy on Out There). To get a handle on his legacy, take a peak at his Wikipedia page. Just look at the number of albums –and the variety of brilliant musicians– his name is associated with.
Wayne Shorter is, for my money, possibly the most underrated genius in any genre of music. To be sure, he gets plenty of props within jazz circles and the people who know really know. And in his wise, humble way, he is probably cool with that. But his name does not come up quickly enough, or often enough in discussions of the true masters. And aside from his considerable proficiency on the horn(s), he is also among the most distinctive and consistently satisfying composers. And while Miles, who was without peer in assembling talent, had the vision and deservedly gets the lion's share of the credit (he was the lion, after all), a good chunk of the material on those second quintet sessions was written by Shorter. And here's where it gets unbelievable: all through the mid-to-late '60s –at the same time they were in The Quintet– he (as well as Hancock) was dropping epic masterpieces on the Blue Note label (think Maiden Voyage, Speak Like A Child, JuJu, Speak No Evil –for starters).
And finally, the wunderkind. If you were to make a short list –and I will, someday soon– of the best drummers (I won't say "in jazz" because the best drummers in jazz are, virtually without exception, the best drummers period), Williams would be difficult to top. He is generally regarded as one of the most exciting and original drummers (and if you think the invocation of the word "original" –that most unoriginal of invocations– is facile, just listen to him: few, if any, drummers could change tempos and go from smooth to scorching like him). Discovered by (the great) Jackie McLean, he played on his first session as a sixteen year old (on Vertigo, along with Herbie Hancock). Check him out on McLean's next album, One Step Beyond:
Whenever the topic of Jazz comes up (why I love it; why anyone else should like it), I invariably mention John Coltrane since he is, in many regards, the ideal starting point and the one you always, always come back to. And then there is Mingus. And Monk. And many others (obviously).
But aside from John Coltrane's classic quartet, there is no jazz band that can hold a candle to the second Miles Davis quintet. And if their time together was brief (relatively speaking), they more than made the most of their partnership. And, needless to say, they all went on to make several more decades of miraculous music.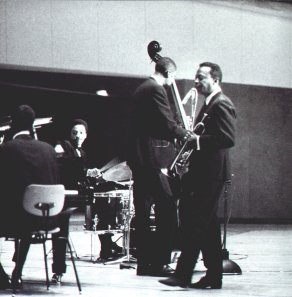 Here is a quintet, from the quintet.
(Wait, I'm not going to elaborate on why this music is exceptional or what makes it indelible? Of course not. I'm not inclined to embarrass myself, or the musicians, attempting to unravel the inscrutable or explain the lightning-in-a-recording-studio chemistry that blessed these sessions. And, as (the great) Dewey Redman said, it's all, ultimately, in "The Ear of the Behearer".)
If this is the first time you are hearing this music, do yourself a favor and make sure it's not your last. But I don't need to tell you that, right?
"Circle", from Miles Smiles:
"Pinocchio" from Nefertiti:
"Water Babies", from Water Babies:
"Black Comedy" from Miles In The Sky:
"Agitation", from E.S.P. (live):