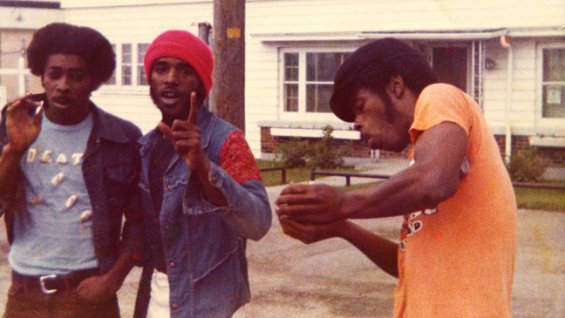 10. Material: Hallucination Engine
Speaking of Bill Laswell, if any single artist can be said to suffer from being too good, and too productive, it's him. He is music's quintessential shape-shifter, his hands in so many diverse projects and stretching himself, seamlessly, in so many directions. While any number of his productions could serve as proof for this claim, Hallucination Engine might best represent his uncanny brilliance. What can one say about a recording that brings together the likes of Wayne Shorter, Bernie Worrell, Bootsy Collins, Sly Dunbar and, for a special—and hilarious—cameo, William Burroughs? Throw all that history and diversity into a studio and, unsurprisingly, a filthy gumbo of funk, dub and old-school jazz emerges, all with a driving beat and traditional Indian music vibe.
It's entirely too easy to suggest this is a successful take on "East meets West", but Laswell & Co. deserve considerable credit for using ancient, sacred music as a springboard for extended excursions into a postmodern mash-up: the moods swing from buoyant to serene, and conjure bright, blinking lights one moment and a drift into calm darkness the next. The final result is exhaustive but not exhausting and this isn't a cynical instance of genre-trolling: this is the real deal delivered by a collective that has been there and done that in order to do this.
9. Dr. Octagon: Instrumentalyst: Octagon Beats
The backstory here is crucial for a proper understanding of the perfect storm of personalities and timing that created this album, but the music is ultimately all that matters. And it's all music: this is a companion piece to the previous volume, Dr. Octagonecologyst. Dr. Octagon being the brainchild and alter ego of Kool Keith (Keith Thornton). While his rhymes and rapping on the first album are distinctive, disturbing and sui generis, he uses his voice, samples and well-timed outbursts to embellish this all-instrumental session ("vocals surgically removed" the cover boasts). The spotlight, then, shines on turntable wizard DJ Qbert and production maestro Dan "The Automator" Nakamura—both of whom are legendary in the appropriate circles.
This is an exceedingly dark, occasionally hilarious, wholly unique album. Nothing else sounds like this, and no amount of musical science could ever duplicate the spooky atmosphere these three men create. It's a trip, in several senses of the word, through the night shift of an insane asylum inside a mad doctor's brain, where bizarre announcements escape from muffled intercoms and sly laughter creeps around ill-lit hallways. It's a homemade B-movie where one hand holds the camera, the other a scalpel, and it's too dark to tell if that's his sweat, your tears or somebody else's blood.
8. DJ Spooky: Optometry
DJ Spooky (Paul D. Miller) is proof that one can never be too smart or too ambitious. Of course, many artists who are too smart or ambitious for their own goods quickly cross the line of pretension or else become too enamored with their ingenuity. Spooky is incapable of thinking small, and his varied interests are obvious by the projects he's undertaken: turntablist, producer, philosopher, author, professor, editor. But it's his work in the studio, making music, that finds him combining all of these passions into enduring works of art. Put in more personal terms, I'd followed—and enjoyed—Spooky's career to this point, but the second I popped this disc in, summer 2002, I knew the ante had been upped. Big time.
Optometry is a masterpiece, and one of the most satisfying musical-cultural mash-ups of the new millennium. Conceived as another installment of the excellent Blue Series, the vision here combined with the stunning cadre of musicians assembled could (should?) have been recipe for disaster or, at least, pretension. Instead, Optometry manages to be many things that succeed as a seamless whole: a rather straightforward—and banging—jazz release, and a fully experimental, heavily avant-garde exercise in illbient. William Parker, one of the premier contemporary bassists, is joined by Matthew Shipp (one of the premier pianists) and the always-excellent Guillermo Brown (drums) and Joe McPhee (sax), throw down sonic cage match style: the proceedings are clearly thought out, but there is plenty of room for improvisation. Words, as always, are hopeless and inadequate when the music can speak for itself: the title track is a triumph of postmodern style: genres smashing and scattering to the margins, all pulled together by Spooky, getting his Sorcerer's Apprentice on. This is magic.
7. John Fahey: Death Chants, Breakdowns and Military Waltzes
John Fahey poses one significant concern for the uninitiated: he's so great, and his recordings are all so superlative that once you're in, you stay in. This ain't a bad thing, but be forewarned: a little will never be enough. Fahey made a long, remarkable career out of tapping into an understated American expression, infusing traditional blues with folk and progressive elements. He is a guidepost that connects lines between the earliest, acoustic guitar blues of the early 20th Century and the more adventurous yet authentic blues-influenced music of the post-MTV world (think of the basement recordings of early Black Keys or Beck's stripped down serenades).
Fahey's work is always a history lesson: he draws freely on familiar (and, especially, unfamiliar) blues standards and, like a jazz player, improvises, embellishes and puts his own distinctive stamp on them. His original compositions emphasize repetition, and an unhurried impulse to get from here to there. Where here or there are is, of course, dependent upon the listener, but as Fahey himself would point out, he was trying to respect and preserve a roots music that was already largely forgotten by the early '60s. As his song (and album) titles suggest, he had a sense of humor and did not take himself too seriously even though this music is dead serious. Listening to these songs, you start to feel drawn back to a different time (no computers; no electricity even), and once the music gets inside you, it reminds you of places you've never been or don't exist. Then you realize they do exist, because Fahey made them possible.
6. Mighty Diamonds: Right Time
Right Time manages to combine several styles and merge them in a seamless, practically flawless whole. This, to be certain, is roots reggae, yet at times it sounds like the most accessible soul music, closer to Motown than Trenchtown. The brilliance of the songs that follow must be heard to be believed, and it's difficult to imagine how singing and song craft this tight, spiritual, and emotionally rich could fail to convince. The songs "Why Me Black Brother Why?" and "Shame and Pride" constitute a one-two punch that manages to invoke Marvin Gaye, Smokey Robinson and Otis Redding: Gaye's authentic words, Smokey's silken voice, and Redding's gut-rending fervor.
If the world was right side up, all of these songs would be standards, familiar to anyone who listens to the soul legends mentioned above. The album's highlight may be the resplendent anthem "I Need a Roof"—-a rather uncomplicated piece of poetry that invokes Marcus Garvey and Jesus Christ with its (obvious) insistence that without shelter there can be no peace, and without justice there can be no love. Listen: even writing about this record, albeit while offering the highest possible praise, inexorably mutes the message. That message is conveyed with voices that must be heard so the music can make sense. Go seek it out.
5. Fela Kuti: The '69 Los Angeles Sessions
Kuti's legend continues to grow as more people get their minds around how ridiculously productive and consistently awesome he was all the way up to his premature death in 1997. Lauded for inventing and/or popularizing Afrobeat, the work he did, especially throughout the '70s, is now correctly considered alongside some of James Brown's extended funkfests. Leading large bands heavy on brass and percussion, Kuti was comfortable as bandleader and ringleader (and agitator, leading him to clash with and repeatedly be hassled by Nigerian authorities). He would become famous for his epic side-long jams, and just about anything he did in the '70s is excellent, but he is captured here, stateside, trying to find the groove. He succeeds, and this document stands as evidence of a master-in-the-making's introductory statement.
There is an attempt at commerciality here, or at least accessibility he would dispense with altogether in short order. As such the songs are shorter, punchier and in many cases, booty-shaking mini miracles. There is an obvious amalgamation of African and western pop influences, and Kuti, seemingly making it up as he goes along, creates something that defies any type of easy description or categorization. Album closer "This is Sad" serves as a preview for the sprawling instrumental workouts he'd mastermind, but sometimes shorter is better, and there is as much emotion and concentrated intensity in this number as anything he'd go on to do.
4. Death: …For the Whole World to See
First order of business: if you've not seen the excellent documentary A Band Called Death, get thee to Netflix. The genuinely unbelievable story of this band and how they failed to launch (for all the wrong reasons) and finally found some semblance of recognition (for all the right reasons) is imperative viewing for artistic, historical and sociological factors.
Their story in a nutshell: music they recorded in 1975 (!!) finally saw the light of day in 2009, and minds were blown. Here is more or less what I thought when I first listened: This is the reason you always remain humble, if not entirely content in the knowledge of how little you actually know. Not only about all the great art we know is out there, or can't get around to acquiring all of, but the great art that is not out there, obscure, undiscovered, without a champion. Without a story. Simply put and without any overstatement, the tracks these three brothers (literally and figuratively) from Detroit laid down is Bad Brains before Bad Brains, Ramones before Ramones. Punk before punk, as mind boggling as that is.
(Sidenote: It is enough of a commentary to even name-check Bad Brains without embarrassment, because their debut album inspired a whole slew of styles and imitation, sprouting like weeds through concrete. It is almost beyond belief that Bad Brains did what they did in the early '80s; to think that Death was making proto-punk like this in the mid-'70s in almost utter obscurity is staggering, to say the least. And that the rock impresario Clive Davis, while allegedly digging what he heard, refused to get on board until the band changed its name. Fuck that, Death said, and the rest was, until 2009, three decades and change of unwritten and almost unheard history.)
So yeah, the story beggars belief, and the eventual documentary was pretty much a foregone conclusion years before it was made, and that is regardless of the actual quality of the music. But as it happens, the music is astonishing. As I say, to invoke Bad Brains would be ballsy, even gratuitous. Here's the incredible thing: their song "Politicians In My Eyes" can stand alongside any of Bad Brains' seminal early '80s output. It can stand alongside pretty much anything; it's that vital, that perfect, that real. How is this possible? Don't listen to me, listen to your ears: the ears never lie.
3. The Plugz: Better Luck
Isn't that one of the greatest things you've ever heard? Using Los Lobos sax player Steve Berlin (who would later make memorable contributions to REM's Document), and beefing up the sound with Bruce Fowler's trombone, this song should have been a number one hit, and should be considered an absolute classic. There is no way to say enough good things: the lyrics, mixing unrequited lust and self-loathing, the music (that trombone adding comic relief to the angst), the tongue-in-cheek melodrama of the vocals, and a guitar-bass-drum assault that is tight as a clam in a vise.
How about this for an album opener—and title track? Again, the lyrics, the vocals, the vibe. These guys aren't just channeling Los Angeles, they are Los Angeles. And not the Hollywood mansion L.A., but the old Sunset Strip, Jim Morrison high-fiving Charles Bukowski shot and a beer, back-alley on a steamy, stinking summer night L.A. 1981: L.A., like The Big Apple, was still dirty, desperate and an unrivaled breeding ground for art. Not for nothing were The Plugz prominently featured on the soundtrack of consummate L.A. flick, Repo Man.
Right? It is another depressing dissertation on the way we let genius rot on the vine while watered-down, derivative twaddle makes millions. Certainly this was true yesterday, it's true today and it'll be true tomorrow. And who cares? Anyone who knows anything understands you have to get outside the margins and beneath even the underground to find the really good shit. And yet…it's a travesty that Better Luck is not heralded as one of the great American rock albums. It's my story and I'm sticking to it: let's get a proper reissue of this masterpiece as soon as possible. I'll write the liner notes.
2. Bad Brains: I Against I
No Bad Brains, no Living Colour.
Maybe not literally (and that is not said to deny that the amazing Vernon Reid would—or could—have ever been denied), but if you want to talk about stepping stones, Bad Brains are the Viking ship that launched a thousand mosh pits. One of the most pure and potent distillations of unclassifiable genius in modern rock history. It's all in there: rock, rap, reggae, hardcore, metal and anything else you ever imagined. And it's all good.
The album could be described the same way Thomas Hobbes described the state of mankind in the 17th Century: nasty, brutish and short. Add brilliant, soulful, impossible to compartmentalize. It's perhaps the most perfect distillation of punk, hardcore, classic rock and the time warp that bridges progressive and alternative. Or, if you took the best things about The Clash and Black Sabbath (bookended by Death and Living Colour), it hints at the glories contained within these grooves. Side One of this sucker has to be one of the all-time adrenaline rushes in all popular music, and it stands alongside anything anyone has ever done.
1. Shuggie Otis: Inspiration Information
Shuggie Otis endures as one of those inscrutable figures many people are familiar with, even if they don't know his name. Sadly, though revealingly, he is likely best known to contemporary ears through the work of other artists. He's been sampled by Beyonce ("Gift From Virgo"), OutKast ("Mrs. Jackson") and most notably, The Brothers Johnson, who hit #5 on the charts in 1977 with their excellent, if inferior cover of "Strawberry Letter 23".
Why isn't Shuggie Otis recognized by more people as a genius? And why isn't Inspiration Information regarded as one of the best albums of the '70s? Otis, and his masterpiece, have belonged to the underground, enigmas that attract word-of-mouth followings each generation. But here's the thing: that is not acceptable. Shuggie deserves better, certainly, but it is intolerable that this album is not regularly talked about when we talk about albums everyone should own. Everyone should own this album because it is as perfect as anything anyone did that decade. Anything. Anyone.
The needle could be dropped at virtually any point to make a compelling case for its brilliance, but the high point may be its third track, "Sparkle City". It still seems nearly impossible that a musician so young could sound this assured, and create a statement of purpose this persuasive. Laid back and unhurried, this song is like walking into a conversation called the '70s.
Two minutes before the vocals kick in, Otis is on his own time, taking his time—and it's (somewhat) understandable why this didn't find its way onto radios all over America. Dreamlike with an irresistible bass line and perfectly-placed horn flourishes, this psychedelic swirl showcases Shuggie's remarkable voice. "I heard all the news/There is no offer that I wouldn't refuse", he sings, sounding wistful but not boastful. And then he follows that up with an astonishing line that practically predicts the rest of his life, intended or not: "Now come time for me to run / Sorry, people, but I'm not the one". A wink and a nod, and maybe an insight that explains or at least vindicates how—and why—this preternaturally gifted cat could stroll so calmly off center stage. I continue to hope that the time is always right for a full reappraisal of how important, and essential this album is. I'm also willing to bet if you're not yet in the club, you'll be glad to join. Are you experienced? It's never too late.
List originally published at The Weeklings, 5/1/14 (check it out and make sure to explore the Spotify playlist that follows the article).