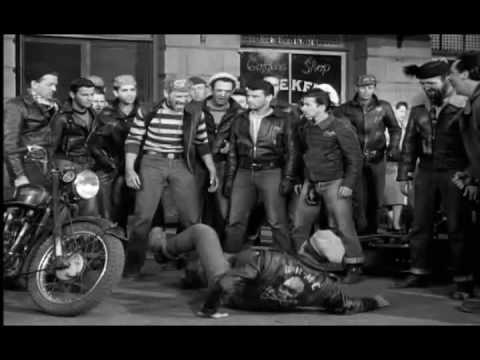 50. Cannonball Run
A suitably over-the-top pastiche of great movie punch-ups, taken to that "other level" by the inimitalbe Dom DeLuise, aka "Captain Chaos". Can—and should—still make the most crusty old guy feel like a little kid again.
49. Breaking Away
The Cutters vs. the College Kids. In a bowling alley, wherein a bowling ball gets used as a weapon. All the tension that has simmered boiling over in the three words that can start a war: "Smart move, Shorty."
48. Every Which Way But Loose
Like Steve McQueen, and several other heavyweights on this list, Clint Eastwood could have at least a dozen entries and all of them would be warranted. But in a movie about figthing (and featuring a character named Philo Beddoe) the ultimate fight scene, where Beddoe tanks against the legendary Tank Murdock, is the best kind of anti-climax. By losing on purpose, the protagonist wins, and a movie that includes an orangutan named Clyde manages to say something more than slightly profound about myth vs. reality, integrity vs. image and what being a man is really about. Seriously.
47. Jason and the Argonauts
Props to Ray Harryhausen, who was way ahead of his time (and it's a nice nod, years later in The Terminator, when the aesthetic combination of steel heels and still-primitive tech makes the robot look and walk a lot like the skeletons that pop out of the ground, swords in hand).
46. Raging Bull
Although this still gets credited with some of the most realistic, and disturbing boxing scenes in cinema history, the ultimate fight occurs outside the ring. And no, it's not when LaMotta brutalizes his brother in front of his children (a genuinely sickening scene), it's when the tough guy gig is almost up, and Jake faces off against himself, and his demons, in a squalid prison cell. He has been figuratively punching brick walls his entire life; in this difficult-to-watch unraveling, we see what happens when an irrestistible force confronts an unmovable object.
45. Malcolm X
A scene that undoubtedly used Raging Bull as a model (just like Lee has often payed homage to Scorsese throughout his career), we get one of the more convicing battle scenes, wherein man encounters himself. After years of hustling and hurting, the street rat is in solitary, strung out and there is nowhere, finally, for him to direct his rage. We shouldn't use words like tour de force lightly and we don't: this entire role from start to finish establishes Denzel Washington as one of the supreme actors of his generation, and this scene is a highlight in a career full of them. (Tension, acting aplomb and a different type of mano a mano, here.)
44. Cool Hand Luke
Man vs. Eggs? Maybe. But the fight scene, which sets the tone for Luke's relationship with the inmates, succeeds on literal and figurative levels. Outmatched and beaten to a bloody mess by the larger Dragline (George Kennedy), Luke refuses to stay down. With a lesser script and lesser actors (!), the image of Luke lurching in punch-drunk circles, long after his foe has walked away in disgust, would be too easy, too much. But it succeeds, utterly, in illuminating the way(s) Luke would refuse to lose, unless it was on his terms.
43. The Wild Ones
Marlon Brando vs. Lee Marvin. In leather. Whaddya got?
42. Jaws
Man vs. Beast! We've already seen what this shark can do, and as has been often written about, serendipity saved the day for Spielberg; with mechanical failures preventing the fake shark from being filmed, the director had to rely on things like suspense and story. As such, the cat and mouse game the shark plays with the barrels allows us to appreciate what a freak of nature it is ("He can't stay down with three barrels on 'im!"), and forces us to respect the "bad guy" who almost, almost seems to be clowning these hunters.
41. 48 Hours
"I fight dirty": Nolte and a young upstart named Eddie Murphy square off. This is the movie that made Eddie even more famous (the next couple would put him into the stratosphere). Interesting note: although this buddy film puts a black man almost on equal footing with his white co-star, Hollywood—and America—still wasn't ready for the black man to win. Nolte's Cates, despite being an overweight, chain-smoking, alcoholic mess (a real stretch for Nolte), manages to outmaneuever the younger Reggie Hammond.
This essay originally appeared in The Weeklings on 7/29/15.