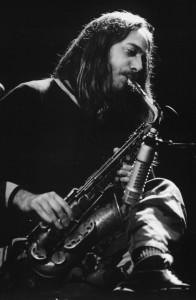 Starring John Zorn and Marc Ribot.
So what happens when one of the most prolific and staggeringly gifted sax players (and composers) of our era, John Zorn, conducts his music sans sax? Marc Ribot happens. Which means magic happens.
These compositions, from the original Masada songbook, are given new life via Bar Kokhba. Whereas the Masada quartet, featuring Zorn on alto sax, Dave Douglas on trumpet, Greg Cohen on bass and the indefatigable Joey Baron on drums, performed the original compositions (featured on the Masada 10 part series, each disc coming highly recommended, especially volumes one, two, six and seven); here the original Bar Kokhba loses Zorn and Douglas and adds Mark Feldman (violin), Erik Friedlander (cello), Cyro Baptista (percussion) and the aforementioned guitar god, Marc Ribot.
First, appreciate the Masada quartet doing their thing (from Warsaw, 1999):
Now appreciate Bar Kokhba, from the same gig:
And one of the most sublime compositions (and performances) you'll ever see/hear: