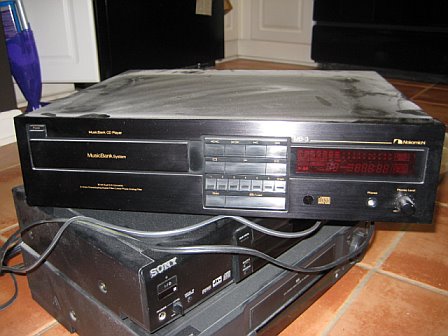 My buddy Hersko, who is such an early adopter of technology he owns things before they are invented, mentioned to me that he had finally gone digital. (I half-seriously wondered if he had discovered a way to turn into Tron and when I say Tron I mean this guy and not this guy.)
As it turns out, he was referring to his impressive ability to finally upload his remaining compact discs so that his music collection was entirely digital. (For the average consumer, this is not a noteworthy accomplishment; particularly for the folks who have been buying MP3s for years now. For music freaks, who have been collecting CDs (and cassettes, and, sigh, LPs) for decades, the decision to go digital is one that involves expense, commitment and an inordinate amount of time.)
I honor and admire his decision. If nothing else, on practical levels, the storage-space liberation must seem well worth the bother. As someone whose music collection takes up considerable (and, to friends and family, unbelievable) space in my not exactly spacious two bedroom condo, no one needs to explain to me the manifold benefits of jettisoning these ancient discs. But I haven't, and I won't. For one, because although I've filled up most of my iPod with music I own (thereby making the CDs that were uploaded ostensibly superfluous), I still have thousands (!!) that I would need to copy. This would require an intolerable allotment of time, and at least two more iPods. Also, I say without pride but without unreasonable remorse that I am that guy. I actually will defend my dust-attracting, space-sucking, antiquated compact discs, housed in their all-too-destructible plastic armor. I like the liner notes; I enjoy actually being able to find the discs if I sort them by artist and genre (something that would be too cumbersome if they were burned and placed in those little leather booklets). Also, I'm sufficiently old school that I still miss the idea of albums. Finally, as Hersko acknowledged, trying to sell CDs these days nets you anywhere from a few bucks (unlikely) to five cents (typical). In short and in sum, fuck that nosie.
So there it is. And here is Hersko, wisely unloading old camera equipment, old DVD players and his now officially useless CD player. As well as a ton of CDs to the highest bidders. Unlike Hersko, I used my beloved Nakamachi MB (Music Bank System) until it literally stopped working, and even then I dragged it to the dumpster kicking and sobbing. Even took pictures of it (see above). That CD player, which I used for over a decade, was like a car that turns over 300 k on the odometer and finally gives up the ghost, or just falls apart like the beloved Bluesmobile at the end of The Blues Brothers.
In the end, Hersko had the typical yard sale experience: his damaged, unwanted, too-shitty-to-sell-on-eBay goods attracting crowds like a dead carcass drawing crows. All there anxious for a good deal and prepared to negotiate down to the penny.
Me: "How did the garage sale go?"
Him: "Great: Got rid of a ton of shit. People are nuts…there before 7am; haggling over $2 and they pay the $10 from a wad of $100s…"
Kind of like this guy?