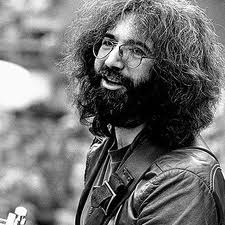 Jerry Garcia, had he lived, would have turned 71 yesterday.
I've never been a big fan of the Dead but, while I tended to disdain them in the past, I can accept –and very much appreciate– the excellent contributions they made to the world of music. Indeed, they recorded a handful of songs that are sui generis rock masterworks: unique and affecting touchstones that could never have been conceived by anyone else. For this, Jerry Garcia deserves serious kudos. Three of my personal favorites are below, in tribute.
"Dark Star", from Live Dead.
Yes, this one drags and yes, it is repetitive in ways most "jam" bands trying to emulate jazz improvisations are. Nevertheless, my freshman year of college would have been unimaginable without this song, falling asleep on so many semi-conscious nights.
"Truckin'", from American Beauty.
A masterpiece: musically, lyrically, conceptually. Of course, this has the now iconic line "What a long strange trip it's been", but this one nails the post '60s appraisal of how short the dream fell as well as any single song. And it never gets boring or stale; it is a psychedelic and real slice of Americana.
"Ripple", also from American Beauty.
Another masterpiece. Let's face it: a relative handful of artists have a period of time when they see the world, and their vision, so clearly and are so inspired, they are able to translate that into transcendent (yes, transcendent) work. During the recording of this album, this band was locked in and ready to make their ultimate statement: it endures, and we are fortunate that they tapped into whatever it was they were brave, weird or blessed enough to discover. (Bonus: this song is used to devastating effect in the movie Mask: I cry like a baby each time I see it.)
I had no choice but to invoke a few cliches in this overview, but let's conclude by acknowledging the biggest one of all: hating the Dead, on principle, is a cliche. It's also a mistake.