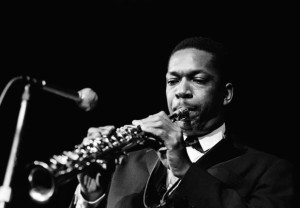 Check it out:
Most people, at least post Baby Boom generation, know this from the insufferable, I mean delightful family masterpiece, The Sound of Music.
It was, and remains, an enduring tradition within jazz for musicians to take well-known standards and put their own spin on them. Within that framework, it has been especially gratifying when artists take overly familiar, or corny songs, and give them an entirely new identity.
That was not the case with Coltrane when he chose "My Favorite Things": it was obvious he deeply appreciated and respected the craftmanship and sensibility of the Rodgers-Hammerstein juggernaut (more on them, and this composition, here), and he famously utilized this innocuous, hummable tune into a sprawling (and later, in incendiary live performances, cavernous) workout.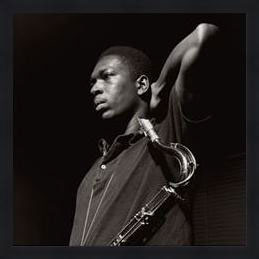 In a longer piece appraising the unique and quite possibly unrivaled genius of Coltrane (HERE) I discuss where he was –and where he was headed– during the recording of what turned out to be one of his signature performances:
After Giant Steps Coltrane would expand upon the modal concept perfected on Kind of Blue and, along with a budding interest in Eastern cultures and the avant-garde, fully embrace what was coming to be called free jazz. After 1960, one can hear the imprint of Ornette Coleman alongside the harmonic algebra of Monk and Miles, all bubbling under the surface of an increasingly intense and emotional approach to songwriting (and soloing). Rashied Ali, who worked closely with Coltrane in the final years of his life, compares him to a competitive athlete: "He was like a fighter who warms up in the dressing room; he'd break a sweat (backstage)…he was always playing." This combination of restless energy and relentless exploration led to concert experiences that were as exhausting for audiences as they were for the musicians.
The sessions that produced My Favorite Things (1961)—a composition Trane would return to and reconfigure repeatedly in the ensuing years—are a touchstone for Coltrane's next leap forward. Described in the documentary as a "hypnotic Eastern dervish dance", this innocuous Rodgers/Hammerstein song became a springboard for an extensive, irresistible solo, showcasing Coltrane's lucid yet multisyllabic way of conversing with his instrument.
One of my personal favorite (of the many, recorded) versions is the one where the "classic quartet" is augmented by the amazing Eric Dolphy, on flute. (A bit more about this classic quartet, which some consider the best collective in jazz history, and the quintet that gets my nod for that title, HERE.)
Dolphy holds the distinction of quite possibly being the one artist nobody has gone on record to say a single negative thing about. His body of work, the bulk of which was recorded during an almost miraculously productive five-year stretch, is deep, challenging, and utterly enjoyable.
One of the paradoxical reasons Dolphy tends to get overlooked, even slighted, is not because of any lack of proficiency, but rather an abundance of it. It does not quite seem possible—particularly for lazier critics and ringleaders amongst the jazz intelligentsia—that such a relatively young musician could master three instruments. In actuality, Dolphy was an exceedingly accomplished alto sax player, drawing freely (pun intended) from Bird while pointing the way toward Braxton. Perhaps most egregiously disregarded is his flute playing, which not only achieves a consistent and uncommon beauty, but more than holds its own against fellow multi-reedists Yusef Lateef and Rahsaan Roland Kirk. Nevertheless, it is the signature, unmistakable sounds he makes with the bass clarinet that ensure his place in the pantheon: no one of note, excepting Harry Carney, employed this instrument on the front line before Dolphy and, arguably, no one has used it as effectively and indelibly since. Let there be no doubt that Eric Dolphy warrants mention amongst jazz music's all-time immortals. (Anyone who reads this blog regularly knows how I feel about ED, and some of that love can be found HERE.)
On this live recording it's easier to appreciate another oft-overlooked genius, McCoy Tyner (a proper celebration of him HERE). You can see, clearly, how fluid Tyner's runs are, how effortlessly he owns the instrument, and how seamlessly he accompanies Trane, while Jones handles the hush and thunder, and Garrison holds down the fort, calm and collected as always. It is truly the case of perfection being taken to another level, something to smile at and savor. It might become one of your favorite things.