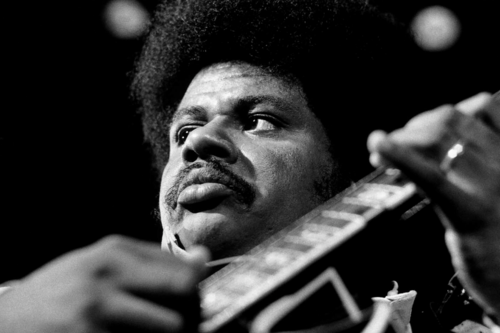 The name alone is epic: Sonny Sharrock.
I won't resist the urge, because I can't, to pick a low-hanging pun and opine that Sonny put the rock back in jazz.
Still blazing down the trail Miles helped forge with the genre-obliterating Jack Johnson sessions (which Sharrock made an appearance at), Sonny seamlessly wove angular, concrete-hard riffs into compositions that were just on this side of free jazz. He was recognized as a genius fairly early on, which naturally meant he had no chance to make a decent living as a musician. He dropped out of the scene for many years and came back (and/or was goaded back by the indefatigable Bill Laswell, not only one of the all-time heroes of postmodern jazz, but a man who has helped create, collaborate on and produce more albums than some people will ever listen to), invigorated and en fuego. He made, arguably, his best music at the end. Just as he was on the precipice of way-overdue major label acclaim he was felled by a heart attack. He remains not only a guitarist's guitarist, but a jazz guitarist's guitarist, which naturally means not nearly enough folks know about him.
Consider this a primer.
If you take my advice just once this month, pick yourself up a copy of his masterpiece Ask The Ages. You can download this for less than six bucks @ Amazon. Less than one dollar a song, folks.
Check it:
Anyone with ears can understand the beauty there. But Sonny was also a beast, and he brought the pain with an intensity that has not been rivaled by many names outside of Greek mythology.
Exhibit A: From the same album, this one really showcases the incomparable Elvin Jones and Sharrock's closest aesthetic compatriot, Pharoah Sanders. It's okay to be afraid; that is what happens just before you break through to the bright lights.
If you're looking for truth in advertising, sometimes a song title really can tell you what it's all about. And then there's…"The Past Adventures of Zydeco Honeycup"? (I know).
And in case there were any lingering questions.
Remember what I said about the bright lights?