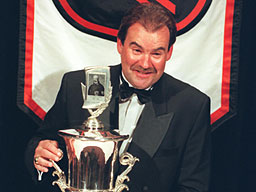 You have to hand it to Cancer. It does not discriminate: all it requires is a living body to inhabit and attack. That's it. Certainly, if you are impoverished or unable to acquire adequate medical care, this disease will make quicker work of you. But even the wealthy, well-connected and powerful are ultimately susceptible to the Big C.
This week the universally despised and dreaded ailment claimed another influential life. And it proved that no matter how tough you are, it likes its chances if it can remain undetected long enough to get a head start. If there is any human whose prospects I'd wager on in a mano a chemo battle, it would be Pat Burns. (Decent overviews of his career and achievements here and here and especially here.)
This excerpt pretty much sums it up:
"As for my career," he said at the arena ceremony, "I always said to my kids, 'You don't cry because it's over, you're happy because it happened.' That's the main thing. I'm very happy that it happened."
A few weeks later, Mr. Burns said he could not imagine himself being anything other than a cop and a coach.
"No, that's all I was," he said.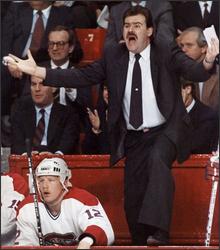 Nice tribute here:
One of my favorite Burns memories is from '99 (in what turned out to be a disappointing regular season after the Caps' shocking and wonderful Cup run in '98) when he was coaching Boston. Bad blooded still simmered from the previous year's playoff series and after the Bruins jumped out to an early lead, an old school line-brawl ensued. This one was epic in that it featured all-time greats Ken "The Bomber" Baumgartner trading with Mark Tinordi (one of the grittiest and gamest D-Men and take-all-comers fighters of his era — and a personal favorite) and the priceless stand-off between best friends Olie Kolzig and Byron Dafoe. And then, at the end, when order was somewhat restored, we see the pugnacious Burns beaming on the bench. He loved it, and when he flexes his muscle at Ron Wilson, it manages to convey his intensity, his sense of humor and his inimitable air of mischief.
His passion for the game was a gift to the sport, the players who battled for him and for fans: he never coached my team and I still loved him. If you loved hockey (or life) you could not help but love Pat Burns. Cancer may have gotten the last word but it amuses –and inspires– me to know Burns kicked its ass as long as he could, and went down swinging. Our world is a hell of a lot less enjoyable and invigorated without him. R.I.P., Coach.