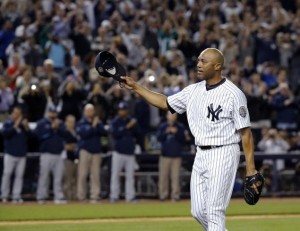 If you have not seen the clip of Mariano Rivera's last game in the Bronx yet, you need to. Check out the extended video, HERE.
You know it's real when you can stop and appreciate the man who has tormented your team for two decades, and lament that he's leaving the game. Baseball is a lesser sport without #42. RESPECT!
Speaking of respect, the Red Sox did a pretty impressive job with their tribute to the best reliever to ever play the game. (And if there was any doubt about how the great man received his tribute, check THIS.)
In other news, Todd Helton had a pretty special night for his last game as a Colorado Rockie. Extra props for being a lifer: same team his whole career. He'll never buy a beer in that state, nor should he. Good stuff HERE.
Not for nothing, but both of these guys look like they could keep playing for another five years. The ultimate sign of respect is that fans of opposing teams are glad they won't be.