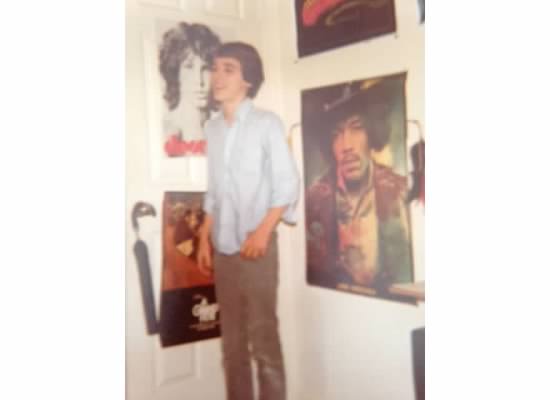 I don't know what you were up to but I was partying like it was 1983.
Due to the miracles of technology, we can see precisely how I was living, almost exactly thirty years ago.
Let's do a quick analysis of that picture.
Grey Levi's cords? Check.
Untucked blue oxford? Check.
R2-D2 light switch and piggy bank (both home made, neither by me)? Check. (For those playing at home, this was before Return of the Jedi was released, and I was still on board the Millennium Falcon).
Napkin with note and autograph from Dexter Manley? Check.
Feathered hair covering the ears? Check.
A little Toulouse-Lautrec up in there? Certainement!
Cozying up to my boy, Mr. Mojo Risin'? Check. (More on him HERE.)
Jimi Hendrix poster with feathered roach clip? You know this.
(About those roach clips: anyone else remember when those were souvenirs, or prizes, from the Langston Hughes fairs? We used to hang them on our Duron paint caps. We had no idea what they were really used for and, presumably, neither did my parents. They probably thought I was respecting our Native American heritage and hey, Hendrix had Cherokee blood…)
The obligatory black light poster that we used to buy at Spencer's? Check.
A floor speaker and a bookshelf, two components that still comprise my personal arsenal.
But what really inspired this trip down memory lane was a "From the vault" entry in the latest Rolling Stone –a magazine I started subscribing to right around this time. This particular entry features the Top 10 singles from the week of May 12, 1983, and it is indeed a trip, in many senses of the word. I wonder if this will bring you back (and I mean waaaaay back) the way it did me: 7th grade lockers, Mr. Bryant & Reston Skateway (for my local peeps), getting to second base (allegedly), and a hundred other things. Let's run it down from top to bottom and shoot the proverbial duck. Wherever possible, I've embedded the proper video from MTV. (MTV!!! Here's a trivia question I bet even people who know me best would get wrong: I did not, in fact, have access to this epic channel back in the day. My parents would not allow it. Wisely. That does not mean I did not log quality hours –and I mean hours– at myriad friends' houses.)
1. Michael Jackson, "Beat It":
re. The King of Pop:
A confession. I was not necessarily a fan. I certainly was able to appreciate that dancing, and that song (and any male my age who attempts to deny that he desperately wanted to perfect the moonwalk is lying through the acne-glazed haze of adolescent recollection). It was a bizarre time to be a teenager: all the girls in school loved Michael Jackson and all the guys loved Jim Morrison. Oh wait, that was just me? Well, as corny as I would have considered it for any dude to have a poster of MJ, I am not particularly proud to reconsider the prominent spread of leather-clad Lizard King photos on my bedroom wall. I say this only to underscore the impact MJ had at the time: I was well tired of the non-stop hype and ceaseless radio play (seven Top 10 singles?!), and it was simply beyond human capability to separate oneself from Thriller's impact. You may not have loved it (you may not have liked it) but I have never spoken to anyone who actually hated it. I'm sure there is someone out there, who also hates the Sistine Chapel and The Lincoln Memorial. Or Moby Dick (just kidding, sort of.)
A lot more on MJ, and the '80s, HERE.
2. David Bowie, "Let's Dance":
Kind of amazing –and humbling– that David Bowie appears to have aged less in three decades than me (or anyone else on the planet).
3. Greg Kihn Band, "Jeopardy":
When Greg Kihn was born I believe his parents stood over him the way the gods once did at Olympus ("Clash of the Titans" style) and said: "Your purpose on this earth is to form a band and make an album called Kihnspiracy. Mission accomplished. (What have you done with your life?)
4. Men at Work, "Overkill":
5. Thomas Dolby, "She Blinded Me With Science":
This song is just as amazing today as it was then. That is all. (And don't sleep on this slice of heaven.)
6. Dexy's Midnight Runners, "Come On Eileen":
All I had to do was type the letters "D-E-X" into YouTube and this was the first thing that came up. Obviously.
7. Irene Cara, "Flashdance…What a Feeling":
13 year old Murph would like to send my personal thanks to Irene Cara for helping me through some…hard times. If you know what I'm saying.
8. Prince, "Little Red Corvette":
Ridiculous video, but apparently the Prince police have disabled everything on YouTube.
re. Prince: idiots, like me, were not prepared to appreciate him, but time has taught us that this weird dude is a genius. Duh.
9. Laura Branigan, "Solitaire":
Two words: Couples skate!!!
10. After the Fire, "Der Kommissar":
Perfect way to end. What an unbelievable range of sounds, cultures and styles –and these were the most popular songs in the country. This, my friends, when people ask why we are so nostalgic, is the answer. Because the '80s, when all is said and done, did not remotely suck!
But don't take it from me, ask John Cusack!