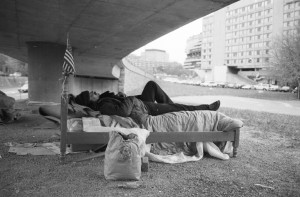 Homelessness is an issue I (and, I know, many of us) worry about and struggle with (what to do? how to do it?). The problem seems to intensify in direct proportion to the ever-increasing –and very deliberately designed– gap between the wealthiest and those with least.
On a day when we may actually have a vote steamrolled through all due process to further widen the gap, I'm honored to have my poem "The Voices in Your Head" appear in the People's Tribune's Poets United to End Homelessness issue (suitably old school that a digital copy is not currently available).
As someone who writes, and worries, more often than doing direct, meaningful, or substantive work, I'm more aware than most how little a poem contributes to the dialogue, and it certainly won't provide shelter or sustenance. But I also am inspired by William Carlos Williams (a poet!), who wrote: It is difficult to get the news from poems yet men die miserably every day for lack of what is found there.
I share this, then, with a personal pledge to do more, and appreciate all I have and those I'm fortunate to share it with.
The Voices in Your Head
It didn't used to be this way,
he sighs, static and unshaven.
It didn't used to be like this,
she thinks. Don't enable them,
her father used to say.
But where is his father, and
what would I say if my son
stood before me, neither policeman
nor president, but the deferred dream
of better intentions?
Hey brother, can you spare a life?
I don't have any to spare, but
I'll dig deeper and give 'til
it hurts you more or less
than it hurts me.
It's always been thus,
God might explain, but
He's busy with a billion other
street corners, alleys, slums and
the newer tent cities He can
scarcely keep track of.
The earth itself is silent.
but what would it say:
All its stages a world
With so many passion plays?
So many dispirited shapes,
sleeping under overpasses,
bridges with graffiti singing
songs of pain and witness.
Huddled masses, created in their own
image, forever and ever.
World without end
Amen.