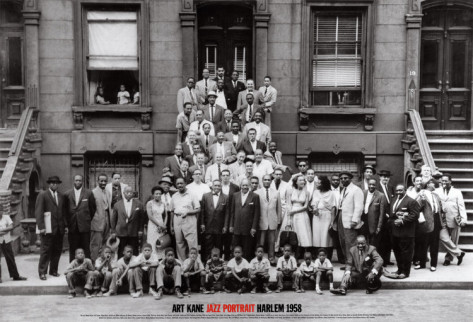 New York City would be unimaginable without jazz, and vice versa.
Here then is a tribute for –and by– several musicians who help define and celebrate the cultural mecca of our known universe. On a day like today, it seems appropriate and right to acknowledge the artists that express the pain, grief, joy and delight –those things that comprise this fleet, miraculous time we have together. Their music is a living celebration of life, and a testament to what the best among us are capable of delivering.
How about four from the old guard, five from the new(er) guard and a final one from the epitome of so much of what makes The Big Apple such a special, truly incomparable place?
Kick it off with the king: Charles Mingus, one of his many (many) tributes to the amazing city that coursed through the blood pumping his huge heart:
(If you are new to this blog you may not know that I have a slight reverence for Chazz Mingus. More on that here.)
Put plainly: Arguably, no single musician was able to get the most out of this medium –at once celebrating every aspect of its history and potential, as well as incorporating other types of music and sound– as Charles Mingus did. Irascible, insatiable, indefatigable: his bass was his bull-horn and his compositional prowess (second-only to Duke Ellington) towers over the second-half of the century and casts an intimidating, all-encompassing shadow over anything anyone will subsequently come up with. He was that good, that huge, that immutable. And his music is infectious: it doesn't require advanced degrees or a special cultural acumen to pick up what he's putting down. Yes, he was political (and, as George Orwell famously declared, the opinion that art should have nothing to do with politics is itself a political attitude); yes he was often angry (imagine being a black man in the 1950s; imagine being a genius in America, at any time); yes he was intense. His passions fed his muse –and vice versa– and his imagination created some of the most ecstatic sounds you'll ever enjoy. He willed himself to be heard and he refused to be silenced. His life, like Melville's, was part and parcel of what we like to think we're thinking about when we think about the American Dream, and all that this entails.
A scorcher from Sonny Rollins (more on him here, but here is the bottom line: The last century blessed America with more than a handful of geniuses whose lives and work will be studied and appreciated many, many centuries after they are gone. Rollins is most definitely on the short list of masters who can teach us a great deal about ourselves and how we should aspire to be, and in the process, as all great art inevitably does, make that life quest immeasurably richer and more enjoyable in the process).
Another native son, and icon we will appreciate as long as we have ears to hear (and his sidemen each, in turn, crank out some of the best solos ever caught on tape: first trumpet fire from Freddie Hubbard, then the most bad-ass bass solo from Jimmy Garrison and the typical roaring thunder from the mighty Elvin Jones):
Slowing it down, a tear-jerking tribute from the gentlest of giants, John Coltrane.
(A lot more on him here. My quick .02: For those whose definition of genius is either too encompassing or excessively narrow, John Coltrane poses no problems: there isn't anyone who knows anything about music (in general) and jazz (in particular) who would contest that he is among the most prominent, impressive and influential artists to ever master an instrument. Furthermore, to put Coltrane and his unsurpassed proficiency in its simplest perspective, it might be suggested that no one has ever done anything as well as Coltrane played the saxophone. Plus, he was an exceptionally gifted composer and bandleader and, by all accounts, he was a generous and gentle human being, as well. All of which is to say, if there is anyone worthy of celebration in our contemporary American Idol Apocalypse, Coltrane should serve as both antidote and inspiration.)
And lest we forget, the man who took one of the biggest bites out of that apple, Miles Davis. (He needs little introduction, but if you are as yet unitiated, take care of that as soon as possible. Check it: Here was a man that could have coasted on a richly-deserved reputation, and even if he'd never strayed far from the formula he perfected in the mid-'50s, or late '50s, or mid-'60s (get the picture?), he would have undoubtedly made remarkable music. Of course, Miles scoffed at the notion of playing it safe, and constantly created challenges for himself. Like any exceptional artist, Miles was restless and did not (or could not allow himself to) care about yesterday. His legacy might be best summed up by suggesting that he was not interested merely in excellence; he wanted to matter. Having gone from being the young buck riding shotgun into bebop eternity with Charlie Parker in the '40s, to assembling some of the better players on the scene to form his first great quintet in the mid-'50s, to surrounding himself with a young gang of geniuses almost half his age (his second great quintet in the mid-'60s), the moves Miles made as the '70s began seem, with the benefit of hindsight, like magnetic fields pulling him into the future—and taking music with him.)
From his second quintet's masterpiece Nefertiti, the appropriately entitled "Fall", a glorious elegy for autumn, featuring some of Wayne Shorter's most gorgeous writing and playing):
Aram Bajakian's Kef, who made another one of my favorite albums of 2011 (full review here). This is my bottom line appraisal on the debut recording from this remarkable young artist:
There are no unsatisfactory tracks to be found here, and while some may dazzle or impress more than others, the last two, "48 Days" and "La Rota", warrant special mention. Alternately serene and sombre, these closing statements comprise an elegiac, deeply moving conclusion. There is beautiful music and there is moving music (the best, of course, can combine the two), and then there is music that goes to that other place which is at once inscrutable and oddly familiar. By the time the last notes have been played it will occur to the tuned-in listener that something significant is happening here. This is a different type of music.
Music remains the ultimate antidote against cynicism and apathy: all it asks is you lend it your ears and in return you may just get something that makes the world more beautiful than you thought possible. If that sentiment is, understandably, a bit much to process with a straight face, let it suffice to say Kef is as extraordinary an album as I can recall listening to in a very long time.
Yoshie Fruchter's Pitom (here is my very positive review of their 2011 effort Blasphemy and Other Serious Crimes). Here is the conclusion of that piece:
By the end, Blasphemy and Other Serious Crimes is not unlike a good workout, on multiple levels. You should be exhausted by the experience but you mostly feel rejuvenated, aware that something meaningful has happened. There is emotional heft here and a vibe that engages the intellect. This is music that matters. Is it too soon to begin wondering—and anticipating—what Pitom is going to come up with next time out? Stay tuned.
Jon Madof's Rashanim (much more on him and his band here). Writing about his masterful 2009 effort The Gathering, I concluded thusly:
So…healing music? What is that supposed to mean?
Well, the great news is that we should properly relish the runaway democratization of content, with artists (like John Zorn) creating their own labels to more effectively disseminate their unfiltered (and unsanitized) vision. This is happening with all art, but musicians have arguably taken most advantage of the opportunities inherent in the increasingly viable DIY model. This, of course, is a very positive development for both artists and their audience. That said, we are still very much living in a corporate-sponsored country where suit-wearing weasels determine the bottom line based on a focus-grouped free market. For an artist to survive in this era is not an inconsiderable achievement; for an artist to thrive, defiantly crafting an original voice and sharing that vision with people, is cause for genuine celebration. That a musician like Jon Madof is fully committed to expressing his gift of music is enough to restore one's faith: in music and the people who make it.
Matthew Shipp makes modern music for modern times, but it is very much rooted in the tradition of America's greatest invention. Joined on this outing by the impeccable William Parker (bass) and Gerald Cleaver (drums), the wild card here is the one-two punch of old and new school: vibes by veteran Khan Jamal and programming by FLAM. As a result the recording at times invokes the Modern Jazz Quartet and at others modern electronica. The solo pieces recall Thelonious Monk and some of the experimental ones (with bowed bass by Parker and percussive interplay between Jamal and Cleaver, cut by FLAM's wizardry) are like Pink Floyd paired up with Sun Ra. Yeah, it's all that, and it's intelligent, soulful and, at times, it swings like nobody's business.
From one of my favorite albums (jazz or otherwise) of the last decade, Equilibrium:
Jamie Saft (more on his most recent effort with New Zion Trio, entitled Fight Against Babylon, here). I can't say enough good things about this utterly original genius, but here's a taste:
Zelig-like, Jamie Saft has been an indefatigable fixture in the downtown NYC music scene. Equal parts MVP and unsung hero, his presence—as player, producer and composer—is at once daunting and exhilarating. Anyone familiar with John Zorn's Tzadik label will already be quite familiar with his work, but if any musician is inadequately described by labels and geography, it's Saft. Granted, Tzadik's mission statement is the promotion of music without boundaries or agenda, resulting in albums that shift comfortably between genres like jazz, classical and so-called world music. Still, even in the Tzadik stable, Saft has been all-world in terms of his reach and aspiration these last ten years and change.
Productive and diverse, Saft has steadily amassed a body of work that can rival any contemporary artist. There are practically too many quality items to count, but consider a random sample of high points: there is his involvement with Zorn's Electric Masada project, The Dreamers series, and—to pick only two from a half-dozen from the remarkable Filmworks series—Workingman's Death and In The Mirror of Maya Deren. He also figures prominently on Bobby Previte's (enthusiastically recommended) Coalition of the Willing and original Masada trumpeter Dave Douglas's Freak In. Then there is the work he's released as a leader…Get the picture?
And last but far from least, the master. John Zorn, who over the past several decades has done as much as anyone to encourage and inspire the creation of meaningful music. (A lot more about him, here.) Here is an overview, with some recommended recordings (and cohorts) included:
In the early 2000's Electric Masada, a semi-rotating cast of characters including Trevor Dunn (bass), Jamie Saft (keyboards) and Ikue Mori (laptop and electronics/effects), began to tackle the catalog. The live performances were incendiary (trust me) and all this time, Zorn continued to make other music (tons and tons of it), particularly his always-compelling series of film soundtracks (currently at Volume 23, and counting…). Then, roughly ten years after he completed the first Masada songbook, Zorn challenged himself to compose new material, and quickly found himself with another 100 (!!) compositions, which he christened Masada Book 2: The Book of Angels. Unlike the first book, all recorded by the (acoustic) quartet, this series has been handled by a variety of bands in and outside the NYC jazz circuit, including Medeski Martin and Wood, Secret Chiefs 3, Marc Ribot, Uri Caine, Koby Israelite and The Cracow Klezmer Band. It can be said, without the slightest hint of (intentional) hyperbole that this is by far some of the more moving music recorded so far this century: it is not comparable, really, to anything being created by anyone around at this time.
He is not from New York City, he is New York City. Here is perhaps his most somber and elegiac piece, "Kol Nidre" (more on that and what it signifies, here):
I hope that anyone who lost someone sixteen years ago, or suffers for any number of reasons due to the day that will define our new century, finds some peace and comfort. And as always, I encourage everyone to realize that while no music can completely heal a broken heart, it can go a very long way toward restoring your soul. Peace.