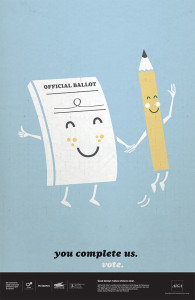 Pivoting –and plagiarizing– from earlier sentiment expressed in greater detail HERE, HERE and HERE, this is my succinct .02 on what's at stake and a final shout-out for any of my undecided or indifferent friends.
As my girl Chrissie Hynde said: Everything touched is by political choice/The life you take is your political voice.
Believe that.
An ostensibly rhetorical question I read (and get asked) quite often these days is "Why bother?"
Why bother getting invested in politics?
Why bother reading all those papers and blogs and magazines?
Why bother wasting time since they are all the same?
Why bother voting?
Well, there are lots of good reasons, some of which are immediately evident to anyone who takes the time to be moderately informed and is aware of not-so-complicated concepts like cause and effect. That the policies of our former administration (and, more importantly, the power-to-the-powerful ideology that informs those policies) bankrupted our nation and –this is the toughest one to grasp– made us less safe is not a matter of opinion; it's not debatable and there is no room for any possible nuance.
Also, there is only one type of Socialism being practiced in America today and it has been in effect for longer than four years. It's Corporate Socialism. For evidence to support this claim, I submit every action taken by every Republican politician since 1980. Case closed, your honor.
To the haters, I certainly feel your pain, to a point. Yes, watching the Democrats try to govern is an often painful and occasionally pitiful spectacle (it's amusing: Harry Reid is at once a man who should never, under any circumstances, have gotten involved in politics, yet he is, in the final analysis, the prototypical politician). Of course, in their defense, a reasonable person understands that actually attempting to govern is messy, difficult and frustrating. Particularly as our nation has become increasingly ignorant, self-absorbed and childish: we don't want any government interference, we don't want to pay taxes and we demand to see all of these pesky problems go away and take care of themselves. We have become a country of children who want to skip the main course and go directly to dessert, every meal, and then complain that we've gotten fat. And that in itself is a problem: that allows the Republicans to continue to frame the idea of shared accountability and responsibility as an inherently negative or intrusive notion. Let me be clear: that is, upon cursory inspection, a decidedly anti-American sentiment. The idea that paying taxes and supporting regulation of the food we eat and air we breathe is some type of burden implemented by a leering Big Brother is beyond moronic and borders on offensive. The idea that we can have no taxes, no regulation, no government involvement, unfunded wars and private interests in charge of everything is exactly the intelligence-insulting ideology that landed us where we are now. And, for the last time, and as Thomas "What's The Matter With Kansas" Frank elucidated, vigorously endorsing the notion that the wealthiest .01% of the population should not pay any taxes is going to put exactly zero cents in your pocket and create precisely zero jobs.
This is why you have to choose sides. This is why you can ill afford (literally and figuratively) to let these cackling, wealthy and well-insured weasels lull you into a state of impotent rage or, worse, apathy. Because aside from the ceaseless corporate welfare they will fight for, their ultimate ambition is to render the actually literate and sentient amongst us fed up and indifferent. Without awareness, and with no resistance, they can more easily continue their unchecked assault on our collective well-being.
Do what you have to do.