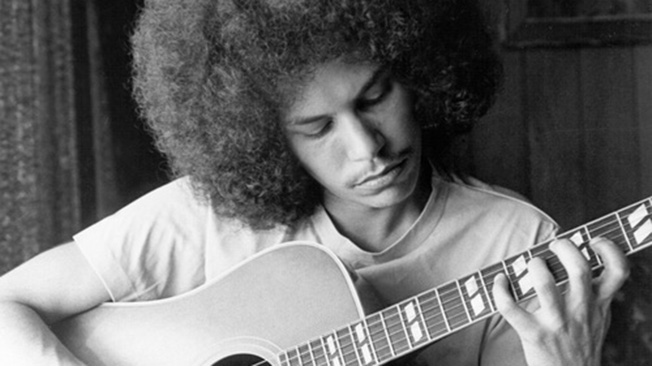 True story: Already an industry veteran although barely legal drinking age, Shuggie Otis was asked to join the Rolling Stones. Famously, he declined the offer.
Had he accepted that once-in-a-lifetime opportunity, two things are certain. One, he would have become wealthy and a household name. Two, many millions of people might have more easily discovered—and fallen under the spell of—his 1974 tour-de-force, Inspiration Information. By refusing, on admirable principle, a chance to snatch the biggest of brass rings (he was more interested in his own things), Otis transformed into one of the all-time rock music mysteries, equal parts Syd Barrett and Brian Wilson.
Shuggie Otis endures as one of those inscrutable figures many people are familiar with, even if they don't know his name. Sadly, though revealingly, he is likely best known to contemporary ears through the work of other artists. He's been sampled by Beyonce ("Gift From Virgo"), OutKast ("Mrs. Jackson") and most notably, The Brothers Johnson, who hit #5 on the charts in 1977 with their excellent, if inferior cover of "Strawberry Letter 23".
Still a teenager when he wrote and performed it, this song alone should have put Otis in a class by himself. As a composition, "Strawberry Letter 23" is a near perfect synthesis of funk, soul and rock. Sly Stone got (real) close; so did Stevie Wonder, but neither hit the trifecta as indelibly. More than anything anyone else did for the entire decade, "Strawberry Letter 23" picks up what Hendrix was putting down and takes it further into the future: The phased fade-out of the coda is like Side Three of Axis: Bold as Love. And it works as a wholly organic and original vibe; Otis is not trying to recapture (or copy) Hendrix, which is what so many inferior musicians have done. If Hendrix, especially on his ballads like "Little Wing" and "Drifting", was refining the best work Curtis Mayfield did with the Impressions, "Strawberry Letter 23" anticipates the farther-out freakiness of Funkadelic and the watered down, not-so-solid gold white boys would take to the bank too many times to count.
There are a couple of basic questions fans, like this writer, have asked themselves for entirely too long. Why isn't Shuggie Otis recognized by more people as a genius? And why isn't Inspiration Information regarded as one of the best albums of the '70s? Otis, and his masterpiece, have belonged to the underground, enigmas that attract word-of-mouth followings each generation. Ultimately there are no good, or acceptable answers for why Otis has labored so long in semi-obscurity. He has, however, continued to work, and occasionally record. The arrival of this remastered version of Inspiration Information, along with an entire bonus disc of unreleased material, sheds overdue light on what he was doing while the time he could and should have owned ostensibly passed us all by.
Certain albums, for whatever reason, never find the audience they deserve, failing to connect due to fashion or fate, or because too many souls have been sold in the service of crossover pop candy. It's one of the oldest, if saddest stories in the music business: same as it ever was. A possibility that at once explains and justifies—however belatedly—the unique potential of Inspiration Information is that, unlike certain cult classics (Love's Forever Changes) or unrealized masterworks (The Beach Boys' SMiLE), Otis' album can, and should, resonate with any listener, anytime. Like right now.
Perhaps Shuggie needed to wait until 2013 to finally come unstuck in time. Maybe Inspiration Information has always-already been in the present tense; it's that real, that alive. It reminds us about the best of what we've done, and nostalgia packs a convincing punch. It is also an antidote for despair and/or cynicism: Musical history is too often written by the winners (the votes counted in cash), but there is constantly art being made in the margins, work that is always on the verge of being discussed. There is always music kicking around somewhere that will eventually announce itself in a way that realigns our proper understanding of who really did what, when.
So what is the first-time listener likely to discover, on the occasion of this third coming of Inspiration Information (the official introduction was in 1974, the second in 2001 when David Byrne re-released it on his Luaka Bop label, including four songs from Shuggie's second album Freedom Flight, notably "Strawberry Letter 23")? Any serious fan of music should understand immediately that this album is a significant work by a young man, a brilliant man, a confident man, a calm, cool and collected fellow full of ideas and the uncanny ability to express them. And, it should be noted, Otis made this a solo album in very literal terms: with the exception of some horns and strings, Shuggie played all the instruments himself. Understanding that virtuosity and audacity only serves to amplify what this 21 year old visionary achieved.
The needle could be dropped at virtually any point to make a compelling case for its brilliance, but the high point may be its third track, "Sparkle City". It still seems nearly impossible that a musician so young could sound this assured, and create a statement of purpose this persuasive. Laid back and unhurried, this song is like walking into a conversation called the '70s. Two minutes before the vocals kick in, Otis is on his own time, taking his time—and it's (somewhat) understandable why this didn't find its way onto radios all over America. Dreamlike with an irresistible bass line and perfectly-placed horn flourishes, this psychedelic swirl showcases Shuggie's remarkable voice. "I heard all the news/There is no offer that I wouldn't refuse", he sings, sounding wistful but not boastful. And then he follows that up with an astonishing line that practically predicts the rest of his life, intended or not: "Now come time for me to run / Sorry, people, but I'm not the one". A wink and a nod, and maybe an insight that explains or at least vindicates how—and why—this preternaturally gifted cat could stroll so calmly off center stage.
As we know now, Otis may have stayed more or less out of sight, but he did not retreat into self-imposed exile. Whether he was unfairly ignored by the same record executives who once courted him or he sabotaged his own promise, or simply, like the title of his awesome instrumental, not available, the reality is that Wings Of Love is the first new music the world has heard from Otis since 1974. It is not, strictly speaking, all new material; indeed, some of it goes back to the early '70s. It's a seventeen song anthology covering 1970 through 2000, with several tracks from the mid '80s that have, unsurprisingly, dated more poorly than his earlier work.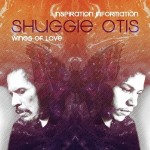 Newcomers are strongly advised to absorb and understand Inspiration Information (and the two albums that preceded it) before passing judgment on the new stuff. That said, for anyone fearing the worst, they exceed any reasonable expectations. They function, on one level, as the diary of an artist evolving, reflecting the times but always in his unique, uniquely affecting fashion. And they work, on their own terms, as well as evidence of the ways Otis influenced a host of more successful musicians. Listening to the tracks from 1976 and 1977, there are undeniable traces of the sorts of sounds that would dominate MTV a decade later. "Tryin' To Get Close To You" will blow some minds: it's like the missing link between Sly Stone and Prince, and it's funky as all get out.
Old school fans will likely find these previously unreleased tracks anything from interesting to indispensable. It is refreshing to have sonic proof that Otis was not entirely silent all these years, and now he won't (can't?) be silenced. The meticulous liner notes function as a useful if overdue mini-biography, and include some illuminating comments from Shuggie himself. The inclusion of the live "Black Belt Sheriff", a solo acoustic track recorded live in 2000, is worth the proverbial price of admission. It's an update of sorts to "Sparkle City"; a cagey but incisive commentary that addresses unasked questions about the past and begs further ones about the future. That future, of course, is now. Same as it ever was.
Working on this review proven somewhat of a mixed blessing. I've waited a long time for an opportunity to spread the word about Shuggie Otis. Better understanding his story, and the stories behind these songs, does take away some of the mystery—but none of the magic. All art, in the final or most objective analysis, must make its own best case, regardless of circumstances, critics or expectations. The only issue, all along, as it relates to Inspiration Information, has been ensuring that as many people as possible are exposed to the work. Once that happens, matters tend to take care of themselves. Here's hoping now is the time, finally, for this man and his music to get a proper acknowledgment from a larger crowd.