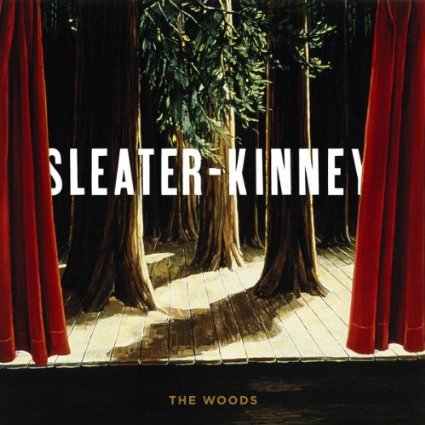 Cont'd:
PopMatters is doing some heavy lifting in the service of setting the historical record straight. Starting today, they are assessing the Top 100 albums of the last decade.
I contributed a couple. The second (which, incidentally, I would put in my personal Top 10, and, in fact, I did so, back in January 2010) is The Woods, from Sleater-Kenney. It looks like this was their swan song and, if so, it's a hell of a note to go out on.
Exhibit A:
Sleater-Kinney was quite correctly considered by many folks to be the best band around during the late '90s and early 00?s. I am certainly not going to argue. They had the typical trajectory that builds a loyal and unwavering fan base: each album, starting with Dig Me Out (1997) got a little bit better, and the ladies were increasingly able to harness the raw punch of their live shows with studio experimentation.
The Woods is, one can claim with reasonable confidence, Sleater-Kinney's finest hour: a wonderful anomaly that balances painstaking performance and blissful abandon. Five seconds into the first track, "The Fox", there is little question that it's on. And it stays on. "The Fox" displays the cacophonous ecstasy patented by The Pixies and brings it into Y2K, featuring Corin Tucker's most impassioned vocals ever. This, ladies and gentlemen, is how you open an album.
Exhibit B:
Everyone knows that women can do anything men can do, and often do it better. The Woods rocks as hard and drops jaws as low as anything anyone else did this decade. It's difficult to try and pick and choose highlights here; the entire album is one extended highlight. The album trudges along, angry and eloquent, leading up to the ultimate one-two punch which, if it has to represent the end of this epic band's career, is an inimitable way to go out. The 11-minute "Let's Call It Love" (maybe their crowning achievement?) doesn't segue into "Night Light" so much as explode into it. Along with the feedback bliss from "What's Mine Is Yours" and the once-in-a-lifetime vocals of "The Fox", the transition into the album's coda is one of those moments. Too good for words. And it is an achievement, evidence of a band that has taken things to that other place and made a defining statement.
Exhibit C: