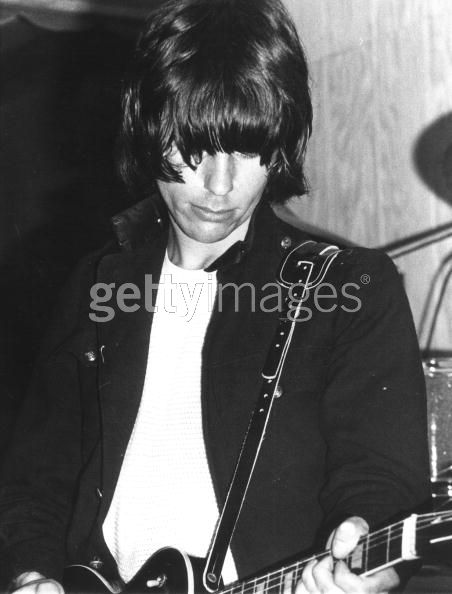 6/15: Happy 71st birthday to the great Jeff Beck.
3/11: Since it happened to be Keith Relf's birthday, it seemed appropriate to pay tribute to him on Tuesday. Plus, as I attempted to articulate in that piece, he warrants celebration as a unique and influential singer (and harmonica player).
That said, the issue of the guitar players in The Yardbirds still necessitates elaboration. For perfectly understandable reasons, people assume or don't realize they are wrong to think Eric Clapton was the primary –and most important– guitarist in that group. Simply put, this is not the case. Clapton was there for the very early blue-sy recordings and Page was there for the short and sloppy swan song, but it was Jeff Beck who played on all their essential songs. Put simply, Jeff Beck was The Yardbirds, with all due respect (and I offer tons) to the other members.
Jeff Beck demands more attention, since he's not gotten nearly enough of it over the decades. Not for nothing: he is the only guitar god who roamed the earth in the '60s who is still very much active (and in top form) today. He is, pound for pound, the best living guitarist right now. I can't think of anyone else who can begin to match his proficiency, his gob-smacking ability and his track record. He is an inspiration in terms of integrity and dedication (he does not just naturally get better; he is committed to his craft and treats it like it's the most important thing in his world, which it clearly is).
Here is a brief career-spanning sampler of his greatness.
"Steeled Blues:
"Jeff's Boogie":
"Freeway Jam" (he manages to make fusion sound…cool):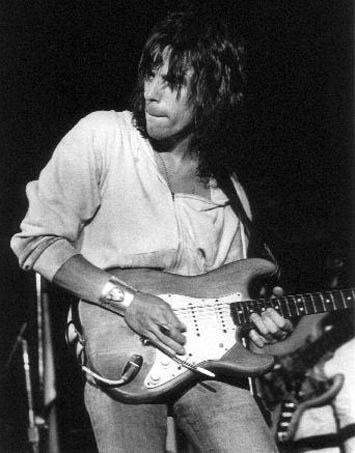 "Goodbye Pork Pie Hat" (I can't think of another, or better way to put this: the original, by the immortal Charles Mingus is one of my all-time favorite compositions –from one of my all-time favorite albums– and I sometimes think Jeff Beck almost takes it to another level. There is no point, or need, to compare –and for the record, Jeff Beck is God but Charles Mingus is GOD– but I only hope to underscore the fact that it takes more than audacity and goodwill to cover uncoverable songs, like this, and make them arguably better. As we've heard, Jeff Beck can shred like nobody's business, but he also can play slow and soulful perhaps better than anyone else who has ever strapped on a guitar. It is, as is often the case when talking about the best of the best, extremely difficult to avoid cliches: but check out the feeling and soul oozing out of every line; this is something beyond sublime):
"Cause We've Ended As Lovers" (I can't recommend the recent DVD Live at Ronnie Scott'smore enthusiastically; in addition to being a fantastic concert, it is filmed and produced wonderfully, affording constant close-up action on the magician going to work in a live setting and showing that musical deities can age gracefully and even improve (!!) as they get older):
"A Day In The Life" (Having always been overshadowed by Clapton (and Page), it was wonderfully fortuitous that Clapton was unable to MC the 25th Anniversary Rock and Roll Hall of Fame concert: finally the world had an opportunity to witness –because it could not ignore– the brilliance that has been woefully unappreciated for entirely too long…and speaking of uncoverable songs…getting better? Only Beck could do this once; only Beck could do this twice):