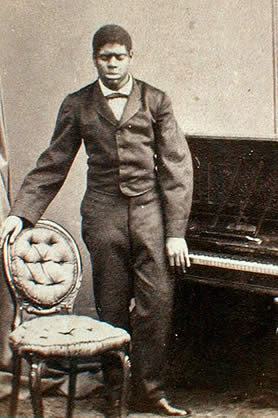 20. Rashanim: Shalosh
Shalosh showcases Jon Madof's infectious surf guitar attack, but also represents an ever-evolving compositional prowess. This effort boasts several acoustic guitar tracks that retain the intensity of the electric workouts. Madof finds an ideal balance between the traditional inspiration of his source material and the dexterous, even restless proficiency of his skill set: he is a player equally comfortable invoking the Temple or the mosh pit. The songs are serious and complex, polished to the extent that all potential excess is eliminated and each composition says precisely what it means to convey utilizing minimal time for maximum impact.
So…what does it sound like? The music is impossible to isolate or explain simply, in part because it incorporates so many disparate influences, using them all as a point of departure. Madof is quite clearly deeply grounded in tradition (both religious and musical), but his invocation of other places and times are very rooted in a modern sensibility. Klezmer? Ancient Jewish music? Jam-band? Thrash? All of the above: it's definitely jazz and it is certainly imbued with a distinctively Jewish sensibility. Above all, it rocks.
19. Bill Frisell: Where in the World?
Jazz? Avant-garde? Rock? All of the above? Certainly, and much more, as a matter of fact.
Bill Frissel is one of those virtuoso chameleons who seems comfortable (and effective) tackling any of these genres; often simultaneously.  Where in the World? will serve as a fortuitous find for anyone uninitiated in the sublime realm of Frissology.  This music is brooding, gothic, even melancholy at times.  He is doing with instruments (real instruments, played by real people) what just about every other group these days is lazily relying on technology to do for them:  creating mood.  Thus, where even the best pre-programmed work invariably sounds somewhat stiff and soulless, Frissel's work here resonates with a dusty authenticity.
18. Matthew Shipp: Equilibrium
It was necessary to have at least one solid representation of contemporary jazz, and for me this was far and away one of the best releases of the last decade. More, for the purposes of this list, it illustrates that jazz is not boring music played by buttoned-up stiffs, or else frenetic jamming by self-absorbed experts. (Actually, does anyone actually think these things anymore? As outdated as these clichés are, the worse fate is that so many people don't think of jazz at all these days.) Suffice it to say, Matthew Shipp makes modern music for modern times, but it is very much rooted in the tradition of America's greatest invention.
Joined on this outing by the impeccable William Parker (bass) and Gerald Cleaver (drums), the wild card here is the one-two punch of old and new school: vibes by veteran Khan Jamal and programming by FLAM. As a result the recording at times invokes the Modern Jazz Quartet and at others modern electronica. The solo pieces recall Thelonious Monk and some of the experimental ones (with bowed bass by Parker and percussive interplay between Jamal and Cleaver, cut by FLAM's wizardry) are like Pink Floyd paired up with Sun Ra. Yeah, it's all that, and it's intelligent, soulful and, at times, it swings like nobody's business.
17. John Davis: John Davis Plays Blind Tom, The Eighth Wonder
Who is Blind Tom? Who, for that matter, is John Davis? Davis is an American hero for doing his part to make people aware of a very obscure American treasure named Blind Tom Wiggins. Google that name and marvel at two things: one, that his story is true, and two, that a movie has not been made about him. This disc is, without question, one of the happiest discoveries I've made in the last ten years, and it's been in heavy rotation ever since (also recommended: Davis playing the music of Blind Boone).
This solo piano music is reminiscent of its time (mid-to-late 1800s) and inevitably recalls everything from the Civil War to black-and-white photos, to slavery, to classical music (Chopin's influence is prominent) and a period of American history that was at once simpler and more complicated (see: Civil War, slavery and the conditions that inspired these songs and ultimately devastated their creator). For eight bucks you can download this album and it might just be the best money you spend this year.
16. The Congos: Heart of the Congos
Released in 1977, Heart of the Congos is generally regarded as the greatest reggae album ever (certainly the best roots reggae album). It isn't. It's better. While it would be neither accurate nor fair to call this a one and done masterwork, it's beyond dispute that the Congos never again came close to the heights they reached here. It's okay, no one else has either.
The immortal Lee "Scratch" Perry's production sounds like a remix already, providing a slightly disorienting tension between the push of straight ahead riddim and the pull of the echoing voices: Gregorian chants funneled through the heart of darkness into the light—a higher place, deeply spiritual yet entirely human. It is unlike anything you've ever heard, yet it's somehow, impossibly, familiar.
15. Vernon Reid: Mistaken Identity
Though best known for his work with Living Colour, Reid has been an indefatigable—and essential—presence in the avant-garde community, involved in projects ranging from jazz (the postmodern fusion of 1984's Smash and Scatteration), electronic/illbient (the Yohimbe Brothers, with DJ Logic) and the crucial work he's done under his own name (most recently, the easily recommended Other True Self from 2006, which features a remarkable interpretation of Depeche Mode's "Enjoy the Silence").
Reid was already a man amongst boys when Living Colour broke through in the late '80s, and he has never stopped absorbing and innovating, crafting a technique that is virtually all-encompassing. A recollection: when word broke that Living Colour, the band poised to be the best and most important collective of the '90s, had called it quits, the only thing that softened the pain was the promise of some solo work.
A confession: Vernon Reid's Mistaken Identity ('96) was so mind-bogglingly brilliant it made me grateful that Living Colour—one of my favorite bands—had broken up. If they had not, I thought, we may never have gotten this album. And it illustrates everything that makes Reid such an incomparable technician: he truly paints colors with sound, and is capable of creating a mood that you can't quite describe, but remain—after countless listens—utterly enraptured by. If you are even the least bit adventurous and anxious to hear sounds you've never imagined, don't miss out on this.
14. Painkiller: Execution Ground
There could, and perhaps should be multiple John Zorn albums on this list. (His ever-expanding soundtrack series, for instance, is an embarrassment of riches and, of course, his Masada catalog is essential.) Arguably the most accomplished and multi-faceted musician of his generation, Zorn wears more hats than a baseball stadium.
Along with drummer Mick Harris and bassist/producer Bill Laswell (who himself could have many albums on this list), Zorn uses his alto sax as a weapon: at once aggressively bashing the rhythm like relentless waves against a rock, or else crouching in the darkness, circling its prey (which is you). The second disc, an "ambient" mix, will make any electronica played in clubs sound like elevator Muzak. This music is beyond dark, almost disturbing in its ruthless tension, but capable of conjuring foreign images and sensations that slowly become familiar, and addictive.
13. African Head Charge: Songs of Praise
African Head Charge is not easy, and it is not for everyone. For anyone who finds much of what they hear today underwhelming, give Songs of Praise a spin and listen to our weird, wonderful world with new ears. But what does it sound like? It sounds like anything and everything (or, to put it another way, it sounds like African Head Charge): funk-dub foundations with sticky rhythms and loops, sprinkled with sick samples that include animal cries, tribal chants, and shouts from both types of jungle—untamed and concrete.
The culmination of their discography to this point, Songs of Praise is a world music manifesto that spans the globe (literally) and provides a virtual blueprint for so many less triumphant imitations that would follow. It is, by turns, strange, surreal, celebratory, peaceful and provocative. Above all, it is absolutely unique, and suffused with an oddball integrity that makes it at once an artistic and cultural statement. What more can we reasonably ask from music?
12. Prince Far I: Cry Tuff Dub Encounter Chapter 3
Michael James Williams, the man who was christened Prince Far I, is perhaps best known for the work that is considered to be his masterpiece, Under Heavy Manners. On this collaboration, massive credit here goes to the Roots Radics, featuring players who are well-loved in reggae circles but sadly obscure outside them: Flabba Holt (bass), Bingy Bunny (guitar) and Style Scott (drums). With crucial contributions to British musicians Stever Beresford (synths and melodica) and David Toop (flute) this is a mash-up of super-heavy dub and free-flowing semi-improvisation. The result is a swirling loop of ambient instrumental reggae that features female chanting and the occasional voice of thunder from Far I.
Perhaps more than any other album on this list, this is one you'll play and find friends asking about. It's almost impossible to ignore and it's instantly addictive. This is music you'd expect to hear in a dorm room, at a house party, in a cool movie, and perhaps in your mind when you think "I wish there was some crazy laid back, utterly badass instrumental dub music without any overly slick production or computerized beats." This is that music.
11. Sonny Sharrock: Ask the Ages
I promised there would be almost no jazz on this list. I lied. And yet, in addition to being a crucial addition for all the right reasons, Ask the Ages is as uncategorizable—in a good way—as so much of the music mentioned throughout. Certainly it's jazz, and features some true heavyweights from the golden era (Pharoah Sanders and Elvin Jones, both of whom played with John Coltrane), as well as younger legends-in-the-making Charnett Moffett (bass) and Bill Laswell (producer). But the star here is the perfectly-named guitar player Sonny Sharrock, who should be much better known—and perhaps would have been if not for his ridiculously premature death (at age 53, from a heart attack).
Sharrock (did I mention his name is perfect?) was known for his visceral, aggressive play, which, considering the reputations Sanders and Jones brought to the sessions, should prepare one for a sonic tsunami. Surprisingly, even refreshingly, it's a decidedly contemplative (not to say restrained) affair, and Sharrock does some of the most expressive playing on a jazz album since Grant Green's Blue Note years. Each musician is at the absolute height of his powers, and it's difficult to think of an album that balances brawn and tenderness quite like this. Concluding on a note that, with hindsight is even more elegiac and devastating, "Once Upon a Time" remains a monumental closing statement.
List originally published at The Weeklings, 5/1/14 (check it out and make sure to explore the Spotify playlist that follows the article).