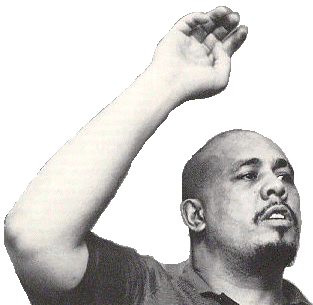 On Sept. 4, 1957, Arkansas Gov. Orval Faubus called out the National Guard to prevent nine black students from entering Central High School in Little Rock.
Charles Mingus had many things to say, and he used his mouth, his pen, his fists, and mostly his music to say them. Of the myriad words that describe Mingus, passionate would trump all others. Mingus cared—deeply. Of the many compositions that could be chosen to define him, 1957's "Haitian Fight Song" endures as the best articulation of the inequities that consistently inspired his best work. The song is, of course, about everything (as is pretty much all of Mingus's music), but it is mostly about the tensions and turmoil inherent in the lives of the dispossessed. Not for nothing was his autobiography entitled Beneath the Underdog.
Two years later, inspired by real-time idiocy, Mingus took aim at Orval Faubus, the Arkansas governor who forcibly resisted integration in Little Rock, prompting President Eisenhower to send in the National Guard. "Fables of Faubus", beyond being a masterpiece, epitomizes the power and purpose the best music is capable of achieving: it is a rollicking cherry bomb that combines righteous indignation with contemptuous mockery. Knepper's exaggerated trombone blasts invoke a carnivalesque atmosphere, and Mingus eagerly steps in as ringleader, his bass-slapping equal parts violent and sardonic, while everyone joins in the merriment: they are having fun at Faubus's expense, celebrating this well-warranted smackdown. The tune romps along, Richmond urging the band into double time throughout, while the horns function as sarcastic crows, looking down and chirping their amusement. Accounts vary as to whether the shouted lyrics (heard on subsequent live versions) were already written and omitted, or if they simply developed while Mingus performed in concert. Let it be opined that the "lyrics", while enjoyable enough, are overly literal and not particularly original; the band is able to "say" everything that needs to be said in this take, and that remains the enduring achievement of this recording. Only Mingus could take such a distressingly serious topic and deflate the backward status quo that put a clown like Faubus in public office in the first place. This song stands alongside "Haitian Fight Song" and "Meditations (of Integration)" as Mingus's abiding social statements.
Here is the alternate (live) version, with lyrics (including the delightful introduction wherein Mingus admonishes the crowd to make no noise, including moving the ice around in their cocktails). We will never, ever see another figure like Mingus: God bless that beautiful man.
More musings on Mingus here and here.