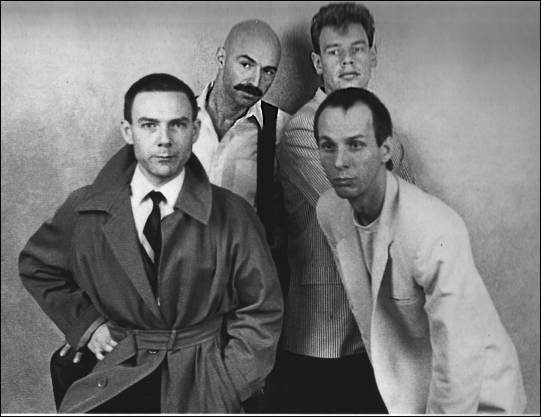 (Parts 1-6 of this series here, here, here, here, here and here.)
Having just written, at length, about King Crimson (check it HERE), it seems appropriate to revisit another song from their remarkable early-'80s era. It makes even more sense to choose the song "Thela Hun Ginjeet" (an anagram for "heat in the jungle") as we head into what might be the hottest day of the year.
Here is a snippet from the KC feature, appraising this era of the band:
It was during the next string of albums, commencing with Discipline (1981) that King Crimson set itself apart as the only original era prog band to make significant (not to mention enjoyable) music after 1980. A case could be made that Discipline represents some of their finest playing/composing. Retaining Bruford and recruiting the ludicrously versatile bassist Tony Levin, it was the audacious decision to employ a second guitarist (Adrian Belew, who also handled vocal duties) that gives this collective its characteristic sound.
Fripp had not been inactive during King Crimson's hiatus: his work with Brian Eno, David Bowie and Peter Gabriel feature some of the most inspired—and imitated—guitar pyrotechnics of his career. His exposure to new wave, complemented by an increasingly globe-ranging palette, alongside Belew's supple support, results in material that is challenging yet concise.
(On this track the impact of second-guitarist, vocalist and visionary Adrian Belew is immediate and indelible.)
From 1981:
And, for good measure, here they are doing it live.
How do you improve upon that? Well, you can't obviously. But you can have fun with it. Les Claypool, excuse me, Colonel Les Claypool's Fearless Flying Frog Brigade, incorporated this gem (who does that? who would ever have thought to go there? who could have pulled it off? These are all rhetorical questions) into their live sets in the early '00s.
I've written a bit about Claypool (HERE), and suffice it to say, he ranks high on the ledger of artists (and iconoclasts) I most admire.
This album clocked in at #49 on my personal list of 50 albums from the last decade (more on that HERE). My assessment of the album is below:
Official title: Colonel Les Claypool's Fearless Flying Frog Brigade: Live Frogs, Set One. To be certain, set two (a ballsy –and brilliant– cover of Pink Floyd's uncoverable masterpiece Animals) is also enthusiastically recommended. As impressive as Claypool and crew's deconstruction of Floyd is, the most satisfying cover on either set is their spirited take on King Crimson's (uncoverable!) "Thela Hun Ginjeet" (Critters Buggin saxophonist and guest genius Skerik –more on him HERE– is typically en fuego throughout these proceedings). You have to bring more than a little to the table to keep up with Claypool, but if you've got game, and are ready to follow him down the rabbit hole, the subsequent delights are considerable.
Claypool has been nothing if not productive and boundary-pushing in his admirable career, but the turn of the century found him as inspired and engaged as he's ever been: between the Flying Frog gigs and his short-lived stint with semi-supergroup Oysterhead, Les was living large. This music does not appeal to any superficial demographic, but it's also not weird for weird's sake; it's intense, ebullient and a window into the restless mind of one our true contemporary trailblazers.
And, for good measure, here they are doing it live.