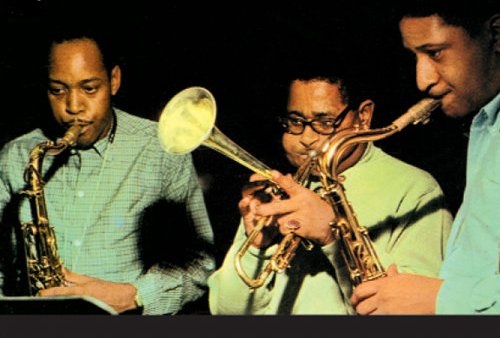 (Parts 1-5 of this series here, here, here, here and here)
"On The Sunny Side of the Street" is a song with a long, wonderful history.
Like so many jazz standards, the source material was innocuous: catchy but inconsequential. What the players did with it (like so many jazz standards) elevates it, using humor, chops and respect for tradition.
Louis Armstrong did it.
My favorite version, far and away, is the immortal, irreverent take from Dizzy Gillespie. From the perfectly, inevitably entitled Sonny Side Up, it features both Sonny Rollins and Sonny Stitt.
For me, Dizzy's vocals (after all three titans have taken their solos) is so intoxicating and life-affirming it defies further comment. Only to say: if I ever need cheering up, this one will always do the trick. Instant smiles.
As always, the only thing better than hearing it is hearing it and seeing it: