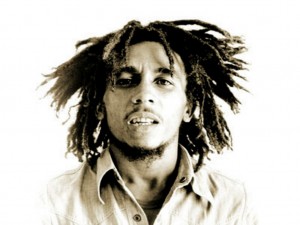 Bob Marley was born February 6, 1945, which means he would be turning 68 today.
A few years back I chose what I consider five reggae albums that are lesser known, but crucial for any self-respecting music fan's collection. (The first entry of a five part series begins HERE.)
No Marley albums were chosen, partly because if anyone has a single reggae album, odds are it is a Bob Marley album (and big odds are that it's Legend which, while crucial, only skims the very deep and dread waters).
Nevertheless, in one of the pieces here, I offer some thoughts on Marley and his import, on reggae in particular and music in general:
Big misconception about reggae music: it's all happy, at the beach, drinking music. Biggest misconception about reggae music: it all sounds the same. Even Bob Marley (and it is both respectful and required to at least mention the great man's name in any consequential discussion or reggae) had markedly different styles he embraced throughout his career, as his sound evolved from straightforward ska and rocksteady in the '60s to the full-fledged rastaman vibration everyone has heard on the radio—or at Happy Hour. Indeed, Marley serves as the most obvious case study for the distinctive sounds reggae has produced: anyone unfamiliar with songs not included on Legend, but curious to explore what else is out there, are encouraged to start with the crucial transition albums from the early '70s. You cannot go wrong with African Herbsman, the culmination of his brief but bountiful collaboration with Lee "Scratch" Perry. Or to appreciate the incomparable harmonizing of the original Wailers (Marley along with Peter Tosh and Bunny Wailer), Catch A Fire and Burnin' are indispensable cornerstones of any halfway serious reggae collection. And, above all, if it's possible to single out one work that encapsulates Marley's genius, Natty Dread is the alpha and the omega: not only is this his masterpiece, this one holds it own with any album, in any genre.
There are certain artists who are so beloved, so ubiquitous, that they are effectively–and ironically–taken for granted. Marley's better known songs are so known and so satisfying they might make people fail to realize he created vital music for two full decades. Bob Marley is without dispute one of the seminal artistic figures of the 20th Century. More, he remains every bit as significant and essential today as he did yesterday. He will survive tomorrow and live long after we are all gone. Marely idureth for iver. Peace.
Today they say that we are free,
Only to be chained in poverty.
Good God, I think it's illiteracy;
It's only a machine that makes money.
Here is the great man at the height of his glorious powers, live in '75.