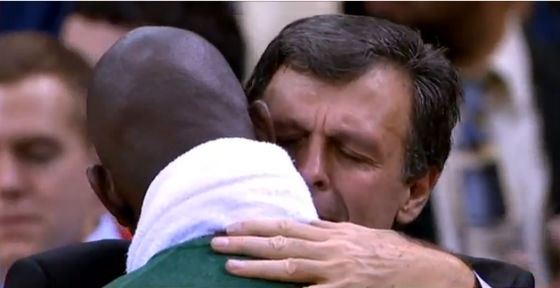 …is Love.
Story Here.
Key takeaway:
At the end of Friday's nationally televised game, what generated the most attention was a long, soulful postgame embrace that McHale shared with Kevin Garnett, his signature draft pick as the general manager in Minnesota and the player he traded to Boston to help the Celtics win their first title since he played there.       
While McHale wept, Twiss, at courtside, couldn't help recalling halcyon days, how McHale was the outgoing Celtic who took on the responsibility of lifting others with a boisterous and unyielding optimism.      
I've celebrated my love of old school Celtics here and Kevin McHale in particular here.
The video below immediately goes to the all-time highlight reel: a genuine, human moment between two class acts who wear their huge hearts on their sleeves. And they both will always bleed Celtic green.
Condolences to Kevin and his family for the loss of his daughter.