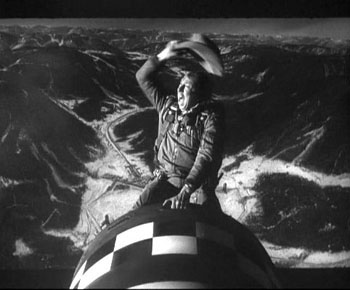 It's not the end of the world, and I feel fine.
But if it was, I would want all these songs to accompany me as we spiraled down the metaphysical drain.
I'd go into battle, or into oblivion, with these soldiers by my side.
Let's begin, appropriately, at the end, with the boys from Birmingham: if we can't sustain life here, let's blast off and "Find another world where freedom waits (yeah)!"
Once the wind begins to howl, as long as I'm riding shotgun with Hendrix, I'm good:
Ian Anderson, of course, called this way back in '79:
If you're getting snuffed out anyway, you may as well make sure you say I LOVE YOU to whoever needs to hear it:
If the shit is going down, I'm bringing both barrels, which means I'm blasting The Melvins.
Starless and Bible Black. Any other questions?
And what exactly is a dream? And what exactly is a joke?
Bauhaus. Because.
Before I sink into the big sleep I want to hear the scream of the butterfly!
Nothing, even the end of the world, can be as deep or dark as the hard time killing floor blues:
If it gets beyond World War III, I know Mikey Dread is waiting patiently on the other side:
All kidding aside, if it's scorched earth time, let me hide in the peaceful shadow of the Gentle Giant: