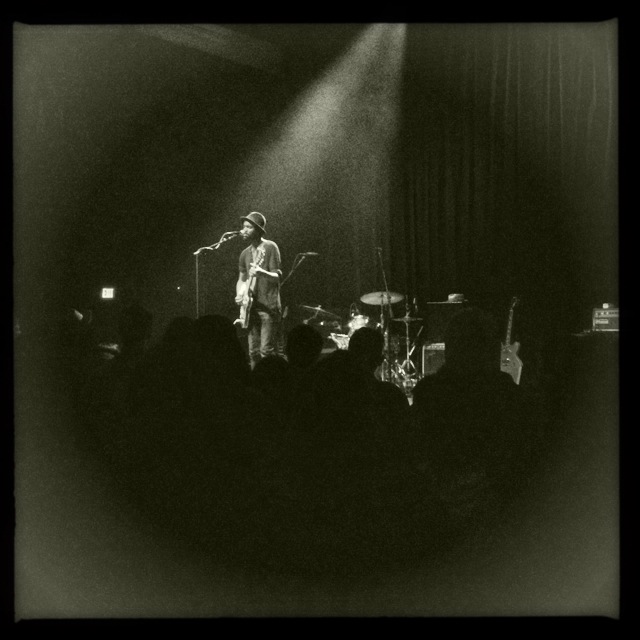 It's only happened on two other occasions, before last Friday night.
In 2001, seeing Mike Patton in person for the first time, with his brand new side project Tomahawk (at the Black Cat in D.C. which, before the overdue smoking ban, was like standing in a dark closet with a nicotine-scented dry-ice machine). They came out and played "God Hates a Coward" and I turned to my date and said "I'm good. We can go now." We did not, of course, but I truly would have been 100% satisfied with just those 3 minutes. To get an hour-plus of that passion, musicality and showmanship was one for the ages. I was less than 20 feet from the stage.
(More on Tomahawk, HERE, check out #39.)
In 2008 I caught Living Colour on one of the opening nights of their tour for their then not-yet-released "comeback" album The Chair in the Doorway. (My subsequent review of that album can be found HERE.) They played "Burned Bridges" and it was both an opening salvo and shot across the bow: the guys came out en fuego and the smoke did not stop rising until five minutes after they left the stage. Reid's solo, and I happened to be on the right side of the stage to see it in, well, living colour, remains one of the most ridiculous sixty seconds of virtuosity I've ever worshipped in real time. It left me shivering with delight and disbelief, knowing they were locked in and about to operate at this level for another couple of hours. (They did.) I could easily have left right then and felt satisfied and spent (I didn't.)
Footage of Reid in action is instructive, but the sound quality is not optimal; make sure you check out the authentic version, HERE.
A lot more about this band, and seeing them live (in '93!) HERE.
Which brings us to Gary Clark Jr.'s performance at D.C.'s 9:30 Club last Friday night. He opened up with the slow burning "When My Train Pulls In", and he had the crowd ready to lap up his sweat from the first second. This dude commands the stage like no one else has in a long-ass time: tall, thin, dark and cooler than a root cellar in December, he has the unique charisma that comes from not trying too hard. Of course you don't have to try hard when it oozes out of you like steam from a sewer grate.
See what I'm saying?
When I saw him, the first time, last year, my impression was that he displayed the type of playing –and talent– we see from a handful of players every 10 years or so. Pyrotechnics and sick skills backed with tons of soul and feeling (and history) that you can't fake. I was absolutely gobsmacked, and immediately hooked on him like a hipster on a can of PBR.
I look forward to enjoying him  for a long, long time. For now, he seems to be more like a blues or jazz artist in that he shines live and to fully appreciate him, it needs to be in real time. That's not to say his studio work thus far is underwhelming, but, well, it's not nearly as effective in my opinion. The intensity and connection is lacking. Certainly, that is true on literal levels (duh): seeing an act live will bring intensity and a literal connection that a digital file played on a digital device can't deliver. But this is not typically the case with rock music, where so much of it sounds better on album than in person. Quick: name me one rock band that consistently sounds better live.
One example that fairly leaps to mind: The Black Keys. Like just about all rock acts, they sound much better in the studio than they ever do live. And this is understandable on several levels: for one, it's exceedingly difficult to convey that sound (one guitar, one voice, one drummer) to a large arena. If you could watch the Black Keys –who recorded the bulk of their early work live, in a basement, proving that they could "do it" without studio trickery or production pyrotechnics– in a small room forever, they could be legit live contenders. As such, they struggle (in my opinion, having seen them in venues small and large) to put it down, effectively, in person. (More on The Black Keys, HERE, check out #5.)
It says a great deal about Clark's ability and acumen that he brings the noise, on several levels, when he's performing. Plus, it would be wrong to label him a "rock" musician, since he is so clearly steeped in the blues tradition and can shift seamlessly between feedback-frenzied rawness and cool, old school soul and funk.
(For the record, I do think his major label debut, Black and Blu, is more than a little overproduced. It's understandable, if expected: he's trying to break in with a sound that is sufficiently accessible to a wider audience, and I certainly don't begrudge him that. I'll simply say, if I were handed his new album and his EP, and asked to assess him, I'd probably say: lots of potential. Having seen him live (twice) and with the benefit of myriad clips courtesy of YouTube, I can confirm that the potential is largely realized and he has already arrived; it's just a matter of being in the same place at the same time.)
If you have a chance to check him out, do so. He sounds fine (thank you very much) in a studio setting, and I encourage you to grab his new disc. But like most of the better acts, especially of the jazz and blues idioms, he needs to be seen to be appreciated, and believed. Believe this: he's not going anywhere and he should be a major force in the American music scene for the foreseeable future.