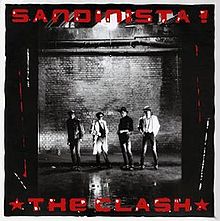 Short but sweet: "Somebody Got Murdered" is a somewhat overlooked masterpiece from their most misunderstood album (Sandinista!).
Is it just me or does this song, not only in sound but execution, predict (and perfect) the very distinctive sort of music both The Smiths and especially R.E.M. would make in the early-to-mid '80s? (In fairness, The Clash may have picked up a trick or two from The Cure by this point.)
I've been very tempted
To grab it from the till
I've been very hungry
But not enough to kill…
Listen to the vocals and subject matter (and the matter-of-fact depiction of murder and its aftermath, understated lyrically in the same ways The Smiths' "Death of a Disco Dancer" manages to be. On the other hand, contrast the laconic, serenely urgent –or urgently serene– delivery of Mick Jones as opposed to the  inimitable melodrama of Morrissey's "J'accuse"). Then listen to the jangly guitars and tempo that keeps promising to crest but never quite needs to, and consider so many of R.E.M.'s early tunes.
Somebody got murdered
His name cannot be found
A small stain on the pavement
They'll scrub it off the ground…
"Somebody Got Murdered" is archetypcal Clash: gritty without being affected, true without being self-righteous, sardonic without the self-consciousness that most bands (before and after) could not avoid.
The Clash did not do it first and they may not have done it best (whatever "it" is), but no other band has ever done it the way The Clash did it. It's not so much that it seems effortless so much as they were unable to do it differently. And that is yet another reason they remain The Only Band That Mattered.