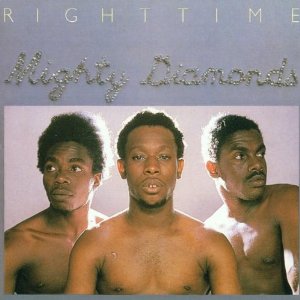 This is the reggae album for people who do not know, or claim not to like, reggae music.
Go and Seek Your Rights: The Mighty Diamonds' Right Time
Big misconception about reggae music: it's all happy, at the beach, drinking music. Biggest misconception about reggae music: it all sounds the same. Even Bob Marley (and it is both respectful and required to at least mention the great man's name in any consequential discussion or reggae) had markedly different styles he embraced throughout his career, as his sound evolved from straightforward ska and rocksteady in the '60s to the full-fledged rastaman vibration everyone has heard on the radio—or at Happy Hour. Indeed, Marley serves as the most obvious case study for the distinctive sounds reggae has produced: anyone unfamiliar with songs not included on Legend, but curious to explore what else is out there, are encouraged to start with the crucial transition albums from the early '70s. You cannot go wrong with African Herbsman, the culmination of his brief but bountiful collaboration with Lee "Scratch" Perry. Or to appreciate the incomparable harmonizing of the original Wailers (Marley along with Peter Tosh and Bunny Wailer), Catch A Fire and Burnin' are indispensable cornerstones of any halfway serious reggae collection. And, above all, if it's possible to single out one work that encapsulates Marley's genius, Natty Dread is the Alpha and the Omega: not only is this his masterpiece, this one holds it own with any album, in any genre.
Okay. Even for those who are not sufficiently intrigued by the notion of a deeper dive into reggae's abundant waters, there are more than a handful of sure things right on the surface. Enter the Mighty Diamonds and their first—and best—album, Right Time from 1976. Like the Wailers, the Mighty Diamonds are a harmonizing trio (with a killer backing band), and these three men, Donald "Tabby" Shaw, Fitzroy "Bunny" Simpson and Lloyd "Judge" Ferguson, created songs that stand tall alongside the very best reggae. Right Time manages to combine several styles and merge them in a seamless, practically flawless whole. This, to be certain, is roots reggae, yet at times it sounds like the most accessible soul music, closer to Motown than Trenchtown.
The group's allegiance to Rastafarianism is skillfully articulated in the socially conscious lyrics, but the ten tracks on Right Time tackle romantic turmoil, violent crime, and redemption—sometimes all in one song. The title track, equally an ominous call to arms as well as a rallying cry against the system, sets an immediate tone that predicts chaos while promising resolve, pre-dating Culture's epochal Two Sevens Clash by a year. The brilliance of the songs that follow must be heard to be believed, and it's difficult to imagine how singing and song craft this tight, spiritual, and emotionally rich could fail to convince. The next two songs, "Why Me Black Brother Why?" and "Shame and Pride" constitute a one-two punch that manages to invoke Marvin Gaye, Smokey Robinson and Otis Redding: Gaye's authentic words, Smokey's silken voice, and Redding's gut-rending fervor. If the world was right side up, all of these songs would be standards, familiar to anyone who listens to the soul legends mentioned above. The album's highlight may be the resplendent anthem "I Need a Roof"—-a rather uncomplicated piece of poetry that invokes Marcus Garvey and Jesus Christ with its (obvious) insistence that without shelter there can be no peace, and without justice there can be no love. Listen: even writing about this record, albeit while offering the highest possible praise, inexorably mutes the message. That message is conveyed with voices that must be heard so that the music can make sense. Go seek it out.