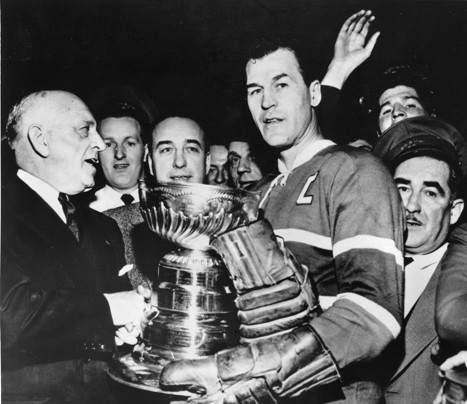 I love hockey and I can appreciate the storied history of its most famous franchise, The Montreal Canadiens (a history that, regretfully, includes their stunning first round upset of my beloved Caps in 2010).
It is, therefore, on both hockey and human levels that I can lament the passing of the great Emile "Butch" Bouchard. I can also celebrate what a throwback he was, even in days when practically everyone (not to mention the hockey players) were throwbacks. To be considered a throwback amongst those dudes says all that needs to be said.
But I particularly enjoyed this nugget, from the recent obituary:
Invited to a Canadiens training camp, Mr. Bouchard cycled 50 miles each way twice daily to save money. Management was impressed by his conditioning; his new teammates less so, as his eager body checking exacted a toll.
They don't make them like that anymore. They didn't even make them like that then.
It is more than a little appropriate, as we watch an exceptionally gritty and brutal first round of the Stanley Cup playoffs, to pay tribute to a man's man who played a man's game and was a man amongst men. (How else should I put it? How else can I put it?)