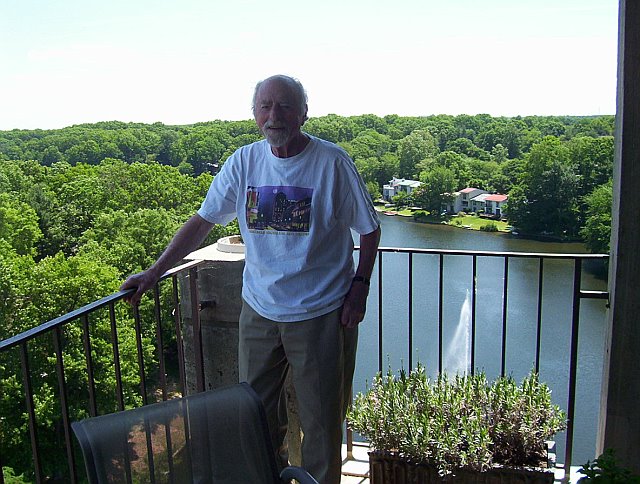 Robert E. Simon, the man who named the town I live in (R.E.S.ton, get it?) turns 98 today.
Here he is, in 2006, on the balcony outside his penthouse suite at Heron House, which overlooks Lake Anne (one of several man-made lakes in Reston) on Lake Anne Plaza, the first of many "village centers". (Old school street cred question number one: Do you remember Hunters Woods Plaza? Old school street cred question number two: Do you miss it? The second question is rhetorical, otherwise you are not old school.)
(For a history of Reston, check this out. For a less official history –or love letter– from a kid who grew up and has lived most of his life here, check this out.)
Who took this picture, you may be asking yourself.
I did.
And how did I happen to have the opportunity to be kicking it with Robert Simon, you are perfectly entitled to inquire.
Well…long story short is that I wrote a novel that takes place in a town never named but bearing a more-than-passing resemblance to Reston. In a sense, the town is the central character; it's the typical coming-of-age novel, and a young-ish dude (who bears a more-than-passing resemblance to the author) –as well as the town– are confronting the inevitable interstices of time and memory. It's equal parts earnest, yearning and pretentious. Typical first novel. Anyway, my goal was to have the man who created this town (this character) see some relevant sections before one of us died (or it got published). Since it looked –and looks– like one of us will die before it ever does get published, I took matters into my own hands and did the courageous thing: I left it outside his door. Imagine my surprise when he called me and told me he loved it, and wanted to meet.
We eventually got together for lunch (I was hoping to do drinks and dinner), and of course we patronized one of the restaurants at the plaza. When I arrived, a few minutes after noon, he was already seated and had a glass of white wine in front of him. I'm a stickler for time, he said. (Takeaway: if this had been a job interview I would not have gotten the job.)
What followed was a fascinating, humbling hour where I was content to ask questions and listen to whatever he cared to tell me. (Some of the things are echoed in this nice, brief intereview with him, here. There's another one here.)
I was struck –and impressed– with his candor and disdain he still felt for the people who (he felt) screwed up his vision. For instance: the Reston Towncenter was always part of the plan, but it was supposed to extend from where the Target is to where the Home Depot is (think about that!) and he remains disappointed that we resorted to strip malls instead of plazas, which integrate housing and commerce. He also remains a little bitter about the way he was forced out and unable to execute full control over his evolving vision (see history in link above). Between the glass of vino and the righteous indignation, it was easy to see how he had managed to make it well into his 90s. And that was six years ago!
In any event, it was quite gratifying to be able to convey to him how much it meant to me to grow up in a planned community that had soul and saved trees. That had bikepaths and encouraged cultural diversity. That expanded but never turned former farmland into a concrete clusterfuck. I told him I was speaking for dozens, probably thousands of other kids fortunate enough to grow up in the town he created.
(I scored my first soccer goal at Wainwright fields and still play basketball at Lake Anne Elementary –about 100 yards away. I learned how to ride a bike on Scandia Circle and learned how to navigate a stick-shift on Wiehle Drive. I caught my first fish in Carter Pond and skinny-dipped in Lake Audobon. I waited tables on Lake Anne Plaza and waited tables at Reston Towncenter. I rode my bike on the W&OD trail to Penguin Feathers and ride my bike on the W&OD trail past the still-verdant landscape between Reston and Vienna. I bought pop rocks at the 7-Eleven and bought my first beers at the 7-Eleven. I bought my first property and will never sell it. The place I called home is still the place I call home.)
There was a lot more I could have said and a lot more I wanted to hear.
What else could I have said; what more did I need to hear?
See you on the plaza at noon, this Saturday.