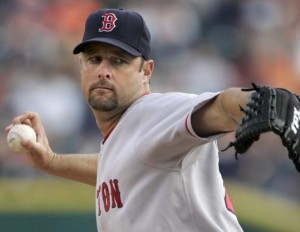 We are in an extended post-millennial moment, as so many memorable figures from the 20th Century get older and start to pass away, where it's both fitting and inevitable to proclaim, once they're gone: We won't see another like that.
Sometimes that sentiment is debatable, but when it comes to Tim Wakefield, who made the difficult decision to hang up his spurs today, there is no question that we are saying goodbye to a prototype from another era.
A knuckleballer.
Maybe we will have the occasional throwback, but this whole style of pitching does not translate into today's world. The remarkable thing is, it didn't seamlessly translate into yesterday's world either. Just ask the poor suckers who tried to see (much less hit) Wakefield's fluttering delivery when he was on his game. Having seen dozens of Wakefield starts (and relief performances) over the years, it was difficult to say, game-to-game, when he'd have his stuff and when he wouldn't. When he did, you knew; when he didn't, you knew (because balls would sail over the fence distressingly early and often). Even when he didn't have his A-game, which was increasingly often in the final years, he had built up so much goodwill –as the ultimate team player, as a selfless superstar, as a man who genuinely cared about charity and did much to improve the community– that it was impossible for any true fan to ever dislike him.
The tributes will come, as they should (and the question will be begged: should his number be retired at Fenway? My immediate and considered real-time response: maybe), and there will, and should, be much discussion of his Lazarus-like return from the minor leagues, his brief stay in the Pirates organization and his semi-miraculous career rejuvenation in Boston. He became a fan favorite and he won a lot of games. But above all, he just kept pitching.
I will share probably 100% Red Sox Nation's opinion when I declare that by far my favorite memory of Wake is when he sacrificed himself for the team during the Game 3 debacle vs. the Yankees in 2004. In a game they ended up losing 19-8, he knew it was a lost cause (the game and likely the series, as they fell into a 3-0 hole) and it was likely this was his last action of the season. But he also knew that if the team had any chance of coming back, or even salvaging some pride, he had to save the bullpen. He did and…well, the rest is history. (More on that here.)
The Sox ended up going to the Series and Wakefield ended up pitching, at home, in Game One. The Sox, you may have heard, won that series, and captured their first championship in 86 years. I was happy for the team, the city, the fans and myself. But after the misery of 2003, where he worried (after giving up the winning homer to Aaron Boone) if he was the next generation's goat –something he need not have worried about– it was almost too good to be true watching him cry with delight and disbelief on the mound once the Sox won it all. It was a rare instance of the good guys winning (and I don't mean the Red Sox, I mean the man). It was a pleasure following him and enjoying his unique play all these years.
His legacy is more than secure and one of the all-time fan faves will become a living legend who will never buy a meal in Boston for the rest of his life. Let's hope he stays local and wallows in the love, admiration and respect he earned so slowly, so well and so honestly over the last two decades.
Happy trails Timmy, you will always be a champion.