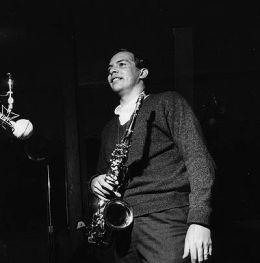 Best sax solos ever?
That is kind of like choosing the best sunset; it's impossible.
But some do stand out apart from the rest, and beauty is always in the ears of the behearer.
5. John Coltrane: "The Last Blues".
Of course it would be possible to make a list without including Coltrane; it just wouldn't feel right. His entire career is an extended highlight reel, a hall-of-fame enshrinement in real time. Also, as at least one person has opined, no one has ever done anything as well as John Coltrane played the saxophone.
Even on tunes like "Russian Lullaby" (arguably the apotheosis of his famous "sheets of sound") or "Countdown" (where, after having learned to fly, he finally broke the sound barrier), other players get a say, however briefly. On "The Last Blues" it's all Trane from start to stop, and even though Elvin Jones is in typical form, dropping sonic booms from every conceivable angle, this is Trane preaching from the mountaintop: this is the tide crashing and receding –and everything in between.
*Update. The clip from YouTube has been removed, so find a copy of "The Last Blues" any way you can and in the meantime, savor some prime sheets of sound from the wonderful 'SoulTrane'.
4. Jackie McLean: "Plight".
For my money, probably the single-most underrated musician in jazz history. Listen: the streak Jackie Mac went on from the late '50s to the late '60s can stand toe-to-toe with what anyone else has done in any era; just one masterpiece after another. Also, Dr. Jackyll discovered –and promoted– more amazing young talent than anyone not named Miles Davis or Art Blakey.
"Plight" is from his enthusiastically recommended album Action, featuring as solid a line-up as Blue Note ever boasted: Cecil McBee on bass, the estimable (and also severely under-appreciated) Charles Tolliver –who composed most of the material– on trumpet, "Smiling" Billy Higgins (who is without any question on the short list of all-time great jazz drummers) and, added bonus, the incomparable Bobby Hutcherson on vibes. Add Mac's alto, at once searing and then soothing, and you have a tune that can –and should– convert anyone with the slightest bit of sense, or soul. This also is just about as cool as it gets.
3. Charles Mingus: "Goodbye Pork Pie Hat".
It's not just that I'll take any opportunity available to discuss Charles Mingus (I will); it's that he can't be talked about enough. He was sufficiently god-like in his time that he always was able to assemble top-tier talent; part of his enduring legacy (aside from his musicianship and compositional prowess) is that he consistently got the best performances out of so many of the men he employed. Simply put, too many great players to count did their finest work on sessions led by Mingus.
From the immortal Mingus Ah Um, this is an homage to the recently departed Lester Young. "Goodbye Pork Pie Hat" (a clever and affectionate reference to Young's signature style of headwear) became an immediate standard and has been much-covered since its inception. The tune is justly celebrated for John Handy's sublime tenor sax solo: his flutter-tongued phrasing performs a duet with Mingus's bass in the song's middle section that sounds like subdued teardrops; the emotional impact and clarity of purpose is unforgettable. Teo Macero's production throughout is impeccable, but on this particular tune one can be forgiven for thinking Lester was smiling down on the proceedings.
2. Ornette Coleman: "Civilization Day".
This one is for all the uninformed haters. Black beret this, bitches.
Punk rock? Please. This shit makes that slop sound like what it mostly was: a bunch of spindly misfits playing their instruments poorly but passionately. Child's play, musically speaking. This is the truth that a whole lot of people can't handle. In part, because it makes so much other material sound like little boys playing with toy soldiers. This is a report from the frontlines, with real bullets flying and the sort of shrapnel that gets stuck in your soul. Can you dig it?
As Charlie Haden and (the aforementioned) Billy Higgins double-time the soundtrack of the end of the world as we know it (try to wrap your mind around what is happening during the 4:36-4:51 section), Coleman remains impossibly calm and collected, because that's how he's always rolled. In his own elegant way he makes a compelling case for why the skies of America shouldn't come crashing down on a 20th Century spun all out of control. You don't need to try and understand what he's saying; just be thankful that he said it.
1. Sonny Rollins: "East Broadway Rundown".
Sonny. One of the last still-living links to the great old days. Like Coltrane (and every other player on this particular list), it is too easy to pick a representative solo –which makes it difficult to isolate just one.
So it seems a bit appropriate to choose one from the album where Rollins "borrowed" Coltrane's rhythm section (Jimmy Garrison and Elvin Jones). A special guest appearance from the remarkable Freddie Hubbard (who also augmented the collective genius on Coltrane's Ole Coltrane disc) makes this one of the seminal recordings of the '60s.
Along with the epic side-long "Freedom Suite" this title track represents Rollins doing an extended improv in the studio, and in many ways it remains his most satisfying, if unorthodox performance. Rollins was not as quick to embrace the free jazz ethos as his compatriots, Coltrane and Coleman were, but once he let his guard down he proved, once again, that he could be the best at whatever he set his mind to doing.
Perhaps the most notable playing Rollins does here occurs when, having seemingly taken the instrument as far as he can take it, Sonny starts blowing through his mouthpiece (!!). The resulting sounds are many things: spooky, surreal, unsettling and awe-inspiring. Nothing else anyone has ever done sounds anything like this, and it's ceaselessly exciting to hear Garrison and Jones hold down the fort while Sonny leaves the room for a while and goes to that sacred other place where very few artists are capable of going.