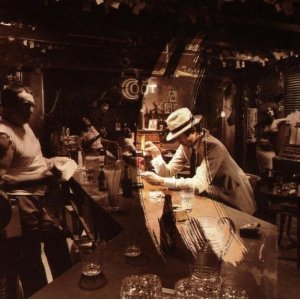 1. Led Zeppelin, In Through the Out Door (1979)
There are three distinctive types of Led Zeppelin fans. The first group knows Zep is great because of the classic songs (mostly from their second and fourth albums) that get consistent radio play. These people may also own the second and fourth album and possibly a greatest hits collection. The second group are the ones who own everything except Presence and In Through The Out Door but they don't need to, because everyone knows those are lesser efforts and not in the same class as the early stuff, especially the second and fourth album. The third type is the fan who not only owns every Zeppelin album, but understands that Zeppelin didn't make any bad albums. This type of fan also understands that the second and fourth albums, as great as they were, do not represent the best band besides The Beatles at their best. In fact, this small (tiny?) group of aficionados realizes that in many regards Zeppelin got better as they went along, and their final two albums are as good or better than almost anything else the band did.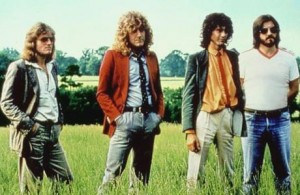 Who's with me? Very few people, I know. And I could care less. All I care about is setting the record straight: I've been listening to people (many of whom claim to love and really get Led Zeppelin) do everything from damn this album with faint praise to categorically write it off as an embarrassment. The only thing embarrassing about this album is how few people have heard it. And by hear it I don't mean listened to it; I mean heard it. This might even include some members of the band who have never had many good things to say. I know Jimmy Page is not crazy about the album, which is understandable considering the shape he was in while it was made. I don't understand why even he doesn't realize how remarkable his playing is throughout the proceedings—as if he couldn't help but be brilliant, not matter what his physical and emotional state of being.
It has been amply documented that while Page quietly battled his heroin addiction and Bonham steadily lost control of the alcoholism that would claim his life in 1980, Robert Plant and John Paul Jones co-pilot the blimp. Certainly this can be—and has been—called Jonesy's album, and in many regards it is. But "even" relegated to glorified session player (a ludicrous charge in any event), Page is as much a part of this album as he was any of them. His playing is arguably more refined, and he picks his spots, but he's all over the place. Even on songs dominated by keyboards, such as "Carouselambra" and "South Bound Saurez", Page's guitar is crucial. It would seem that entirely too many listeners simply can't fathom that unless Page is out front and center, he is not being adequately represented (perhaps Page himself felt this). Gone forever are the riff-laden air guitar anthems (again those second and fourth albums) and in their place are songs that employ subtlety, depth and…(gasp) humor.
But before we get to the humor and the subtlety, let's not kid ourselves: Page is in full effect on album opener, "In The Evening". This is, in fact, as god-like as Page ever got, and even though some may sniff at the sounds of synth in the background, they only embellish the monstrous assault from Page—and Plant. After the foreboding of the extended intro, it's like the band is shot out of a bazooka, with Page picking up where "Achilles Last Stand" left off, creating riffs that are at once sludgy and superhuman. Of course there is the solo: from 3.43 to 4.56 that is as golden as the gods ever got, and as soulful. On album-closer "I'm Gonna Crawl", which is most definitely a Jones/Plant joint, Page nevertheless delivers one of his most coruscating solos: it is languid and totally without frills, it is simply emotion and feeling and serves as an unintentionally perfect grace note for Zeppelin to go out on.
Getting back to John Paul Jones. It's unfortunate enough that the band would be unable to continue after Bonham's death; it remains tantalizing to think about how much music Jonesy had left in him, and if the band could have evolved with him taking a larger role. One of the largest misconceptions about In Through the Out Door is that it's the half-hearted result of a band on its last legs, limping to the finish line before fading away. In reality, the band had every intention of making more music, and while Page certainly would have asserted himself more on the next effort, Jones was responsible for pushing the sound into the future. "Carouselambra" suffers a bit in comparison to other Zep epics, like "Achilles Last Stand", "In My Time of Dying", "Kashmir" and "When The Levee Breaks", but it's an ambitious, totally original composition, anticipating what music would sound like in the early part of the next decade.
The one-two punch of "South Bound Saurez" and "Fool in the Rain" are also dominated by Jones and revealing a range of influences (Latin, boogie) that Zep had never embraced so openly and effectively. On both songs Page and Bonham demonstrate that even if their heads (and possibly hearts) weren't entirely into it, they were capable of genius by default. And while we marvel at where Jones is taking things, the unyielding force from beginning to end is Robert Plant: he never disappoints and he seldom seems satisfied. Less a bare-chested lion swinging his microphone on stage and more an elder statesman, he observes the excess and indulgence around him and always puts the music first: this is his ultimate legacy as the best frontman of the '70s. Even as he reigned supreme as the ultimate rock vocalist, there is always a sense of play and passion in every song he sings. That focus and flamboyance remains in perfect balance, and on each song Plant is a man spilling over, as ever, with confidence and purpose.
And then there's "Hot Dog". More than a few people would likely agree that this is the single-worst song Zeppelin recorded. Those people need to be reminded that Zeppelin did not make any bad songs and that, in any event, "Hot Dog" is a better song on every level than well-loved tunes like "Ramble On" and "The Immigrant Song". On their early work Zep did not exhibit much, if any, sense of humor; certainly nothing self-deprecating. "Hot Dog" reveals the band (or more specifically, Robert Plant) at its most unguarded, and it is at once a hilarious and deeply respectful send up of older school rock. To understand—and appreciate—"Hot Dog" one needs to understand, and appreciate, Plant's worship of Elvis. Importantly, Elvis had passed away only two years before, making this less a tongue-in-cheek tribute and than a genuine moment of worship. Also worth noting is that Page turns in one of his most truncated, but delectable solos: the mood is light, but the music is serious, and sensational.
In Through The Out Door is not Led Zeppelin's most representative work and it is not their best work, but taken as a whole, and even song-by-song, it stands up with anything they did. In some regards it represents the band at their most mature and adventurous. It hints at what might have been, and serves as a reminder of what most definitely was. These songs are not as immediately accessible as much of the band's work, but like the songs on Presence, they cut deeper and stay longer. They are not the songs hardwired in your mind that you nod along to on the radio; they are songs that continue to astonish, delight and, after all these years, manage to surprise. That is as close to miraculous as any rock music ever gets.