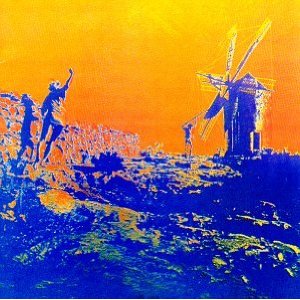 4. Pink Floyd, More (1969)
Here's another one that may not be accused of sucking so much as not being acknowledged at all which, we should agree, is even worse. This is the single entry in the Pink Floyd catalog that might have fared better if it was not associated with the band. If More, incidental music for a film no one seems to have seen, was created by an obscure, one-and-done band, it would have turned up, by now, in some list as the great, lost psychedelic soundtrack. In reality, it is an egregiously overlooked gem somewhat understandably lost in the vault of treasures the group made before, and after it.
From a purely historical perspective, More is an important album as it illustrates an evolution of the "Floyd sound". In particular, the interplay between guitarist David Gilmour and keyboardist Rick Wright, which had been perfected by the time Dark Side of the Moon, and the masterpieces that followed, were made. The elements of (take your pick) psychedelia/space-rock/trippiness, executed with mixed results on A Saucerful of Secrets and their live sets of the time, abound but are sharpened by a less guarded (less calculated?) Gilmour, who liberally sprinkles in his blues roots and a rawer, less refined sound.
The album can be broken somewhat cleanly into two parts: the slower, acoustic pieces—mostly written by Roger Waters and sung by Gilmour—and the lucid, icy grandeur of the instrumentals. The acoustic tracks are worthwhile (particularly the hallucinogenic "Cirrus Minor" and "Green is the Colour") but ultimately don't rank with the band's better work. It is the dream sequences, at once evocative and mesmerizing, that make More a crucial stepping stone in the Floyd aesthetic and an indelible album in its own right. If you take the laid back confidence of "More Blues" and combine it with the aggressive, almost abrasive energy of "Ibiza Bar" you can almost predict where Meddle came from. Likewise, Rick Wright's uncanny ability to create mood is showcased on "Quicksilver", which anticipates "Echoes" and "Shine On You Crazy Diamond". On "Main Theme" and "Dramatic Theme", Gilmour and Wright lock into a groove and Waters and Nick Mason flex some rhythmic muscle.
It is possible that Floyd would never sound this human again, and if they had to move on to bigger and better things (they did), there is sufficient evidence here that Floyd could balance raw and fresh and achieve a coolness without being chilly. Of course, no one could do light and dark with the dexterity of Floyd in their prime, and they make it sound easy here, perhaps because, for them, it was.