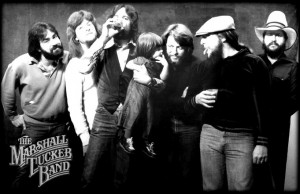 Any questions?
Kind of like a wine cooler fan's Lynyrd Skynyrd, you have to appreciate the Marshall Tucker Band for incorporating a flute (effectively! convincingly!) into their safe-for-radio country rock. This is the '70s and that's all there is to it.
Everyone knows their big hit, "Can't You See" and it would be hard to imagine that decade –or any decade– without it. But if I had to get stranded on that desert island with only one Marshall Tucker song (and a cooler full of wine coolers) I would have to go with "Heard It In A Love Song". In addition to being an irresistible sing-a-long tune, it has to be on the short list of all-time misheard songs. Over the years I've had friends claim they always thought the chorus was everything from "Dirty little love song" to "Hurtin' in a love song" to "Indian love song" (seriously). Myself, I always thought it was "Purty little love song", which worked for me so many years, and works for me, now. I still find myself singing those lines even though I know better (and yes, I will sing along with it, just like you do when you hear it).
Someone out there please tell me there is yet another way of hearing those lyrics.
Am I the only person who thinks it's time for a t-shirt that simply says "Can't be wrong"? (I am? Okay.)
Bonus version (live):