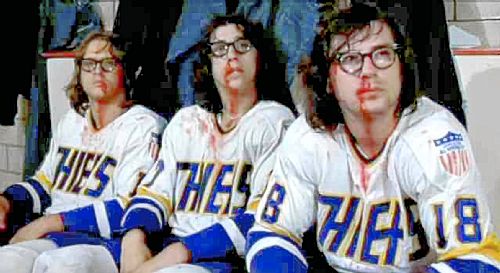 I'm not sure what is going on here, but I like it.
The biggest beating that has occurred in hockey the last two decades has involved its popularity. Always the neglected stepchild in the American sports scene (a distant fourth behind the holy trinity of football, baseball and basketball), hockey almost did not recover from an ill-advised lockout during the 2004-2005 season. Until then the sport received coveted prime time coverage on ESPN (and ESPN 2); once the NHL imploded as a result of myopia and greed –two things all pro sports do not suffer from a shortage of, but have sufficient funds and popularity to lure fans back– ESPN came to realize that replays of poker games and women's basketball got higher ratings. Seriously.
Since then hockey has struggled, most of its games being shown on the Versus network. Fortunately, perhaps miraculously the league still gets occasional bones thrown its way via NBC games of the week and the Stanely Cup finals do get big-time coverage. What this means is that there are fewer games shown each week (at least for those without a full cable buffet of sports offerings), and hockey has receded even further in the national consciousness.
So what? For me, I still get to see games on Versus and, of course, we get all the Caps games. Still, it's kind of sad to consider that the late '90s are golden years by comparison. I still lament the dissolution of the Gary Thorne/Bill Clement partnership, for my money the best hockey annoucing tandem in modern history. I don't just miss them in a nostalgic sense; I really miss Bill Clement calling games and his absence makes the already-grating Mike "Doc" Emrick and the ever-insufferable Pierre McGuire that much more difficult to stomach. (Not one to look askance at good fortune, I still count my blessings that Caps fans have the indispensable Joe Beninati and local treasure –and ex-Cap– Craig Laughlin calling each game. It is also a source of considerable good fortune that Caps hockey is quite relevant and, thanks to the impeccable stewardship of Ted Leonsis –the anti-Dan Snyder– should remain viable for the foreseeable future.)
One reason (arguably) that hockey has stumbled in the last ten-to-twenty years is because of the very controversial oversight of commissioner Gary Bettman. In case you were wondering, there is in fact a site called firebettman.com; you can see some widely-held opinions here. One issue that has been a constant topic during his tenure has been the efforts to eliminate fighting from the game. Interestingly, and tellingly, it's invariably former players who disdain this approach, pointing out that "back in the day" enforcers had a role, and their ability to police the ice kept a lot of the cheap shots out, and kept accountability in. What has happened, in the ostensible effort to "clean up" the game and make it more appealing to the casual fan (Bettman apparently not understanding that when it comes to pro hockey there is no such thing) is that we've had more injuries, more dirty play and a general carte blanche for teams to rough it up without having to pay a price. Ignorant ranters who know nothing about the game (and there are many of them employed by major American media outlets) claim that getting rid of the "goonery" has made hockey a better game. Veterans, real fans and ratings say otherwise.
All of which brings us to the past two weeks, a period of intensity, bad blood and old-school frontier justice not seen much, if at all, since the late '80s. The Bruins have, seemingly overnight, gone from being a fairly soft team to the reincarnation of the Broad Street Bullies. Avenging some unfinished business from a game several years ago (!), Boston engaged in an epic throwdown the other week with Dallas. Then, the other night, they rekindled a half-century old grudge with Montreal. The videos below show the highlights. Appropriately, it begins with the end of the Penguins/Islanders game the other week where the cocky superstar goalie Rick DePietro brought nothing but a smirk into a pas de deux he instigated with (ex Cap) Brent Johnson. It was quick, ugly and wonderful. The frequently injured (soft?) DePietro, humiliatingly, is out for several weeks as a result of the fight he never should have picked. As it happens, there was a dirty hit (shocker) by a Penguin that night so between that, the DePietro smackdown and the merriment on the Pittsburgh bench afterward, a reckoning was all but preordained for the rematch on Long Island.
Brent Johnson TKOs Rick DePietro:
The Bruins and The Stars: some unfinished business prompts three fights in four seconds. As you can see, the fans are appalled by this, and to quote the great Barry Melrose, you never see a spectator leave to grab popcorn during a hockey fight. This team toughness may turn around Boston's season.
Old school? This is ancient school when it comes to the love lost between Montreal and Boston. The fact that Boston is obviously a scrappier, bigger and tougher time would almost leave a less-than-savory taste in a knowledgeable fan's mouth, but it turns out that Montreal is perhaps the team in the league most overdue for some old-fashioned comeuppance. Eager to cheap-shot, talk smack and skate away, Montreal is an excellent example of the type of hockey that has been tolerated (encouraged?) on Bettman's watch: lots of chirping, stick-work and less-than-clean nonsense, the instigator rules and general crackdowns prohibit other teams from squashing it. What went down the other night could be considered a decade and change of pent-up frustration spilling out, and I guarantee few, if any, players in the league shed any tears for The Habs. (For my money the Penguins are the dirtiest team by far, but they at least have players that, for the most part, answer the bell and stand up for one another when necessary. More on that in a moment.)
The much-anticipated rematch last night. Even Gordie Howe would have been surprised, and delighted, by the extent of the carnage. Pens fans are up in arms about how the Islanders went after their smaller players. I suspect this will be revisited in April when the teams meet up again, back in Pittsburgh. (It's a shame the gutless punk Matt Cooke was not on the ice; as it happened he was serving a suspension for one of his myriad cheap hits. Boston's Shawn Thornton gained some measure of revenge last season, but it will be a happy day when someone is able to give Cooke a fair and final taste of his own medicine.)
Last night's festivities between The Penguins and The Islanders:
To be continued, hopefully.