All These Colors: Without Names, Without Sound
Jimi Hendrix has been dead for a long time, and the only thing we have to reconcile the senselessness of how young he died is the legacy he left behind. This is true, of course, with any artist who goes away too soon, except that with Hendrix it is more so. The loss is unparalleled, but then, so is the music he made. Depending on whether you care to see the cosmic glass as more than half-empty or as one that forever runneth over, we celebrate him for what he did in direct proportion to mourning what we still should have received. It is selfish, but understandable. Hendrix with horns in the '70s? With samples and scratching in the '80s? Mentoring (or obviating the need for) the grunge movement in the '90s? Collaborating with musicians from all over the world, releasing live jams on his website today? Or just continuing to do what he was doing practically until the last second he drew breath. Whatever it might have been, it would have improved the playing field, and he would likely still be eons ahead of his peers.
This year marks the fourth full decade since his death, meaning he has been gone 13 years longer than he lived. As such, 2010 has provided an excellent opportunity to reassess and celebrate the music he made. Earlier this year we saw the welcome reissue of his proper studio albums, all lovingly re-mastered with bonus DVDs. Now, to bookend this milestone year, we get a new collection that delivers four discs of previously unreleased material.  Considering how opportunistic and unprincipled the supposed custodians of Hendrix's legacy were for most of the last 40 years, it has been a welcome—and long overdue—development to see his family assume control of his estate. West Coast Seattle Boy: The Jimi Hendrix Anthology should provide solace and sustenance for several more years while we commemorate this solemn milestone.
How to describe, much less review this music? Let's just say that every time we think we have adequately grappled with what Hendrix means and what he achieved, more evidence emerges from the vaults, leaving us back where we began: awestruck, speechless. Listening to this new set is like getting to heaven only to realize there is an even better place. Fans will likely greet this the way they embraced Valleys of Neptune earlier this year, only this release is more than four times as long and about one hundred times better. The box set compiles tantalizing outtakes, live tracks, and alternate versions, many of which have surfaced on myriad bootlegs of dubious quality over the years. This set, finally, does the job of assembling them in one place, cleaning up the sound, and offering extensive liner notes with vital stats (who, when, where) of every single track. This, in short, is the most welcome, if unexpected, musical gift of the year.
Serious fans of Jimi Hendrix understand he did not simply explode on the scene in late '66 like midnight lightning. Rather, Hendrix had worked for years as an axe for hire (real serious fans know who he worked with, what he played on, and where to find copies). This collection does everyone an enormous favor by dedicating the entire first disc to these early years, which were equal parts formative and invaluable in terms of his development. Hendrix learned as much about what he did not want to do as what he hoped to someday accomplish while he toiled, with increasing impatience, as an apprentice. The fact of the matter is that Hendrix struggled to support himself and paid serious dues on circuits old school enough that his being an African-American mattered. And I don't mean mattered like he got static; I mean like getting hurt or being hired in the first place. It was under these circumstances that the very young Jimi (still Jimmy) Hendrix found employment playing with the likes of Little Richard, Don Covay, and the Isley Brothers. Incredible as it sounds, this was a time when it signaled a welcome breakthrough for Hendrix to share the same stage as these names.
The first disc showcases Hendrix's two-year stint as a young and promising guitarist. Only 21 on the first track, the Isley Brothers' hit "Testify", Hendrix already shows signs of the smokin' soloist he would shortly become. The next four songs—two by Don Covay and two by Rosa Lee Brooks—are remarkable and border on revelatory; they provide a useful roadmap for understanding how Jimi got from the Chitlin' Circuit to Monterey Pop so quickly. The impressive technical skill is abundantly established and already finding ways to harness a teeming imagination: we hear the swamp grooves meeting the south side of Chicago and the roots he would revisit on cuts like "Red House" and "Killing Floor". It's a faster, fully electrified advancement of the classic blues recordings, and we hear the vibe that everyone from Sly Stone to Stevie Ray Vaughan (and even early ZZ Top) picked up on. Fans of Amy Winehouse might be stunned and delighted to recognize the guitar vamp and vocals that were appropriated for the track "He Can Only Hold Her", courtesy of the Icemen's "(My Girl) She's a Fox".
Chas Chandler (bassist for the Animals who became Jimi's mentor/manager/producer) should always be celebrated as the one who saw, immediately, how good Hendrix was, and how unbelievable he could become. Taking him to England liberated Jimi from the by-then boring grind that threatened to suffocate his restless creativity and ambition. Perhaps as importantly, it gave the young guitarist the necessary confidence to imagine being a front man who could sing as well as play. From obscure to Are You Experienced?: the most dramatic, unparalleled transformation in rock history. A case could probably be made that even if Hendrix had disappeared after this first album, he would still be recognized as the best and most important guitar player in modern music. That is how crucial and influential that debut was and remains.
The second disc might be the most interesting for Hendrix aficionados, as it is crammed with early sketches and alternate mixes of familiar favorites ("Long Hot Summer Night", "Angel") and specific takes that were improved upon for the official albums ("Fire", "May This Be Love"). Listening to the stripped-down "Are You Experienced?" illuminates how busy Hendrix and Chandler were in that studio. Also, considering the relatively low budget and short timeframe of these sessions, we understand how little was left to chance. Jimi was certainly creating and refining on the spot, but he also came to each recording with an obvious idea of exactly what he wanted to do. Nowhere is this more apparent than the early take (sans bass) of "Castles Made of Sand". Hearing the lead guitar without the subsequent overdubs helps us analyze how Hendrix constructed these mini epics, and also savor the ways in which he made all those sounds. This trial run, where Hendrix is still struggling to find the ideal speed and feeling, offers a clinic in the ways he balanced subtle and dramatic elements to capture, in the studio, what he already heard in his head. After digesting this, one is compelled to return, for the millionth time, to the master take from Axis: Bold as Love and undergo that familiar shock of recognition.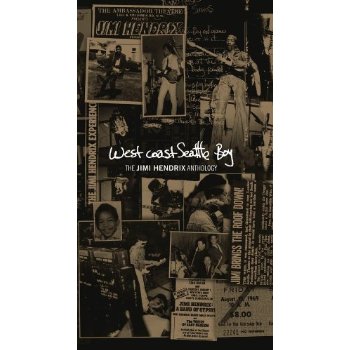 And then there is the new shit. "Little One", featuring Traffic's Dave Mason on sitar (!), precedes the Indian fusion of Bitches Brew by more than two years. It was technically recorded early in the Electric Ladyland sessions, and if it is hard to imagine where it could have fit in, it is much stronger in its way than "Little Miss Strange".  "Cat Talking to Me" is another previously unreleased jam with a furious lead that anticipates "South Saturn Delta"—only trippier—and we get a fascinating cover of the Band's "Tears of Rage". Among the embarrassment of riches are two songs recorded two days apart, one of which is familiar, the other one that soon will be. First, we get an expanded alternate take of the stunning instrumental "New Rising Sun", which plays as a kind of hybrid of the phasing from "1983 (A Merman I Should Turn to Be)" and the new textures he would create on "Drifting". Having had horribly edited and/or tinkered with versions, this definitive take should take its rightful place as an indispensable gem in the catalog. Next is the studio workout "Calling All the Devil's Children", which finds the band—and the assorted guests Jimi encouraged at his sessions circa '68, and which drove Chandler to distraction during the making of Electric Ladyland—blowing off some steam while creating a sonic brushfire.
The third disc gets deeper into the frenzy of activity and inspiration Hendrix experienced in '68/'69, post-Electric Ladyland, when he began actively exploring new ideas and sound combinations, and collaborating with old friends Buddy Miles and Billy Cox. Virtually all of this material will be new to even dedicated Hendrix fans (serious fans will likely own copies from various bootlegs and semi-official releases). We get a studio jam session entitled "Hear My Freedom" (with an unidentified organist) and an alternate version of "Room Full of Mirrors" which segues directly into another original, "Shame, Shame, Shame". There is another rundown of "Hound Dog" that is reminiscent of the version from the BBC Sessions, as well as intriguing live renditions of "Purple Haze", "Fire", and "Foxey Lady". Of particular note is the '69 live version of "Star Spangled Banner", evidence that Jimi's incendiary performance at Woodstock was not the first time he set his sights on that anthem. The most intriguing and enigmatic track is the prolonged studio pas de deux "Young/Hendrix", featuring jazz legend Larry Young: for over 20 minutes the two trade licks, quotes, and a tireless stream of ideas. Another most welcome rarity is "Mastermind" with (excellent) vocals by Larry Lee, where the band perfects the rough idea they fleshed out, with mixed results, at Woodstock.
Disc Four pulls together more odds and sods from various bootlegs, although most of these versions—courtesy of still-existing master tapes—should now be considered close to complete and as definitive as we can expect. Curiosities abound, from an inspired live sprint of "Stone Free" and an expanded instrumental run-through of "Freedom". "Everlasting First", from 1970, features Hendrix playing along with Arthur Lee and Love; this is an alternate take which can replace the truncated version previously available only on Love's False Start album. "Red House", one of the first songs the Experience recorded, was a personal favorite that Hendrix reworked constantly in concert. The version here, from 1970, might be the most expressive and satisfying he ever laid down.
Two highlights of the final disc, and the entire collection, are the previously unreleased "Burning Desire" and an unedited version of "Hey Baby (New Rising Sun)" which restores the missing first section ("Bolero"). "Burning Desire" is just under nine minutes of the guitarist (accompanied by Billy Cox and Buddy Miles) exploiting virtually every weapon in his arsenal while boasting some new tricks for good measure. It is a non-stop merry-go-round of riffs, blues motifs, and pyrotechnics that could only come from one set of strings, and should take a place amongst the all-time Hendrix masterpieces. Until now, we've only had the six-minute version of "Hey Baby (New Rising Sun)"; it's finally been revealed that on July 1, 1970 the tapes rolled for five minutes and 31 seconds beforehand, recording a track entitled "Bolero". It is unforgivable that we've had to wait this long to hear the appropriate version of what turned out to be one of Hendrix's final statements, but of course we must be grateful for the overdue opportunity. The set ends on a sweet but somber note with "Suddenly November Morning", a home recording from the spring of 1970. This work-in-progress clearly was meant to be further developed in the studio, and at the very end we hear a few lines of what would become "Drifting"—one of the many songs Hendrix was assembling for the final album he never quite completed.
As remarkable as all this music is, the inclusion of a 90-minute documentary is, needless to say, almost too much of a good thing (almost). Jimi Hendrix Voodoo Child uses letters, diary entries (read by Funkadelic alum and funk legend Bootsy Collins), as well as rare interview and concert footage, to examine Jimi's young years, military experience, early struggles, and inevitable ascendency. Postcards, cocktail napkins, and hotel stationary with scribbled lyrics along with family photographs underscore the obvious love and care that went into compiling this joyous document. Seeing Jimi speak and listening to his reflections and predictions is occasionally unsettling, but mostly awe-inspiring.
In the end, it always comes back to the same impasse: once we've gotten beyond the music (which we never get beyond, because, thus far, there has always been new material, causing us to celebrate our good fortune and hope we might get more) we catch ourselves asking the two questions that can never be answered: why and what. Why did it have to end so abruptly, so appallingly? And then, if and when we allow ourselves, the attempt at imagining what else there could have been… what else he would have left for us if he had not accidentally left us behind?