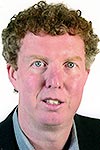 When Reggie Jackson ruled The Big Apple he famously referred to himself as "the straw that stirs the drink."
Dan Shaughnessy, the controversial columnist for The Boston Globe, has never been loved by many, and he has long been loathed by more than a few (fans and especially players).
Here is a guy who could not complain enough when the team was filled with "characters" like Manny, Damon, Millar and especially Schilling. Now? Arguably they've bid adieu to some distractions (Damon, Lugo) and ran out of rope with malcontents (Manny) and did their best to retain delusional free agents (Jason Bay) and picked up gamers who do their talking on the field (Beltre, Lackey) and are now comprised, practically top to bottom, of winners. So who shows up today, whining that the team has become bland? Guess who.
Shaughessy has officially become the anti-Reggie Jackson: he is the stick that stirs the shit.
In recent weeks he has predicted that the upcoming Josh Beckett contract negotiations will end badly. He has giddily wondered if Big Papi is done and how bitter Mike Lowell will be in 2010. He has happily jumped on the naysayer bandwagon about how poor the team's offensive production is likely to be (as in: they didn't/couldn't land a big bomber in the offseason; of course, the song was near the top in runs scored last year so this sudden teeth-gnashing about run production is hysterical at best). He has, in short, been a man in frantic search of a controversy.
I know, you might say. This is what columnists do; it's their job. Nevermind the fact that this is a poor commentary on what newspaper writers do these days. The point here is that Shaughnessy is slowly but irrevocably being exposed as the most opportunistic of hypocrites. He made a career out of lamenting/celebrating "the Curse of the Bambino", and then sort of tolerating the good times (for non-fans or people not paying attention, The Red Sox have been to the postseason every season but one since 2003, winning two World Series in the process) but breathlessly pointing out every hiccup and hurt feeling. And, when there was not enough readymade action, he would always foment some. It's what he lived for. A guy who could not say enough bad things about Manny or Curt, he now invokes both as being the exact type of flavor the team now lacks. The mind boggles. But it really doesn't. This is Shaughnessy. This is what he does.
Look: if the team is merely a perennial playoff contender who steers clear of me-first prima donnas, I will speak for old school Sox fans everywhere by saying, Great! If there was one thing real fans could have done without the last decade or so, it was the proliferation of pink hat-wearing bandwagon jumpers. It's safe to assume that so long as the team continues to win, this element will happily attach themselves, but if some of them (per Shaughnessy's projections) fall by the wayside, all the better. Besides, they've really been rooting for the wrong team anyway: if you want bottomless pocketed ownership and me-first mercenaries, there is a team that just opened a very big stadium in the Bronx. In fact, it's in the shadow of the old stadium Reggie Jackson used to enliven. Maybe that's the same spot Shaughnessy should have been all these years.