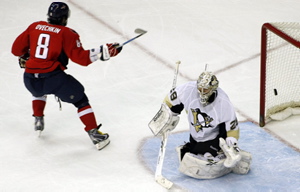 When I was growing up, Larry Bird was by far my favorite athlete. His capacity for heroics, it often seemed, was limitless. I've celebrated that love affair here and here.
When I became a man I put away childish things. But as any adult knows, sports are anything but childish.
Over the years, I've admired and adored a great many athletes, including Olaf Kolzig, Curt Schilling, Pedro Martinez and (semi) hometown hero Cal Ripken Jr. But there has not been a single athlete, since Bird, who has so regularly made me giddy, proud and more than occasionally ecstatic.
Which brings me to Alexander Ovechkin, the man who is quite possibly the best leader on any sports team right now. In fact, he's quickly making a case for being the best athlete in any sport (and I say that knowing the world is currently graced by geniuses named Kobe, Lebron, Peyton and Pujols). I have never seen a player carry a team so consistently, so willingly, so happily.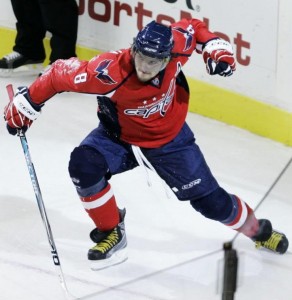 Above everything else, I cherish Alexander Ovechkin for the way he is able to make me feel like a little kid almost every time I watch him. And like all the truly elite players of any era, he elevates his game and rises to the occasion when the stakes ae highest and the lights brightest.
D.C. is slowly and steadily beginning to realize (the hockey fans –all ten of us– knew right away) that he is a once-in-a-lifetime type franchise player that you can, and should, build a dynasty around. Surpassing Caps fans' highest expectations, Leonsis, McPhee and Co. have done exactly that. Like Bird, Ovie has taken a joke of a team and turned it around almost single handedly. That, along with the depth of an excellent farm system, has stocked this team with young, hungry and extremely capable players. To this point Ovie has done everything: Rookie of the Year, MVP, scoring leader. Everything except hoisting the Stanley Cup (that may well have happened last year had it not been for eternal Achilles Heel the Pittsburgh Penguins). Is this going to be the year? Maybe. Not for nothing are the Capitals the team with the most points in the NHL, an achievement this organization has never experienced this late in a season. They are, in my estimation, one surly and veteran defenseman away from being the team to beat this spring (trade deadline acquisition?), but whether they do it this year or not, it is all but a certainty that they will be contenders for the forseeable future. Imagine that! Any fan of any team, in almost any city, knows not to take this for granted. After the empty and sobering stretch of futility our teams have suffered since the Redskins last got a ring (January 1992!), many local sports fans know enough to celebrate this good fortune.
All of that would almost be academic if Ovechkin was not so exhilarating to watch. He doesn't just win (!), he does so in dramatic and often inimitable fashion. Just look at what he did today, against arch-nemesis Pittsburgh, to keep the winning streak alive (!!). This is not a man we are watching anymore; he has become a combination of Santa Claus, Superman and Peter Pan. I'm a grown man and have learned not to hope for the impossible or pray for divine intervention. Fortunately, the player who may end up being the best athlete ever keeps giving us all things we don't even think to ask for.