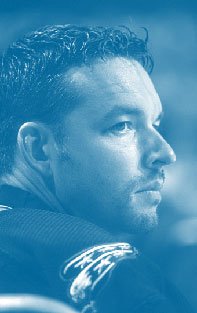 Olaf Kolzig was not merely the goalie and de facto captain of the Washington Capitals from 1996 through 2008. He was the Capitals. His ascendancy not so coincidentally accompanied the team's first (and only) trip to the Stanley Cup finals. They lost to the Detroit Red Wings, but that was a foregone conclusion: circa 1998, God could have been the opposing goalie and the Wings would have found ways to win. Perhaps more importantly, Olie the Goalie, also known as Godzilla, remained the face of the franchise when they eventually fell on hard times after the 2003 season (a season when they were stacked with talent and laden with the mercurial Jaromir Jagr who mostly underwhelmed and underachieved during his very expensive tenure in D.C.). Olie, at that point could –and perhaps should– have headed for more winning, not to mention lucrative, destinations. But he made it a point that he hoped to play his entire career as a Capital. He was a first rate goalie and a first class guy the entire time. Indeed, it got to the point in the middle of this decade where it was fair to say the franchise didn't deserve him.
But he never complained and once the team started to assemble some young, precious talent (including the incendiary Alexander Ovechkin, a lottery jackpot the team earned by being so awful in the aftermath of Jagr's unceremonious departure; a very large blessing in disguise that saved the team money and made them bad enough to land that coveted pick: the rest is history unfolding before our eyes), he was a mentor and a role model.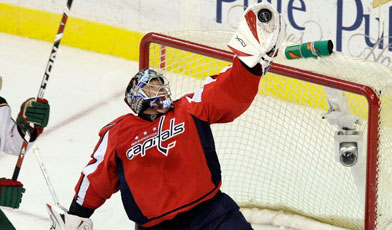 Kolzig, for all his heroics on the ice, has (and will) arguably make a more significant mark off it. Anyone who has even a passing interest in hockey is well aware that Olie has been a steady and dedicated advocate in the fight to cure autism. In fact, he co-founded Athletes Against Autism to promote awareness and raise funds for research (Kolzig's son has autism, which initially drew him to the cause). His impact was indelible and he is one of those rare athletes who actually makes a difference. It's easy to imagine him taking on an even more active role now that he'll have some well-earned time on his hands. (I could also envision him as a very effective commentator should the networks come calling.)
It was probably inevitable, and definitely unfortunate, but Kolzig did not end his career in D.C. and the end was not pretty (it seldom is). Pushed aside, understandably, because his replacement could not lose during that incredible stretch run leading into the 2008 playoffs, Kolzig bristled. This was a tough one for true fans. Hockey is such a streaky sport, and goaltenders ride streaks like no other position in any sport (baseball pitchers cannot pitch in consecutive games; football games are weeks apart, and basketball players can be on fire one night and ice cold the next and it won't necessarily derail the team's chances): in hockey, if you have a hot goalie you can win. If you don't, you will lose. So nobody could deny that Olaf watching from the bench was unfair, but it was unfair in the way that life is unfair; it was business, not personal. Nevertheless, the proverbial writing was on the wall: the team was getting younger and faster, and Kolzig, after holding down the fort for more than a decade, was not long for this town. He left in a cloud of acrimony, more likely because of his pride and competitive juices. Still, the team could have handled it better, and Caps fanatics held out hope that when the time came they would do the right thing.
The time has come. Without hesitation, ask Kolzig to retire as a Capital and raise that jersey to the rafters. Kolzig is not only unquestionably worthy of this honor, it's literally the least this franchise (and city) can do for him. He is, without any possible exception –including the beloved Rod Langway– the most important player in Capitals history. Period, end of discussion. He was a local treasure for years and for the majority of those games near the end he was the only reason to watch the team. In some regards, his stewardship and integrity helped pave the path for success the team seems set to skate on for quite some time. Bring him into the fold, welcome him home, and give him the public honor he so richly deserves.