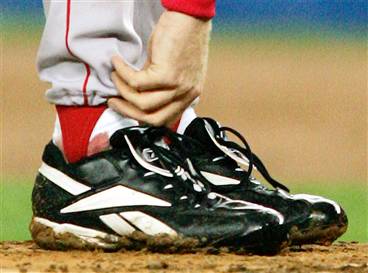 Not much to add to that photo. Especially if you are a Red Sox (or, HA!, a Yankees) fan.
Curt is finally calling it quits.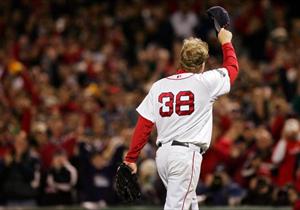 In his own time, on his own terms, Curt rides off into that sunset. Here's to hoping he does work in the broadcast booth and avoids making a high-profile buffoon of himself via his prehistoric political views. Even if he never surfaces in the public eye (or ear) again, admittedly a most unlikely proposition, he will endure long in the hearts and minds of anyone who cheered for the teams he helped win. Especially the team he ended his career with.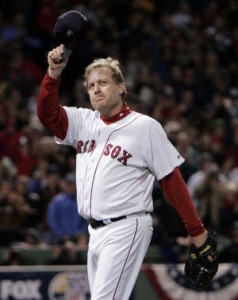 At the end of the day, as always, this is a little kids' game and it's ludicrous that grown-ups with serious responsibilities and worries take it so seriously. But we do take it seriously. And, arguably, no group of fans took it more seriously, and suffered more for their devotion, than the Red Sox fans circa 1918 to 2004. I can only claim being a fan for part of that time, but it was a sizeable enough chunk to cover the "unholy trinity"; the tri-fecta that includes the Bucky Bleepin' Dent game ('78), the Bill Buckner Game 6 Debacle ('86) and the Aaron Bleepin' Boone HR ('03). It was, of course, scarcely a month after that irredeemable evening in the Bronx (that infernal house of horrors that is thankfully gone for good), that the boy wonder, Theo Epstein, intruded upon Schilling's Thanksgiving in Arizona and made his pitch to the pitcher he (we) coveted. It worked, and Schill, in his brazen fashion, quickly drew a line in the sand regarding the "Evil Empire": I'm not sure I can think of any scenario more enjoyable than making 55,000 people from New York shut up, he said, transforming himself into a hero in Boston (and public enemy Number One in New York). Of course, talking the talk is what anyone with a mouth can do; walking the walk…well, let's just say bloody sock and leave it at that.
2004 (and 2007 for that matter) would not have been possible without Curt Schilling. Period. For that, anyone who ever has or ever will call themselves Red Sox fans owe the Great 38 their eternal gratitude.